USS ESSEX (CV-9)
and AVG-83
Part One - History
by Mark Beckwith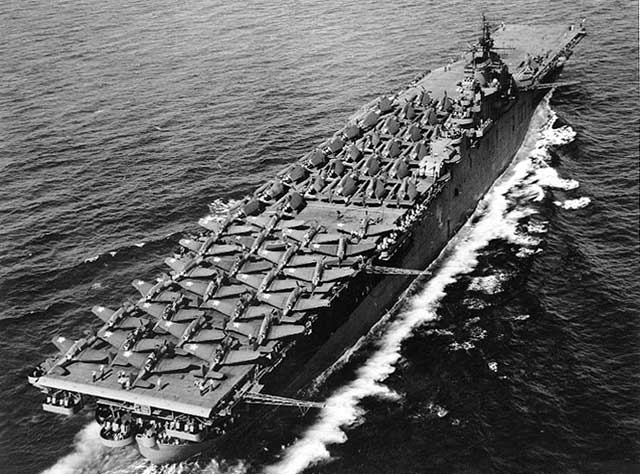 USS Essex Underway, May 1943 (Photo - US Navy)


HyperScale is proudly sponsored by Squadron.com
The fourth United States vessel to bear the name Essex was launched 31 July 1942 by Newport News Shipbuilding and Dry Dock Co. by Mrs. Artemus L. Gates, wife of the Assistant Secretary of the Navy for Air; and was commissioned 31 December 1942.
Following her shakedown cruise USS Essex (CV-9) sailed to the Pacific in May 1943. Departing Pearl Harbor, she joined TF-15 in carrier operations against Marcus Island (31 August 1943), struck Wake Island (5-6 October) as flagship of TF-14, and launched an attack with TG-50.3 against the Gilbert Islands. The latter operation including her first amphibious assault, the landing on Tarawa (18-23 November). Refueling at sea, she cruised as flagship of TG-50.3 to attack Kwajalein (4 December). Her second amphibious assault delivered with TG-58.2 was against the Marshalls (29 January - 2 February 1944).
Essex with the rest of TG-58.2 now joined with TG-58.1 and 58.3 and launched an attack against Truk (17/18 February) during which eight Japanese ships were sunk. En route to the Marianas to sever Japanese supply lines, the carrier force was detected and received a prolonged aerial attack which it successfully repelled. The task force then continued with the planned attack upon Saipan, Tinian and Guam (23 February).
Following this operation Essex headed home to San Francisco for her only wartime major refit. Subsequently she then joined carriers Wasp (CV-18) and San Jacinto (CVL-30) in TG-12.1 to strike Marcus Island (19-20 May) and Wake (23 May). She deployed with TF-58 to support the occupation of the Marianas (12 June - 10 August); sortied with TG-38.3 to lead an attack against the Palau Islands (6-8 September), and Mindanao (9-10 September) with enemy shipping as the main target, and remained in the area to support landings on Peleliu. On 2 October she weathered a typhoon and 4 days later departed with TF-38 for Ryukyu.
For the remainder of 1944 she continued her front line action, participating in strikes against Okinawa (10 October), and Formosa (12-14 October), covered the Leyte landings, and taking part in the battle for Leyte Gulf (24-25 October). At the conclusion of the battle, she continued the search for enemy fleet units until 30 October when she returned to Ulithi, Caroline Islands, for replenishment. She resumed the offensive soon after and delivered attacks on Manila and the northern Philippine Islands during November 1944.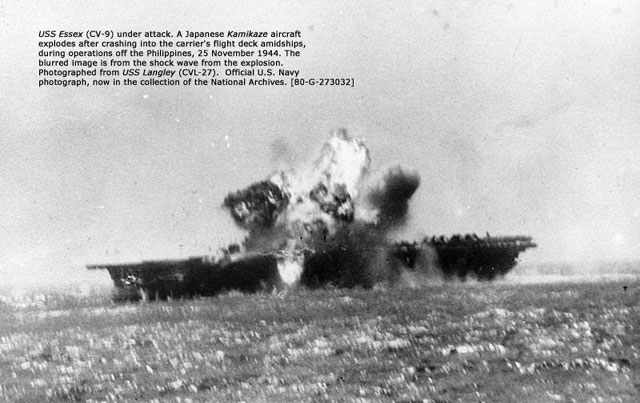 On 25 November, for the first time in her combat career, Essex received injury. A kamikaze hit the port edge of her flight deck landing among planes gassed for take off causing extensive damage, killing 15, and wounding 44. The remarkable photos below were taken on Essex as the Kamikaze made its attack, click on either to view a MPEG movie of the strike (source - US Navy).
Click either of the above images to view the MPEG Movie (1707 KB)
---
Following quick repairs she joined 3rd Fleet off Luzon supporting the occupation of Mindoro (14/16 December). She rode out the typhoon of 18 December and took part in the search for survivors afterwards. With TG-38.3 she participated in the Lingayen Gulf operations, launched strikes against Formosa, Sakishima, Okinawa, and Luzon. Entering the South China Sea in search of enemy surface forces, the task force hunted enemy shipping and conducted strikes on Formosa, the China coast, Hainan, and Hong Kong. Essex withstood the onslaught of the third typhoon in 4 months (20-21 January 1945) before striking again at Formosa, Miyako Shima and Okinawa (26-27 January).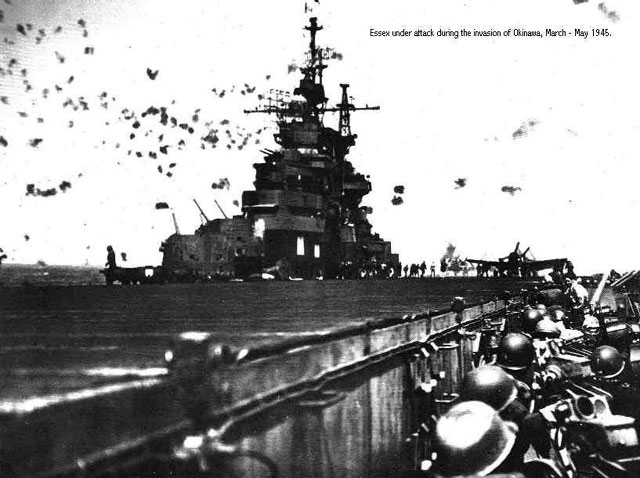 During the remainder of the war she operated with TF-58, conducting attacks against the Tokyo area (16/17, and 25 February) aiming to neutralize the enemy's airpower before the landings on Iwo Jima and to cripple the aircraft manufacturing industry. She also sent support missions against Iwo Jima and neighboring islands.
However, her major operation was 23 March to 23 June in support the conquest of Okinawa. This support included participation in the attack and subsequent sinking of the Japanese battleship Yamato.
In the closing days of the war, Essex took part in further raids against the Japanese home islands (10 July-15 August). Following the surrender, she continued defensive combat air patrols until 3 September when she was ordered to Bremerton, Wash, for deactivation.
On March 10, 1945 AVG-83 replaced AVG-4 and embarked onboard Essex. The air group comprised four squadrons, VT-83 (TBM-3's), VB-83 (SB2C-4's), VF-83 (F6F-5's), and VBF-83 (F4U1-D's). As was becoming increasingly common, the bombing and torpedo squadrons embarked only 15 aircraft each to make as much room as possible for fighters to combat the increasing threat of Kamikaze attacks. Between them, VF-83 and VBF-83 added a total of 73 fighters aboard Essex as she departed on a cruise that would last until war's end.
A little over a week after leaving Ulithi in the Caroline Islands, Essex, with the other fast carriers took part in an attack on the Japanese home Islands. VBF-83 logged its first kills March 18 with VF-83 splashing nine the following day. These attacks were only the beginning however; Essex and the rest of her group were to be key players in a far more important task beginning April 1, 1945 - Operation Iceberg, the invasion of Okinawa.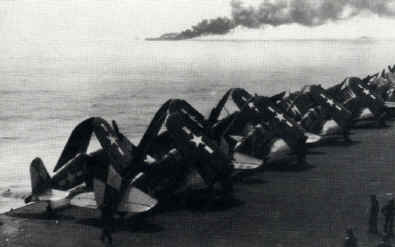 The campaign began in the last week of March and did not officially end until the last week if June. During this time AVG-83 had the distinction of leading the Task Force in enemy aircraft shot down with a remarkable score of 182 confirmed kills (VF-83 with 122 & VBF-83 with 60). In addition, both VT and VB-83 played a key part in the attack and sinking of the Japanese battleship Yamato. Finally, but most certainly not least, countless support missions, both ground attack and CAP, were flown by all Essex's squadrons which helped the 10th Army on the ground secure the Islands at the end of June 1945.

Each squadron was tasked with different mission priorities. VB-83's Helldivers and VT-83's Avengers were given shipping strikes, anti-submarine patrols, ground troop support and various special mission functions. VF-83's Hellcats were, along with the other fighter squadrons, charged with the safety of the fleet flying constant CAP missions, supported by VBF-83's Corsairs when they weren't flying support missions for the ground personnel.
AVG-83 Codes and Markings
Specification SR-2C dated January 5, 1943 initiated the Tri-Colour scheme for USN aircraft operating in the Pacific. This scheme remained in effect until the fall of 1944, when all over Glossy Sea Blue became the designated scheme for all Pacific carrier aircraft.
Essex class carriers carried 103 aircraft of all types. By spring 1945, they were numbered in an orderly system that, with few exceptions, listed as follows:
Fighter Squadrons - VF and VBF: 100's
Bomber Squadrons - VB: 200's
Torpedo Squadrons - VT: 300's
Replacement aircraft usually arrived with a temporary number on the cowling that was the last three digits of the Bu. No., this was quickly replaced with the assigned code for the squadron.
In a Confidential Letter No. 2CTL-45, dated January 27 1945, the USN Air Force, Pacific Fleet, instituted The Geometric Symbols ("G" Symbols) system as a way to have all carrier based aircraft easily identifiable to their carrier. All carriers were assigned a G-Symbol which was painted on all aircraft on each side of the tail fin, on the upper side of the starboard wing, and lower side of the port wing. AVG-83 received the "Hourglass" or "Bowtie" assigned to USS Essex as illustrated below.
Other temporary markings were sometimes applied. The best known example of this is for the attacks on the Japanese home islands in February 1945. All assigned aircraft had their forward cowls painted either yellow or white. Although there is circumstantial evidence to suggest the yellow/white cowlings made a reappearance, one VF-18 pilot, CDR J. Ted Crosby has no recollection of them ever being reapplied to VF-18 aircraft (Thanks to Erik Whipple for the information).
In July 1945, the Navy changed again and instituted a system of Letter Codes. Each carrier was to replace their G-Symbol with an assigned single or double letter code to be painted in the same locations as the G-Symbol. Essex's new code was the single letter "F". This order was almost universally implemented, though some exceptions occurred, indeed some aircraft ended the war still displaying their G-Symbol.
Click the links below to go to the additional Parts of this Reference Feature, describing the Squadrons and Aircraft of AVG-83:
This project began in December 2001 and was completed in late May 2002. All of the models in Parts Two to Five are my own work and each took approximately 40 hours over six weeks to finish. I estimate around 40 hours were spent in research and another 10 or so in writing giving a total of approximately 170 hours from start to finish.
This project came about, quite by accident, during a comparison of kit manufacturers. Tamiya, Hasegawa, Accurate Miniatures and ProModeler ended up being represented. Below is my (completely subjective kit builder's) ranking of them in several categories;
Most Detailed - AccMin Avenger/ProModeler Helldiver
Fit and Easiest to Build - Hasegawa Hellcat
Price - ProModeler Helldiver
Value for Money - ProModeler Helldiver
Best Kit - ProModeler SB2C-4 Helldiver
Lastly, I make no claim to the absolute historical accuracy of this piece. My research was entirely from secondary sources and so plenty of opportunity exists for inaccuracy. However, I think it's pretty close. I'd be happy to correct any inaccuracies, if you wish to offer corrections or additions, please feel free to email me. Lastly, with the wealth of information on the web and the sheer volume of often repetitious and/or duplicated material , I found it impossible to write a description of each of the aircraft's development and history without relying on already posted material. I am sure that some sentences I've used can be found elsewhere. If you wrote it first, please accept my apologies and my thanks.
References and Further Reading
Norman Polmar, "Aggressors, Carrier Power Vs. Fighting Ship"

Barret Tillman, "Helldiver Units of World War 2

"

Barret Tillman, "TBF/TBM Avenger Units of World War 2"

Barret Tillman, "Hellcat Aces of World War 2

"

Bill Gunston, "Combat Aircraft of World War II"
http://www.angelfire.com/
http://www.sinclair.edu/sec/his103/103d01.htm
http://www.airgroup4.com/index.htm
http://pacific.hyperlink.cz/airunits/usn_vb.htm
http://www.usni.org/
http://www.multied.com/Navy/Essex.html
http://ussessex.bravepages.com/pilots_one.html
http://www.chinfo.navy.mil/navpalib/ships/carriers/histories/cv09-essex/cv09-essex.html
http://www.history.navy.mil/photos/sh-usn/usnsh-e/cv9.htm
http://www.ussessexcv9.org/
Acknowledgement and Thanks
The following individuals went out of their way to help me find information or provided guidance during the course of this project. I'd like to express to them my thanks for their contribution.
Steve Hill

Erik Whipple

Steve Mesner

Lynn Ritger

Scott Taylor

Kevin Ingraham
---
Text Copyright © 2002 by Mark Beckwith
Images Copyright © 2002 by Mark Beckwith and Official Sources as noted
Page Created 06 June, 2002
Last Updated 19 April, 2004

Back to Reference Library