Late-War Luftwaffe Fighter Camouflage

Part Two

Messerschmitt Bf 109 G-6/U4/R3, WNr.163824
By Brett T. Green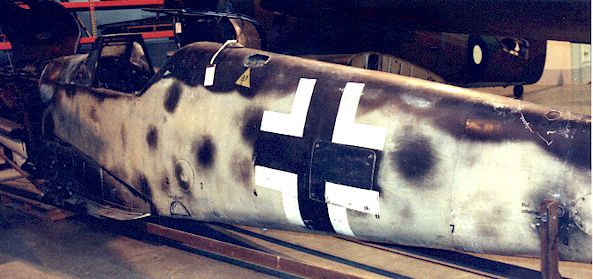 Messerschmitt Bf 109G-6/U4/R3
Werknummer 163824

Part One of "Late-War Luftwaffe Camouflage" detailed the history, colours and markings of Messerschmitt Bf 109G-6/U4/R3 WNr. 163824. Part Two provides additional images of the aircraft, links to related sites and a list of some excellent references for students of Luftwaffe camouflage and markings.
---
Copyright (c) 1998, Brett T. Green. All rights reserved. Material appearing within this document may not be copied, stored or reproduced in any device or publication, in whole or in part, for the purpose of profit without the expressed written consent of the author. This material may be used for personal use and the free exchange of information if appropriate credit is given to the author.
---
Late-War Luftwaffe Fighter Camouflage - Back to Part One

1. Introduction
2. History of WNr.163824
3. The Treloar Centre Bf 109 G-6 - General Features
4. Camouflage and Markings of WNr.163824
Table 1: Colours Used on the Fuselage of WNr. 163824
5. Conclusion

Late-War Luftwaffe Fighter Camouflage - Part Two
6. WNr. 163824 Photo Gallery
7. Links
8. References

Late-War Luftwaffe Fighter Camouflage - Part Three
Commentary on the Evolution and Usage of Luftwaffe RLM Colours 81, 82 & 83 by David E. Brown
Please note that Part Three will take some time to load. Please be patient.
---

23 additional images are provided to further illustrate the text in Part One of "Late War Luftwaffe Fighter Camouflage". To view an image at full size simply select and click. To return to this page click the "back" arrow on your browser (all photographs copyright 1998 Brett Green).

Spinner - note primer under spiral. Silver is protective covering over prop blades

DB605 Powerplant. Red colouring of some parts is unusual. May be heat discolouring.

Hand-painted oil-filler instructions and good latch detail.

Horse-shoe oil tank behind spinner.

Instrument panel sans instruments!

The remainder of the cockpit is quite complete.
Tub seat. Typically, the back of the seat is not installed.

Note heavy seam on exhaust stacks

Starboard cowl with typical G-5 features.

Heavy scuffing on gun-breech cover reveals RLM 77 undercoat. Note hole in windscreen.

Patches of RLM 76 mottle (or more likely RLM 77 under scuffed surface) on gun bulge.

Port side too. Note red primer under canopy and rebuild date painted below.

Erla Haube canopy. Galland Panzer can be seen. Note dive-angle indicator

Streaky, patchy lower surface colours on starboard fuselage.

Demarcation between Green-Grey and Yellow-Green continues through bottom of cross..

...and to the rear of the fuselage

Starboard side Balkenkreuz...
Detail of brush marks and both RLM 02 primer (over panel joins) and natural metal underneath

Port side camouflage pattern.

Spine of the fuselage. Note centre panel line and clear inspection port (rear top port side).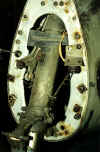 Tail wheel strut.

Starboard wheel.

Port undercarriage gear. Note different tyre tread pattern.

---
7. LINKS

The World Wide Web is chock-a-block with Luftwaffe content. Here are a few of the more relevant sites:
IPMS Houston Bf 109G-6 Walkround
An excellent pictorial guide to a superbly restored Bf 109G-6 in Finland. Around 30 first-class photos by Vincent Kermorgant of IPMS Finland:
http://web-hou.iapc.net/~smh/109fin.html
Luftwaffe Resource Page
Lots of Luftwaffe related information, including plenty of pictures and information on the Bf109 and its various components:
http://www.tiac.net/users/srose/luftwafe/main.html
Messerschmitt
German-Language site dedicated to Messerschmitt - some great colour photos of early 109s http://www.home.ch/~spaw2628/

---
8. REFERENCES

1. "The Official Monogram Painting Guide to German Aircraft 1935 - 1945" by Kenneth A. Merrick and Thomas H. Hitchcock, Monogram Aviation Publications, Massachusetts, 1980, ISBN 0-914144-29-4
The Bible of Luftwaffe Camouflage and Marking. Includes colour chips. This book revolutionised the way researchers and modellers looked at late war German camouflage. Lamentably long out of print.
2. "The Modeller's Luftwaffe Painting Guide" by J.R. Smith, G.G. Pentland and R.P. Lutz, Kookaburra Technical Publications, Melbourne, 1979, ISBN 0 85880 033 0
A companion piece to the "Luftwaffe Camouflage and Markings" trilogy from Kookaburra. The authors contend that the late war "sky" colours did not exist - they were simply faded or discoloured RLM 76. However, the colour photos of the subject aircraft (and others) are invaluable. Six photos of various parts of the subject aircraft on page 54. One good colour view of the Port side of the aircraft on page 71.
3. "Luftwaffe Camouflage and Markings 1935-45 Vol. 3" by J.R. Smith and J.D. Gallaspay, Kookaburra Technical Publications Pty Ltd, Melbourne, 1977, ISBN 0 85880 020 9
Colour photographs of the subject plane in the above book on pages 92 and 132. Invaluable reference - long out of print!
4. "War Prizes" by Phil Butler, Midland Counties Publications, Leicester, 1994, ISBN 0 904597 86 5
Photograph of subject aircraft in the above book on page 151.
5. "Focke Wulf Fw190D & Ta152" Model Art Special no. 8, Model Art Co. Ltd., Tokyo, 1989 (reprinted 1997), No ISBN.
Colour chips on page 135 of above publication as referred to in text. These samples were quite close to colours found on the subject aircraft. However BEWARE - there is massive variation between the samples claimed to be the same colour in other Model Art Specials. As far as I know, these samples may vary even in the same publication. Cross reference against the FS numbers listed above to be sure.
6. "IPMS Color Cross-Reference Guide" by David H. Klaus, published by the Author, 1991 (sixth reprinting), No ISBN.
A great starting point for colour research. This publication includes an FS595B colour fan.
7. "Messerschmitt Bf109F, G & K Series - an Illustrated Study" by Jochen Prien & Peter Rodeike, Schiffer Military History, 1993, ISBN 0-88740-424-3
Well laid out and chronological history of mid to late Bf109s. Lots of pictures and the best way to identify DB605D and DB605AS variants - excellent summary of conformal bulge variations.
8. "Aero Detail No. 5 Messerschmitt Bf109G" by Shigeru Nohara and Masatsugu Shiwaku, Dai Nippon Kaiga Co. Ltd., 1992, ISBN 4-499-20589-1
9. "Walk Around Fw 190D - Walkaround Publication No. 10" by E. Brown Ryle and Malcolm Laing, Squadron/Signal Publications, Carrollton, 1997.
10. "Camouflage Colour Chart for RAF Day Fighters (WWII - Northern Europe) UK-1-1" by Ministry of Small Aircraft Production, Quebec, Canada.
11. "British Aviation Colours of World War Two" Edited by John Tanner, Arms and Armour Press, London, 1986, ISBN 0-85368-271-2
Excellent one-stop description of all major British Air Ministry Orders from April 1939 to October 1944. Includes colour chips for all standard RAF colours.
12. "History, Camouflage and Markings of JV 44, JG 6 and JG 1 Focke Wulf 190 Ds" Experten Decals No. 3 by David E. Brown and David Wadman, Experten Historical Aviation Research Inc., Calgary, 1995.
13. "Luftwaffe RLM Colours 81, 82 & 83 - A Commentary on their Evolution and Usage" Parts 1, 2 and 3, by David E. Brown, Experten Historical Aviation Research Inc., Bedford, 1997 (published on the Internet in rec.models.scale newsgroup).
14. "Les Messerschmitt Bf 109 G-1 Ó K-4 - Moteurs et amÚnagements" (2e ╩dition), by Jean-Claude Mermet, Self-published, Aix-En-Provence, 1995, No ISBN.
15. "The Messerschmitt Bf 109G-10", by Jean-Claude Mermet, Article in the periodical Luftwaffe Verband Journal
---
BACK TO PART ONE - History, Features, Camouflage and Markings of WNr. 163824
GO TO PART THREE - "Commentary on the Evolution and Usage of Luftwaffe RLM Colours 81, 82 & 83" by David E. Brown
GO TO PART FOUR - Building a Bf 109K
Explores an unusual use of primer colours as camouflage on some late-war Luftwaffe fighters
GO TO PART FIVE - Focke-Wulf 190A-8 in Grey
A detailed examination of one colour and one monochrome photograph of Focke Wulf Fw 190A-8, Werknummer 681497 of 5./JG 4.
GO TO PART SIX - Model Paint Mixing Guide
---
Text and Photographs Copyright 1998 by Brett Green
All Photographs taken at the Treloar Technology Centre
Australian War Memorial
Mitchell, ACT, Australia

Page created on Saturday, May 16, 1998
This page last updated on Thursday, May 09, 2002