Virtual Airbrush
Creating Aviation Art on the Computer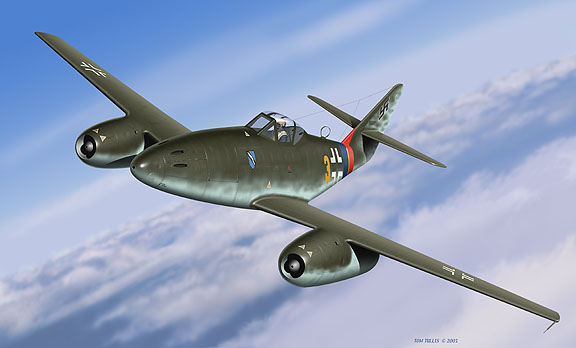 Messerschmitt Me 262A-1a
"Yellow 3", I./JG 7
by Thomas A. Tullis
The following illustrations provide a description of the steps involved in creating one piece of artwork on the computer.
These steps do not represent a detailed tutorial, but they should give an idea of the sequence of tasks required.
This particular illustration will appear on the cover of Eagle Files #5, "Stormbird Colors" by Brett Green and Benjamin Evans.
Step 1 - Base Drawing
The first step is to create the base drawing with perspective lines
---
Step 2 - Base Colors

Next, the base colors sprayed in, starting with light areas working to dark. Note the "palette" of colors to the left of the image.
---
Step 3 - "Rounding Out"

The palette is expanding! Now it is time to add some extra light green, along with darker greens to "round out" the fuselage. Light and shadows are starting to appear on the fuselage, adding to the three-dimensional effect. The markings are also painted in at this time.
---
Step 4 - Canopy and Shadows

The base greens for canopy are painted in. Work also continues on shadows. Check the tail - the shadow is present but the horizontal stabilizers haven't appeared just yet!
---
Step 5 - Commencing the Wings

The canopy is finished and work begins on the wings and horizontal tail. The process is the same as the fuselage - again painting light, mid and dark sections.
---
Step 6 - Wings and Engine Nacelles

Now the opposite wing and both engine nacelles begin to take shape.
---
Step 7 - Finishing Touches

Final markings and details are added to round out the aircraft illustration.
---
Step 8 - Adding the Background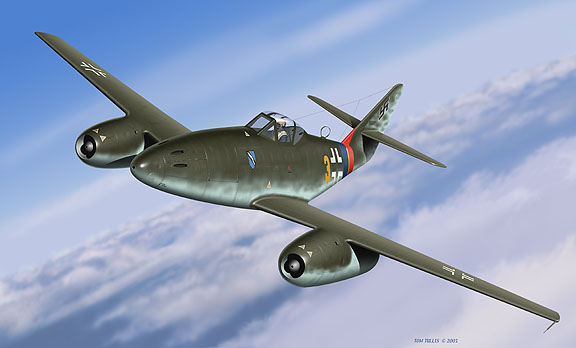 As with the aircraft, the background is painted working from the furthest
point forward. A basic blue is painted in a gradated pattern from the upper
left down. Various shades of white & blue are then sprayed to render the
clouds.

---
And Finally...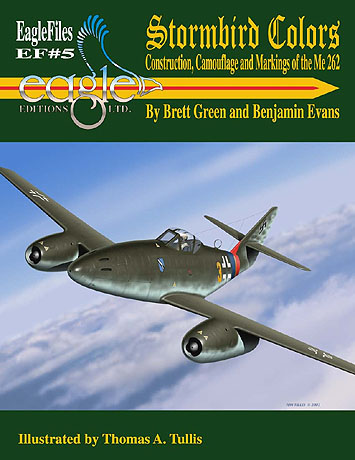 The illustration is integrated with the book cover.
---
Text & Images Copyright © 2001 by Thomas A. Tullis
Page Created 11 November, 2001
Last Updated 19 April, 2004

Back to Reference Library