Working With
Vacform Canopies
by Rex Barker

Squadron Vacform Canopies are available online from Squadron.com
Vacform models and canopies have a reputation for being difficult to work with, poor fitting and time consuming. Many modelers have shied away from working with vacform because of this discouraging impression.
This bad reputation originated years ago when vacforming quality (before the days of Falcon, Dynavector & Koster) was of very indifferent standard. Who doesn't still shudder when thinking of those old Airmodel vacforms and blue-soap canopies?! Fortunately, for the past 15 years, modelers have had the benefit of access to the (now) huge range of Falcon vac-form canopies (in the ClearVax range and as individual canopies in the Squadron range) which have been steadily reversing the poor perceptions of many modelers. These canopies are universally acknowledged as the best in the business - the clearest, most accurate and best-fitting.
This still leaves the perceived difficulty of separating the clear parts from the backing sheet, preparing & painting them and their installation on the model. This article will work through these tasks.
Separating Vacform Canopies from Backing Sheet
This is the trickiest part of the job and it is very important that you do not rush this stage.
The best tool to use for cutting the part free is a scalpel with a fresh blade attached. A craft knife (with a new blade) can be used but a scalpel with give the best results.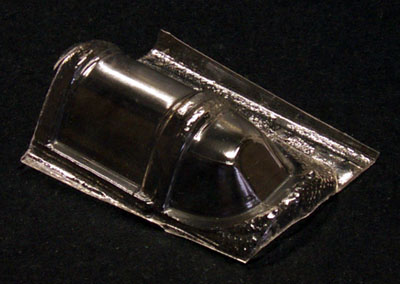 One of the best qualities of Falcon-produced clear parts is that every part sits on a clearly-defined ledge which is perfect for use as a cutting guide - why every canopy producer doesn't include such ledges with their products has always been a head-scratcher!
Step 1 is to take your scalpel/knife and touch it, at a 45 degree angle, on the ledge where it meets the part. Using absolutely minimal pressure, GENTLY score completely around the part using only enough pressure to slightly score the acetate. Apply too much pressure and you risk the blade slipping and slicing into the part - NOT something you want to happen!
Step 2 is to repeat Step 1 using a little more pressure and using the first scored channel to guide the blade. Often this will be all you will need to get the part to pop clear - if not, then repeat the procedure once more. Carefully inspect the separated part to see if there are any rough or jagged edges. Use fine wet-n-dry paper or a sanding stick to smooth these edges. Take care to handle the parts carefully as they are very flexible and easily scratched. Removing scratches or scuff marks from this type of acetate is not possible. A coat of Future floor wax MIGHT reduce the effect of scuff marks but I have not tried this out yet - has anybody?
Attaching the Vacform Canopy to the Model
Standard tube or liquid glue should not be used to attach acetate parts to plastic as they will not react/key with acetate. The two most commonly used products are PVA (white glue or woodworking glue) or CNA (super-glue). PVA is probably the best to use as it has many virtues and no vices. It gets a good grip on both plastic and acetate, it fills any gaps and can be smoothed down using a damp cloth. Great care should be taken when using super glue primarily because the fumes from it can create a non-removable cloudy coating on the part. Use CNA very sparingly and mask all of the part off apart from the joining edge.
CNA can be used to fill any minor gaps (if cut out correctly, Falcon canopies will normally be a friction fit) but I recommend using PVA.
Remember - once you have used CNA and attached the part to the model it will be attached permanently! With PVA you can always remove the part, clean away the PVA and re-attach. Other fillers (such as Tamiya putty, Green Stuff, Mr Surfacer, etc) can be used but be VERY careful that you do not scuff the clear part of the moulding when sanding the joint smooth. Proper masking will prevent this.
There are at least three ways of applying/painting frame lines on canopies/turrets, etc and the one you choose is very much a matter of personal choice - whatever way works best for you. In no particular order:-
Masking
Carefully mask each clear panel using products such as Frisket, masking tape, liquid masking or, my personal favorite, super thin adhesive-backed foil (dont leave it on the part for more than a very few days otherwise it will permanently bond!). This can be time-consuming but it offers the opportunity to paint the entire model and results in the canopy framing to be exactly the same shade as the rest of the model (see a note regarding this in the Summary section below). It also allows you to paint the internal framing color first and then the external colour.
---
Decal-Strip Frames
Paint part of a sheet of clear decal film with the exterior color of the part concerned (you may wish to first paint the interior color then the exterior color). Then cut into measured-width strips for applying to the part. To give these decal strips something to grip on I would recommend that you paint a clear varnish on the framelines first and then, after the varnish is dry, apply the decal strips. This will usually give a good result with the only potential downside being the decal strips being comparitively easy to damage or lift - unlike a coat of paint applied directly to the part. Care is also required where you have irregular or curved frames to cover.
---
Pre-Cut Commercial Products
A number of commercial companies produce masking sets for major kits and it is quite probable that many of these will closely fit the frame lines on Falcon canopies. These masking sets (some of which have been specifically designed for the AM B-25 series) come in two types. One gives you die-cut frames that you pre-paint while others give you die-cut masks that you apply prior to painting the exposed frames (my personal preference!). There is a MAJOR drawback in using these masks for some Falcon canopies. Falcon carefully checks the accuracy of both shape and framing of every canopy they pattern and will correct the kit part if it is wrong. This is certainly the case with the forward nose canopy on the AM B-25 which was both the wrong shape and had incorrect framing. A commercial masking set for the AM B-25 will therefore not match this part. It is therefore necessary to carefully compare the masking item with the vac-formed part to ensure they will match. If they dont then it is back to either Plan A or B as above!
While the work involved in preparing and installing Falcon parts is not as easy or as simple as working with an injected canopy, the results can be most spectacular and rewarding - especially if you have just spent twice the kit's value on a resin cockpit detailing set. Falcon canopies and cockpit detail sets go together like a cold beer and a hot day!
Read the instructions (when all else fails!), take your time and the results will speak volumes.
Finally, a couple more tips to take into consideration:
Displaying Open Canopies
If the canopy you are working on is molded shut (and you want it displayed open), or if you want to open up a window in a bomber canopy, this is best achieved if you separate the joining line before you cut the whole part from the backing sheet. I do not recommend you try doing this freehand! I find the best method is to use thick plastic electrical tape which you lay a thin strip off exactly next to the line you wish to cut. The thickness gives you an edge to rest the scalpel/knife blade up against and it is really flexible for curving lines. You then follow the SAME method for cutting out the canopy (you know, VERY gentle pressure followed by slightly more, etc). When you are sure you have cut completely through you can then do the main separation.
---
Canopy Frame Colours
My last tip concerns the paint finish of frame lines on aircraft clear parts. I have made a study of this and have come to the realisation that frame lines on aircraft that do not have an overall gloss finish are always a darker shade than the surrounding areas. I always wondered why this was so untill the day I watched a ground crewman vigorously polishing the canopy on a very matt RNZAF TA-4K Skyhawk at Ohakea. Canopies are always being polished which results in the framelines also getting continuously buffed. While the paint finish on the rest of the aircraft slowly deteriorates (unless it is a gloss finish) the paint on frames remains fresh (plus less matt) and therefore darker. To be STRICTLY accurate you should therefore give your framelines a slightly darker shade to the rest of the model to simulate this pecularity.
---
Once you have mastered the art of vac-form canopy installation you will never want to install an injected clear part again!
---
Text & Images Copyright © 2001 by Rex Barker
Page Created 24 December, 2001
Last Updated 19 April, 2004

Back to Reference Library