USS Tarawa Visit, 4 May 2008
A Day Aboard an LHA

by Rodger Kelly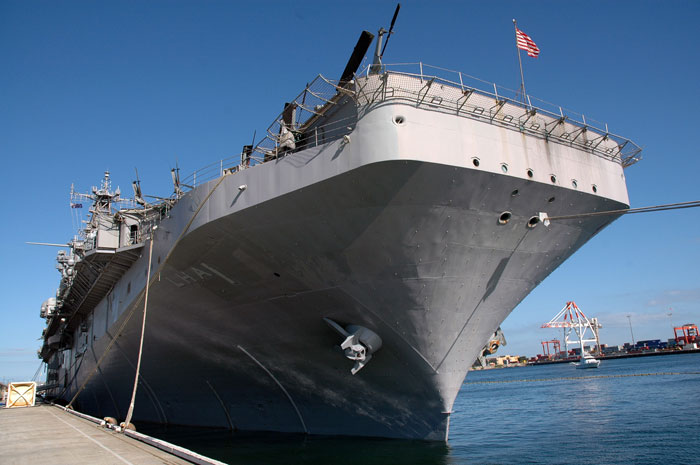 HyperScale is proudly supported by Squadron
The port of Fremantle is but a short half hour drive from my home in the northern suburbs of Perth, Western Australia and is a favoured stopover for many ships of the United States Navy.
A recent visitor to Fremantle was amphibious assault ship LHA-1, the USS Tarawa and I had the opportunity to go aboard and ogle the array of both United States Marine Corps and United States Navy rotary wing aircraft as well as the AV8A and B Harriers of Marine Medium Attack Squadron (VMA) 211 "Wake Island Avengers". Needless to say, you never let a chance like that go by.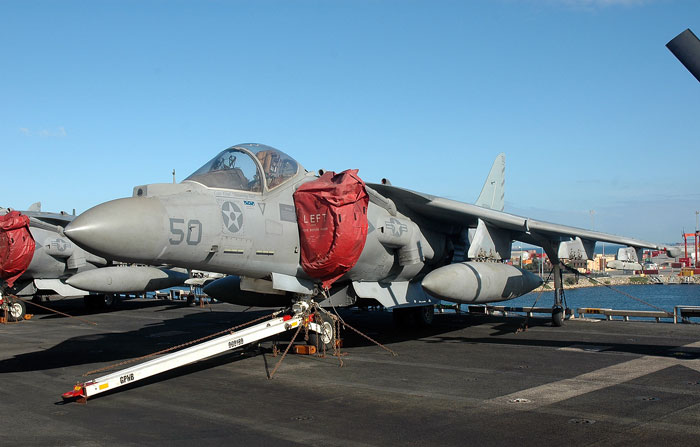 The USS Tarawa is home to Marines of the 11th Marine Expeditionary Unit as well as the ship's company. Also aboard were MH-60S Seahawks of United States Navy's Helicopter Sea Combat Squadron (HSC) 21 "Blackjacks", CH-46 Sea Knights, CH-53E Super Stallions, UH-1Ns and AH-1W Super Cobras of Marine Medium Helicopter Squadron Reinforced (HMM) 166 (REIN).
As per usual, the aircraft were all well and truly weathered, so much so that if you were to replicate them as they appeared on deck you could easily be accused of over weathering!
This latter point was especially so with the CH-46s and CH-53s. Judging by the Bureau numbers, some of the CH-46s had no doubt seen service in Vietnam seeing as they were constructed in the 1960s with the earliest I could find being 1962.
Old and very well used they may be but they were no doubt in a serviceable and ready condition albeit with more than one sporting patches and seemingly mile deep sealant snails around the various gaps. Their maintainers seem to have found another use for the ubiquitous red/yellow soft foam ear protection plugs too as nearly every drain port on the CH-46s seemed plugged by them.
Colourful and uniquely marked they were not. Only one of the AV8s wore any sort of colour at all and that was confined to a single blue rectangle with white stars on it beneath the cockpit. The CH-53 lacked any colour at all as did the AH-1Ws and the UH-1Ns. The CH-46s were all similarly and drably marked apart form one that wore nose art in the form of an eight ball and another that wore a full colour unit insignia on the rear rotor mast as well as a full colour "stars and bars" and blue modex numerals. Brighter than her sisters she may have been but she was sans her rotor blades.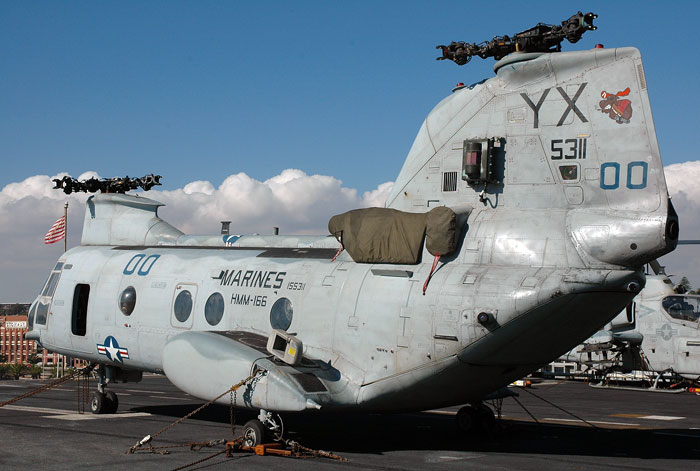 If you ever get the chance to look one of these ships over it is well and truly worth the effort as apart from its aircraft it is absolutely chock full of other equipment including LCUs (landing craft utility LCACs (landing craft air cushion) trucks and plant equipment all jammed into their Well Decks. It will also leave you wondering why we strive so hard to eliminate all of the seam lines and paint the camouflage on our scale helos so carefully!
Enjoy the images!
---
Text & Images Copyright © 2008 by Rodger Kelly
Page Created 8 May, 2008
Last Updated 8 May, 2008

Back to Reference Library