ScaleModelworld 2003
Day One - Telford Takes Off
by Brett Green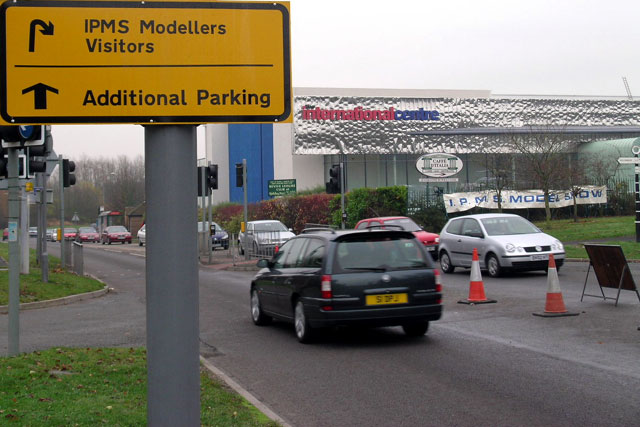 Telford International Centre
22 November, 2003

HyperScale is proudly supported by Squadron
The first day of ScaleModelworld 2003 coincided with the Final of the World Cup Rugby Union played between England and Australia. Although I intended to leave my hotel room at half time, well in time for the general public opening, the gripping, see-sawing game kept me glued to the television until the end of extra time and the end of Australia's tournament. Well done to England for a good win.
One advantage of my late arrival was that the initial crush was over. Driving past the Telford International Centre, I could see that the car parks were already overflowing so I headed for the relative open spaces of the local shopping centre.
In contrast to last night, the halls were now teeming with traders and visitors. Almost as soon as I arrived, I met up with Michael Ullmann and a group of other Germans, French, Belgians and English visitors who immediately plied me with beer, chocolates and exotic meats - including reindeer!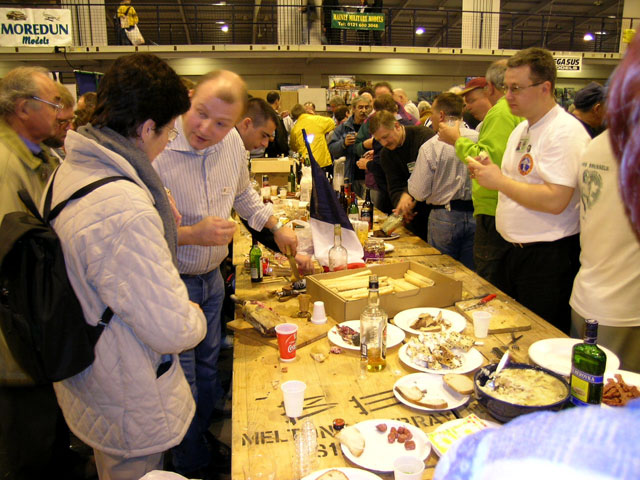 This introduction set the scene for the rest of the day. The highlight was meeting many of HyperScale's visitors. It is great to be able to finally put faces to so many names that have appeared on articles and in the Forums over the years.
Roy Sutherland was one of many American visitors at the show. Roy was flying the HyperScale flag, and looking vaguely familiar...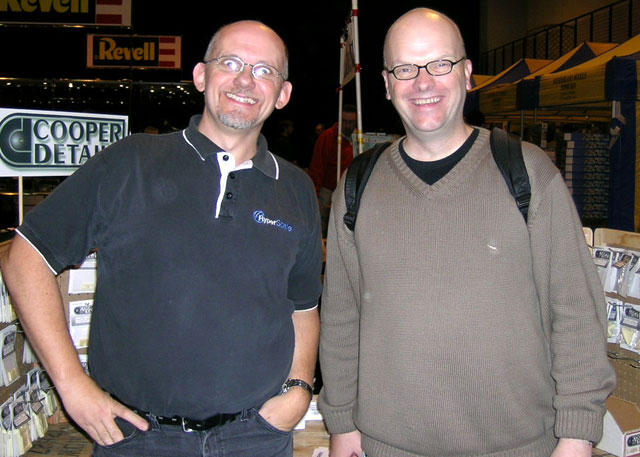 I also managed to visit some traders and hear about various new and forthcoming releases. Some of these included Pegasus' 1/72 scale S.E.5, due for release soon; White Ensign's recent 1/72 scale German catapult and 1/350 scale HMS Musketeer; Grand Phoenix's newly announced range of 1/48 scale multimedia kits commencing with a F3H-2N Demon; Cooper Details new Firefly and Hornet accessories; and several new decals and publications from Model Alliance.
A full sized Harrier cockpit was on display, and I even saw a Dalek doing a little shopping during the day.
5pm closing time rolled around far too fast, but there is always tomorrow.
Telford Takes Off... Additional Images
Click the thumbnails below to view the images full-sized.
Use your browser's Back Arrow to return to this page:
---
Text & Images Copyright © 2003 by Brett Green
Page Created 21 November, 2002
Last Updated 19 April, 2004

Back to Reference Library