A Visit to Tamiya America
by Brett Green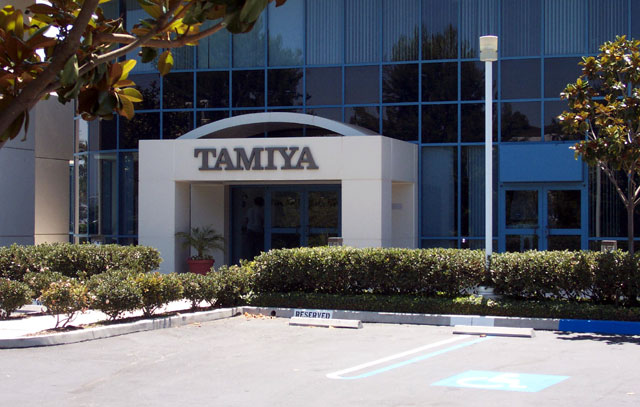 Tamiya America Office

HyperScale is proudly supported by Squadron.com
A Nice Day for a Drive...
Driving 50 miles south along the apparently endless freeways of Los Angeles will bring the traveller to quite a different destination. Ranches perched on rolling hills are juxtaposed against widely spaced shopping malls and uniform housing estates in pale earthy shades under the clear blue sky.
This must be the new face of southern California.
Our journey takes us across a creek and, while heading up another tree-lined boulevard, we find the Corporate homes of some big companies. In this hybrid rural/new-suburban landscape we now see Pepsi's offices and, on the opposite corner, Tamiya America.
It seems somehow appropriate that these brands should occupy adjacent territory. Surely Tamiya's products are at least as addictive to many modellers as their neighbour's cola is to their clientele.
Tamiya America's premises is around ten years old, but it looks newer. The grounds are landscaped and the offices overlook Aliso Creek and the plains of Aliso Viejo below.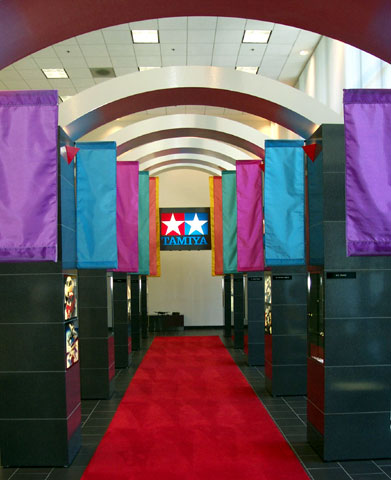 On entering the cool foyer, the visitor is greeted with the spectacle of a showroom/museum of Tamiya products. This is no cold Corporate display of boxart and sales achievements. No mahogany boardroom table and executive bar are to be seen here.
Tamiya America's Corporate showpiece is almost regal in its design, with a long red carpet running the length of the room, capped by arches and flanked by ten giant model display cases either side and a full-wall, all glass cabinet. The arches, flags and the perspective of the long room draw the eye inevitably to the Tamiya brand on the back wall. The cabinets are full of Tamiya models built by real modellers. The blend of product and passion is impressive, to say the least. At least, that is, to this modeller!
Many of the models in this room were built by Bob Ohler, currently Marketing Manager for Tamiya America and an occasional HyperScale contributor. But any collection this large must be the result of many modellers' efforts.
Fortunately, this modelling treasure is not always locked away from view. In April each year, Tamiya opens its doors for the TamiyaCon, and visitors can witness Tamiya's unique homage to plastic for themselves. The TamiyaCon is growing every year, with over 400 entries in 2001 and interactive entertainment involving Tamiya remote control products.
Click the thumbnails below to view larger images:
The Aliso Viejo premises also hosts Tamiya's model photo studio, and the American Customer Service and Administration staff. Tamiya America has recently decided to focus on taking advantage of the speed of the Internet to disseminate information quickly. Usage has increased sharply. They now even employ a staff member devoted to answering emails directed to the US-based website (Tamiya America's website is actually different, and often more up to date, than the English-language part of the Japanese Tamiya site).
Tamiya's Customer Service area also boasts the biggest "spares box" I have ever seen. Kits that are damaged or have parts missing are eventually returned to this office, where they are kept and used for spares where required - whether for a customer, a modelling project, or a request from a film production house.
Despite the genteel atmosphere at the front of the building, the main function of the premises is a warehouse and distribution centre. There are over 80,000 items in Tamiya America's inventory system. That represents item numbers alone, not the total number of items in stock. The warehouse is enormous, and boxes wearing the familiar twin stars are racked, packed and stacked to the high ceiling throughout.
There is also a large processing area. I was surprised to hear that none of Tamiya's products are shrinkwrapped on arrival from Japan. Each box must be unpacked, shrinkwrapped and re-packed for delivery to the network of Tamiya distributors in the USA, Canada and Puerto Rico.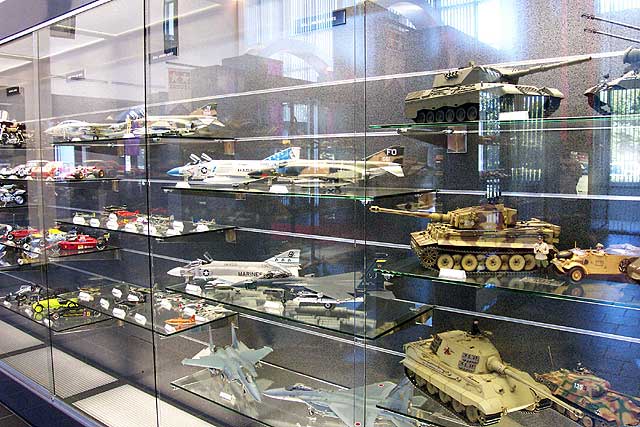 So what did I learn about Tamiya America during my visit?
Well, I picked up a few statistics about warehouse size and stock levels, heard about processes and distributors, goggled at the sheer amount of that smooth Tamiya plastic under one roof. All good stuff. All interesting.
But the biggest impression I had was one of relief. After seeing that showpiece model museum at the very front of the building, and understanding the investment in passion and effort that must have gone into it, it is clear that somebody at Tamiya America understands what makes modellers tick.
And it was most certainly a very nice day for a drive!
---
My sincere thanks to Bob Oehler, Marketing Manager at Tamiya America, for organising the visit, and to Chris Downey for being my tour host on the day.
---
Model, Images and Article Copyright © 2002 by Brett Green
Page Created 26 July 2002
Last updated 11 August 2002
Back to HyperScale Main Page
Back to Features Page