Mirage IIIS
Part Two
by Richard Maher


HyperScale is proudly supported by Squadron.com
Swiss Mirage Upgrade Program
In 1985, there was a major upgrade program for the Swiss Mirage fleet.
It was a genuine retrofit program undertaken in Switzerland, with the objective to make the Swiss Mirage a more potent aircraft.
The first change was a small add-on called "nosetrack", except on the IIIR, to improve stability at low speed and landing approach. With that new add-on the Mirages were called Mirage Plus. Next, they contacted IAI (Israel Aircraft Industry) to add canard wings to the aircraft.
They elected to install a winglet 70% of the size as seen on the Kfir. All Mirages (IIIS-IIIRS-IIIBS- IIIDS) were equipped with that new type of canard wings. This style of winglets did not require any changes to the structure of the airplane.
The modified aircraft was named Mirage IIIS C.70 (canard wing at 70%) Other items, were new jetisonnable fuel tank, a new RWR (radar warning receiver) and a shafts flares dispenser.
They also were equippedwith a new control stick that have a unique selector for the three kinds of armament carried by the Swiss Mirage (cannon, Falcon and Sidewinder missiles)
In 1983, they ordered two new trainers to replace lost ones. The new ones were 2 Mirages IIIDS
So the Mirage fleet was as follows:
Mirage IIIBS
U-2001 to U-2004 (U-2002 and 03 lost)

J-2011 and J-2012 (New IIIDS)
Mirage IIIRS
18 of them R-2101 to R2118 (One lost 2101, and another one out of service because of a structural fire)
Mirage IIICS
J-2201 put in a museum
Mirage IIIS
36 of them ...J-2301 to 2336 (7 aircraft lost in accidents no: 2307—10—16—20—23—28—36
So the total number in Swiss service was:
36

Mirage

IIIS

18

Mirage

IIIRS

4

Mirage

IIBS

2

Mirage

IIDS

1

Mirage

IIICS
61 aircraft in total.
16 Mirage IIIRS and 2 Mirage IIIDS are still in service.
The colors use on the Mirage were aluminiun (silver) for the IIIS and IIIBS and as in use in the French service three tones colors for the IIIRS (Green, grey and light grey.)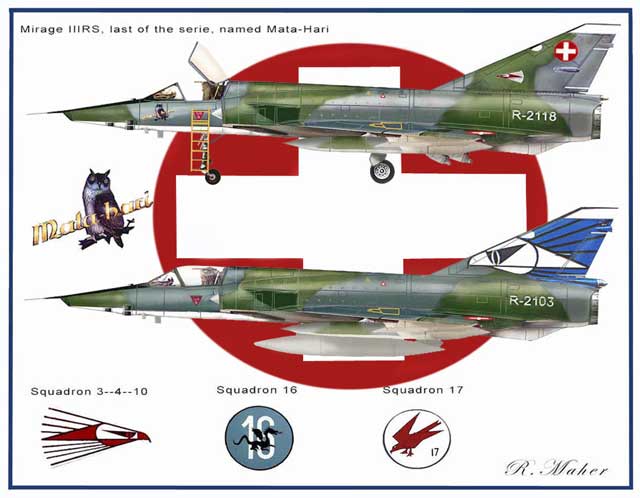 The IIIS later low vis colors were:
The IIIRS colors were:
Any correction or information are welcome.
My sources for documentations come mostly from Mag like:
Air Fan

Z

one Air

World Airpower Journal

Air Action

Le Fana de l'Aviation

Air Forces Monthly
And more......
And from the books on the Mirage :
From a Mirage Lover.................................Richard Maher
PS. I am not a specialist, only a modeler and artist trying to help
My renditions in the article depict the Mirage IIIS and IIIDS in low vis camouflage and the Mirage IIIRS in usual camouflage with the last one in a special livery in 2002

Click the thumbnails below to gain an insight about how these images have been created:
---
Text and Images Copyright © 2003 by Richard Maher
Page Created 05 February, 2003
Last updated 05 February, 2003
Back to HyperScale Main Page