Somali Hunters
by Mick Toal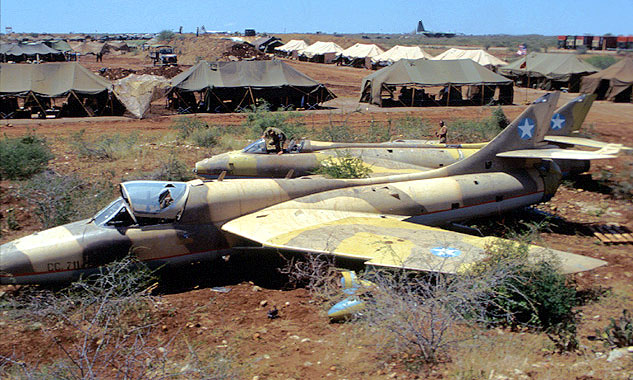 (foreground) Hawker Hunter T.77 - Baidoa, Somalia, January 1993
Droptanks are still fitted despite the collapsed undercarriage. Note the faded Middle Stone and Dark Earth upper surfaces, the red pinstripe demarcation along the fuselage centreline and light blue lower surfaces. There is evidence that old markings have been overpainted with fresh brown paint on the wings (under the national markings), the fin, rear fuselage and under the windscreen.
descriptions by Dave Carter

HyperScale is proudly supported by Squadron
Somali Hunters, Mid-1980s
Here are some photos of the Hunters in this article actually flying back in the mid-1980s in the same location as the wrecks were photographed the following decade. The planes were not being flown by Somali pilots.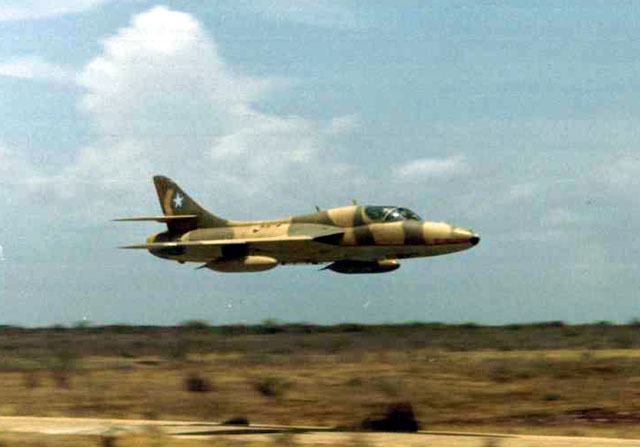 These three images are supplied by courtesy of Mike Buck via Mick Toal.
Click the thumbnails below to view larger images:
---
January, 1993
Here are some photos of wrecked Hunters taken while I was in Baidoa, Somalia during January 1993. The following text is Dave Carter's assessment of the photographs:
These Somali Hunters have been around!
The single seaters started life in the 1950s with the RAF. The two seaters were with the Dutch Air Force. In 1969 they came together for a mass refurbishment program and passed on to various smaller air forces as cheap but effective combat aircraft. This was the UK's answer to the American F-5!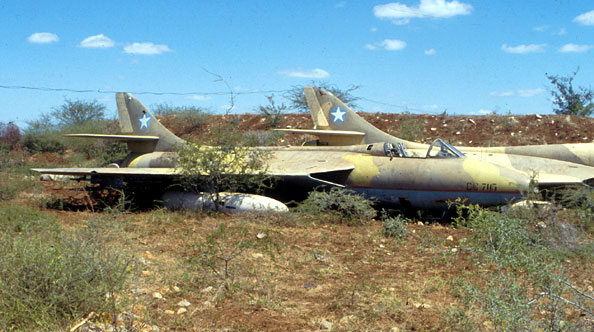 The Somali planes were in a batch upgraded to F.76 and T.77 standard, which incorporated a lot of the advances of the FGA.9. But while the FGA.9 was essentially a ground-attack aircraft, these late 60s updates for export were more multi-role. Most seemed equipped to carry Sidewinder AAMs. Anyway, the F.76s and T77s first went to Abu Dhabi. In 1975, the survivors were passed to Jordan.
Jordan's Air Force had been badly mauled in the 1973 Yom Kippur war. But it seems the Jordanians needed more modern equipment and passed all their Hunters, including the Abu Dhabi examples, to the Sultan of Oman, who already had Hunters in service.

This is where it gets murky. Oman gave Somalia several Hunters in 1983. It is claimed these were the survivors of the original Abu Dhabi F.76s and T.77s but who knows. After all these years and users, there would have been little commonality among the F.76s.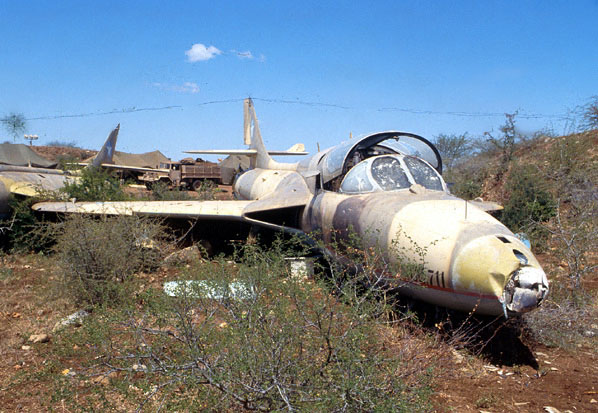 All this goes a long way to explain how they ended on the dump.
Somali was getting faster and noisier MiG-21s about the same time, so I expect these were preferred to the ageing subsonic Hunters. But considering the way the Hunters were traded around the Middle East for 30 years, I bet they were a lot more reliable sucking in all that dust and sand than the MiGs!

---
Images Copyright © 2002 by Mick Toal
Description Copyright © 2002 by Dave Carter
Page Created 14 February, 2002
Last Updated 19 April, 2004

Back to Reference Library