Single Seat Firefly
A Fictional "What If" Scenario
by Charles Knell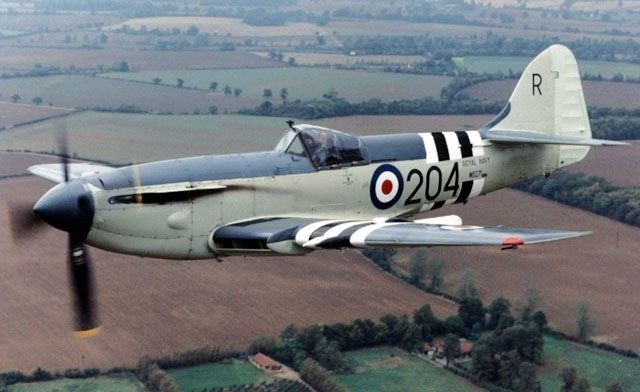 The Royal Navy Historic Flight's well-known Firefly Mk.V
in Korean war colours depicting its service with 812 Sqn. aboard H.M.S. Glory


HyperScale is proudly supported by Squadron
The Fairey Firefly was designed to a Royal navy specification as a two-seat strike fighter, production following on from the company's previous model, the Fulmar.

Initially conceived to use a Rolls-Royce Merlin, the Mark I was a capable if underpowered aircraft, which was more than able to deal with the large land-based maritime aircraft it was expected to encounter at sea.

The AS IV was projected to be an up-rated version employing a Rolls-Royce Griffon engine, together with a redesigned wing with squared-off tips and incorporating a Mosquito-style cooling system with radiators set into the inner leading edge sections, which proved to be very efficient aerodynamically.

The Mk.V was originally meant to be an incremental improvement, but in line with contemporary practice in other countries, the Admiralty relaxed the requirement to carry an Observer/Navigator.

As with the Merlin Mustang, the Beaufighter and the Spitfire IX, the next major development was hurried and largely unforeseen, but produced a classic design.

In a programme that rivalled that of the Mustang/Merlin story for speed of accomplishment, a new single seat fuselage was designed with minimum engineering changes. With the installation of a two-stage Griffon engine developing 2100h.p., the Fleet Air Arm now had a fighter in the Spitfire class but with twice the fuel capacity.

This proved to be perfectly suited to the long distances involved in Pacific theatre operations. The clipped wing tips, together with the Fairey -Youngman flap system, gave it both low-level and high altitude manoeuvrability. It also had the ability to carry a large range of naval stores, a factor which combined with its docile carrier handling characteristics, meant that it quickly supplanted the problematic American Corsairs in the Pacific.

Profile drawing of WC089, the Firefly V prototype.
Note the original high 'razorback' fuselage and the late style high camouflage demarcation
The first batches of machines were completed with 'razorback' fuselages, but the cut down 'bubble top' version was introduced from airframe 31 onwards.
The Firefly soldiered on after the war, and was still a valuable asset to the U.N. when used by the British and Australians in Korea.

Little known valuable side effects of the Firefly's success were the boost it indirectly gave to the industry in the U.K. It enabled Hawker to abandon development of the Tempest / Sea Fury line in favour of the Sea Hawk / Hunter family, which would not otherwise have been available at the outbreak of hostilities in Korea, leaving the R.A.F. with no real match for the MiG 15 fighters that were encountered.

It also meant the Firebrand could be quietly dropped, allowing Blackburn to concentrate earlier on Buccaneer development, and eventually go on to gain the U.S. Navy attack aircraft contract.

Who knows? If it weren't for this development we might all have been flying American aircraft today...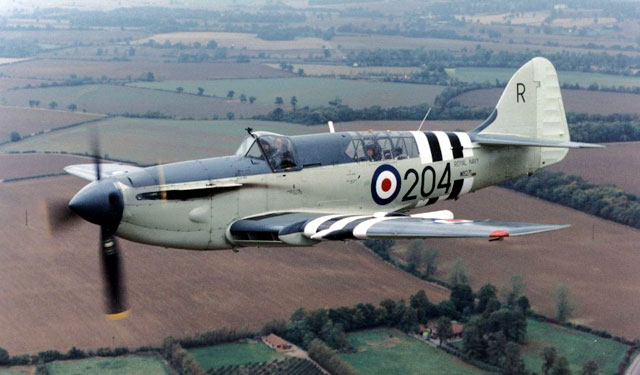 The real WB271
in an unmodified photograph
---
Text & Images Copyright © 2002 by Charles Knell
Page Created 07 November, 2002
Last Updated 19 April, 2004

Back to Reference Library