Archival Show and Tell #6
US Navy
Red and White Prop Tips
by Dana Bell


HyperScale is proudly supported by Squadron
US Navy Red and White Prop Tips
I often come across curious color scheme elements that don't fit my expectations. With the tips of US Navy WWII aircraft propellers, I expect the colors to be yellow or red-yellow-blue stripes – the discovery of red prop tips in several color photos or on an artifacts many years ago simply had to be a mistake. I suspected that either the red had been popular with civilian aircraft, the photo colors were shifting, or a confused painter opened the wrong can of paint.
Early this year the back story popped out of a small file at the Archives - three pieces of paper and one photo, and suddenly everything made sense. On 9 September 1944, Navy Utility Squadron Four (VJ-4) asked the Bureau of Aeronautics for a waiver on the use of the then-standard Orange Yellow prop tips. Their target tug aircraft were painted overall Orange Yellow, and the spinning props were camouflaged when seen against the aircraft. VJ-4 asked to add a one-inch red stripe to the center of each yellow tip, providing an extra safety warning to nearby personnel, and provided a photo of a TBF on which they had tested the marking.
BuAer recognized the value of the new safety marking and further recommended the yellow portions of the stripe be replaced with white – resulting in white-red-white prop tips. On the 29th, BuAer notified VJ-4 that their markings were approved, adding the recommendation that the tips now be three equal stripes of white-red-white. With the red officially accepted as a prop color, variations in application were suddenly reasonable.
In retrospect, I realized that every red-tipped prop (generally without any white) I had seen came from a trainer or liaison aircraft - two aircraft classes often delivered with Orange Yellow high-visibility paint. (Most trainers and grasshoppers continued to carry Orange Yellow prop tips, these aircraft certainly included the known exceptions.)
The white-red-white tips turned up again during the Vietnam war – commonly seen on A-1 Navy, Air Force, and VNAF Skyraiders. I haven't yet found the paper trail explaining these marking on these aircraft (certainly NOT delivered in overall Orange Yellow!), but I suspect that answer is still hiding in another file somewhere in the Archives.
---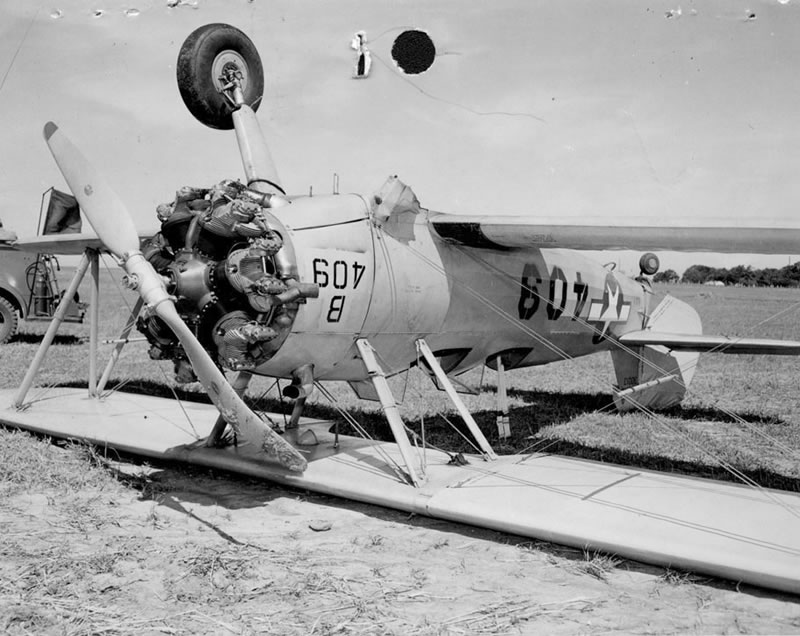 Prop tip colors can be difficult to judge in black-and-white photos. This N2S-4 (BuNo 30013) crashed at Arlington Field, near Dallas, on 19 May 1945. The aircraft's highly weathered color scheme appears to be Orange Yellow. One prop tip seems to match the red fire engine in the background. (The other prop tip seems to be mud-colored!)
---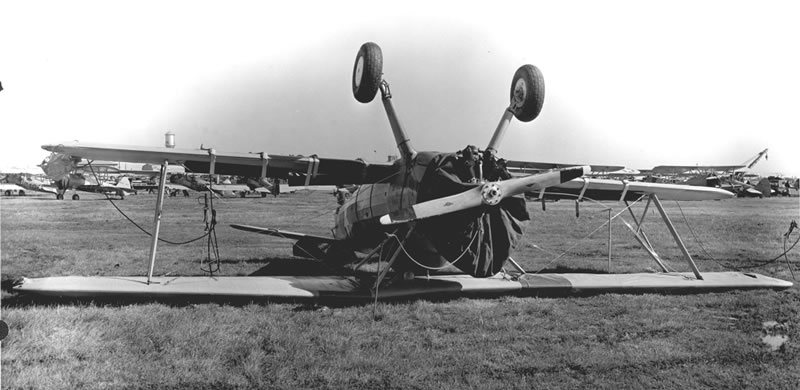 Another N2S-5 (BuNo 27978) from NAS Dallas, this example destroyed by a freak windstorm on 14 March 1945. Overall Orange Yellow with Willow (Light) Green instrument trainer bands on the wings and fuselage, the aircraft prop tips have thin white and broad red bands.
---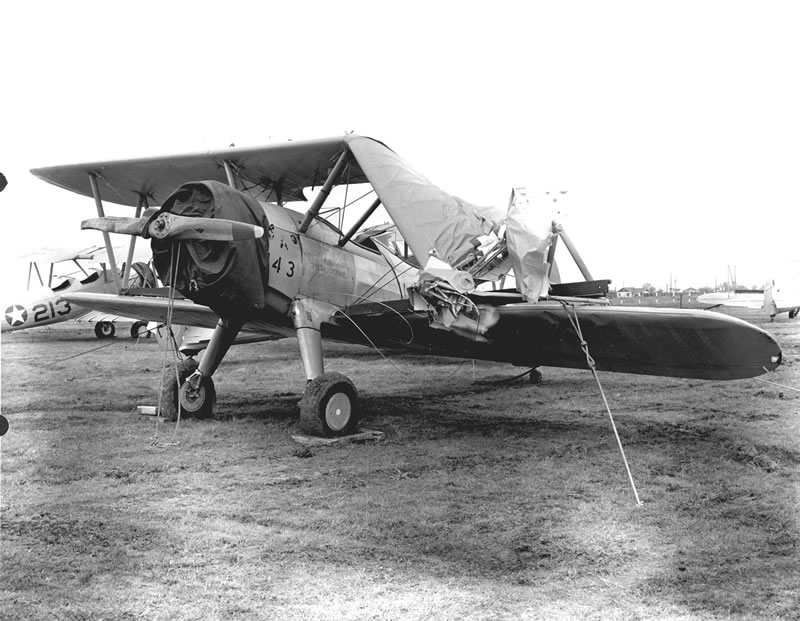 Another victim of the same windstorm, N2S-4 BuNo 55713 appears to be painted in aluminum dope and lacquer. The prop tips, however, are very similar to the previous example.
---
Text and Images Copyright © 2014 by Dana Bell
Page Created 22 April, 2014
Last Updated 22 April, 2014

Back to Reference Library