Archival Show and Tell #5
US Naval Air Reserve Colors - 1946
by Dana Bell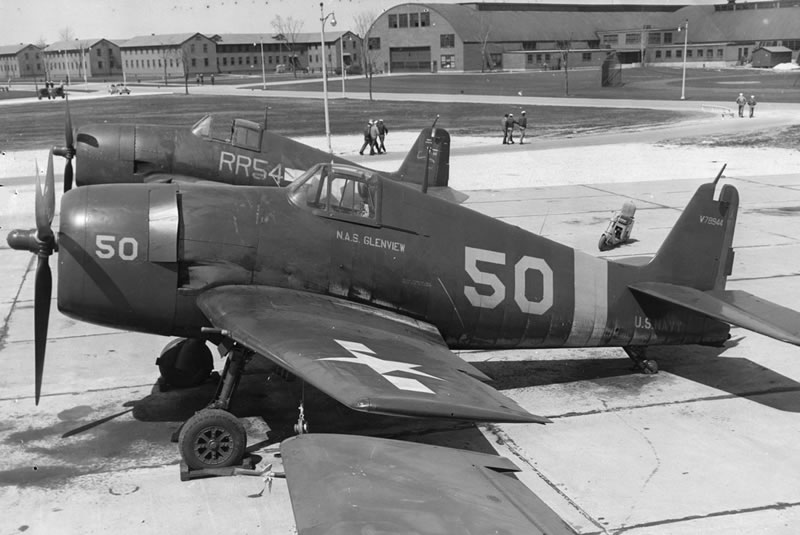 Naval Air Reserve Training Command included this F6F-5 photo in its 1946 specification for Reserve aircraft markings. Devised at Naval Air Station Glenview, Illinois, the scheme painted most markings in Orange Yellow (sometimes incorrectly referred to as "chrome yellow") in the pattern described in the article below. The small letter "A" (barely visible on the rudder above the designation) marked this Hellcat as a second-line combat aircraft.


HyperScale is proudly supported by Squadron
US Naval Air Reserve Colors - 1946
Many who model post-WWII airplanes are already familiar with the International Orange fuselage bands marking aircraft of the US Naval Air Reserve Training Command. Few modelers, however, are aware of the earlier Reserve markings, introduced in 1946. The recent discovery of contemporary correspondence and photos make those markings a perfect subject for our fifth Archival Show and Tell.

On 8 May 1946, the Naval Air Reserve Training Command (NAResTraCom) proposed a new aircraft markings system, requesting approval from Commander Naval Aviation Training Command (CNATra) and the Bureau of Aeronautics (BuAer). With many newly returned fleet pilots anxious to "display their combat proficiency at low altitudes over their home towns and individual residences," commanders wanted a ready means for civilians to identify any offenders, reducing "the present tendency to "flat-hat." While the paper trail is incomplete, it appears the new markings were passed to all Air Reserve facilities three days later on 11 May – prior to approval by higher command. The unnumbered specification included two isometric drawings and two photos, all of which are included in this article.
The specification divided aircraft into two classes based entirely on the size of the lettering. Type I aircraft (with 20-inch fuselage numbers and 30-inch wing numbers) included the OS2U/OS2N, SC, SOC/SON, SNB, SNJ, SNV, NH, N2S, N3N, JRB, "JZF" [certainly a typo for the J2F], GB, GH, OY, AE, and NE. Type II aircraft (with 30-inch fuselage numbers and 40-inch wing numbers) included the F3A, FD, F4F, F6F, F7F, F8F, FG, F2G, FJ, FM, F3M, FR, F4U, BTD, BT2D, BTM, SB2C/SBW, SBD, SBF, TBF/TBM, TBY, PBJ, PBM, PV, P2V, PBY/PBN/PB2B, PB2Y, PB4Y, B314 (Boeing "Clipper"), JRM, PB2M-1R, R5C, R3D, R4D, R5D, R5O, RY, BD, J4F, JM, JP [?], JRC, and JRF. (The aircraft listed included several that would not be assigned to the Reserves in 1946.)
Interestingly, the specification deleted all national insignia from the fuselage – though the deletion was never explained. Note that during 1946, when these marking were introduced, the Insignia Blue backgrounds were still required for the national insignia applied to the wings.
Combat and transport aircraft were to be painted Glossy Sea Blue, with Non-Specular Sea Blue antiglare panels and Orange Yellow markings. Utility aircraft and advanced trainers were to wear aluminum finishes, with black markings and red fuselage bands, and primary trainers were to be painted overall Orange Yellow with black fuselage bands. (Advanced trainers' yellow wings were not noted in the specification text, though they were depicted in schematic drawing.) Each air station was to number its aircraft sequentially in blocks, with the lowest numbers assigned to fighters, the middle range to trainers, and the highest range to utility aircraft. To allow for growth, each number block was to be at least 20% larger than the number of assigned aircraft. The station name was to appear below the cockpit, and special assignments (instrument, staff, navigation, radio, or administration) were to be painted below the station name.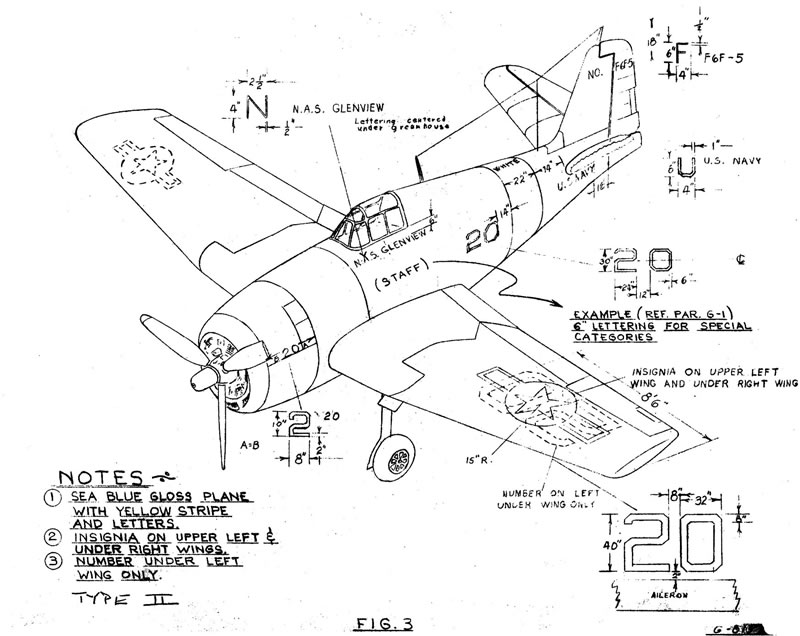 The large identification markings, as specified for Type II aircraft. The drawing also depicts a combat aircraft, with the Orange Yellow fuselage band. (Note the erroneous "white" band callout drawn across the aircraft spine.)
---
The smaller Type I marking drawing noted the Orange Yellow upper wing color for advance trainers, though this coloration was not mentioned in the text.
---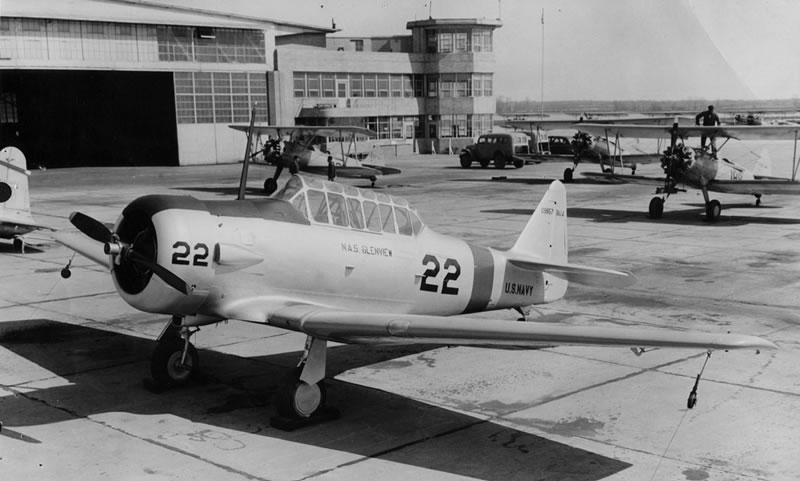 The red tail band shows to good effect on this SNJ, seen in one of the photos accompanying the specification. Note that the Stearman trainers in the background do not yet carry black fuselage bands.
On 21 May NAResTraCom notified all of its station commanders the combat aircraft designations were to be applied with an "N-dash" prefix, denoting the fact that the aircraft had a reduced combat capacity.
In mid-June BuAer and the Chief of Naval Operations objected to the new Reserve marking scheme. A new Navy-wide marking specification (to replace SR-2e) was in preparation, with plans to distinguish Reserve aircraft with an International Orange fuselage band. On 5 July, the Reserves responded that their scheme was more effective and asking to continue its use. On 6 August BuAer repeated that a new scheme was under review and advising that Reserve aircraft should conform to the new scheme. However, all this was put on hold as the Navy considered a renumbering of all aircraft squadrons. By 16 December BuAer was ready to implement its new markings, which finally appeared in specification SR-2f on 2 January 1947. The 1946 Reserve scheme remained in use for several months more, eventually being replaced by the Navy's revised orders and now-familiar International Orange fuselage band.
---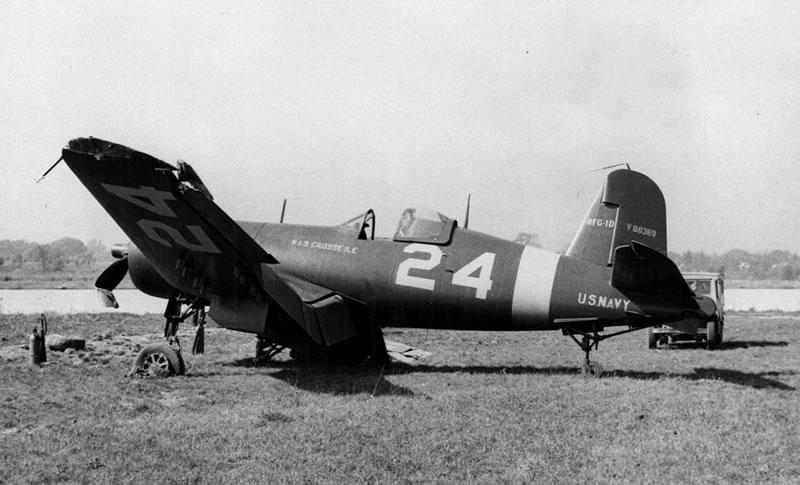 A rough landing at NAS Grosse Ile, Michigan, on 3 October 1946. This N-FG-1D exhibits a near-perfect application of the early Reserve markings (all in Orange Yellow) even as BuAer and the CNO were working to adopt a new scheme. The "V" prefix to the BuNo (88369) was common on Reserve aircraft of the period, though its purpose is not fully explained in written documentation.
---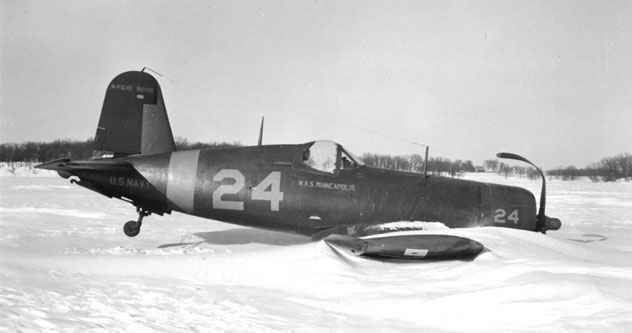 Any landing you can ski away from.... N-FG-1D BuNo 92010 flew out of NAS Minneapolis before engine troubles caused this emergency landing just outside of Emmetsbugh, Iowa, on 2 February 1947. All Reserve identification markings are painted in Orange Yellow.
---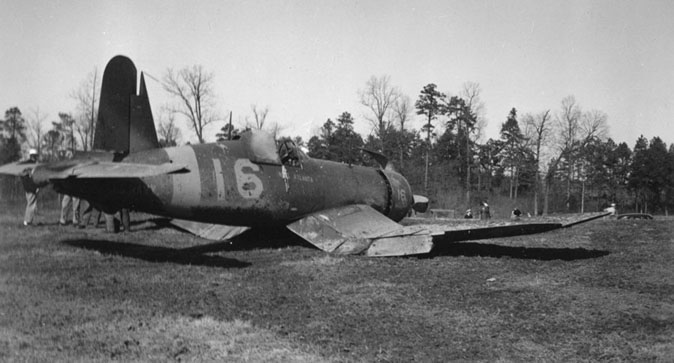 Another N-FG-1D, another rough engine, another open field landing. BuNo 92319 came down a quarter mile short of home field at NAS Atlanta, Georgia, on 1 February 1947. While most markings have been painted to the larger Orange Yellow Reserve specs, the BuNo remains in smaller white characters on the fin.
---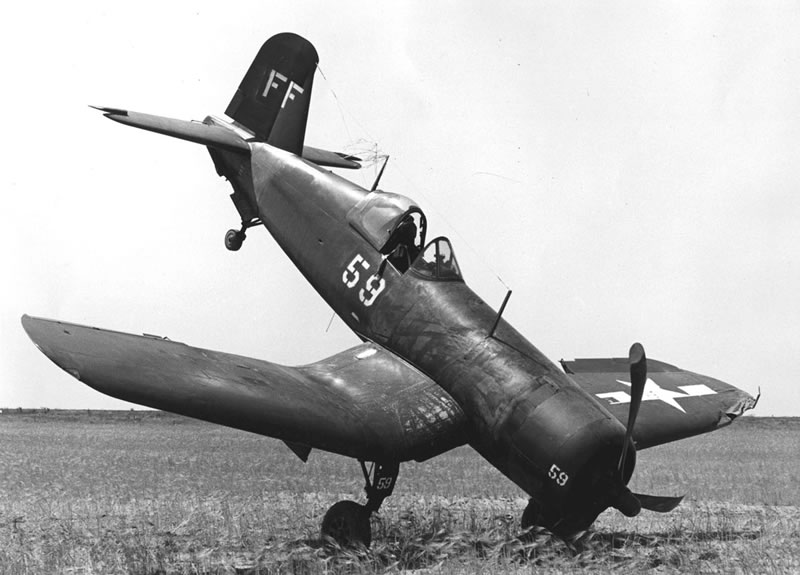 N-FG-1D BuNo 92225 ran off the runway at home field NAS Oakland on 23 June 1947. The aircraft exhibits an unusual combination of the 1946 Reserve markings and the Navy's new SR-2f standards. The fuselage does not yet carry a star insignia, but the Orange Yellow band has been overpainted with International Orange. The "NAVY," designation, and BuNo markings have been repositioned beneath the stabilizer. Documentation of the "FF" tail code is incomplete – the first letter generally identified the Reserve base, while the second letter designated the aircraft mission (in this case "F" for fighter). However, surviving records suggest that the base code for Oakland wasn't changed from G to F until September 1948, when the aircraft mission code was dropped. Looks like another trip to the Archives is needed...
---
Text and Images Copyright © 2014 by Dana Bell
Page Created 3 April, 2014
Last Updated 3 April, 2014

Back to Reference Library