Archival Show and Tell #1
Yellow Green
by Dana Bell


HyperScale is proudly supported by Squadron
One of the best parts of archival research is the accidental discovery of something you weren't looking for. The Reading Room regulations in most of the world's better repositories enjoin researchers from jumping up and down yelling "Ooh! Ooh! Ooh! Look what I just found!!!"
To fill the void left by these unfair restrictions, Brett has allowed me to burn up a portion of his bandwidth with some of my recent favorites.
HyperScalers outside of the US may not be familiar with the old Kindergarten tradition of encouraging all the youngsters to take turns showing something interesting to the rest of the class; please don't confuse this with another tradition: "I'll show you mine if you'll show me yours." That tradition is best left to other websites...
Several HyperScaler have recently asked about the tinted zinc chromate called Yellow Green by the US military. Introduced before World War II, Yellow Green could be used to distinguish a second coat of primer from the first pale yellow coat, or (when approved for such a use) serve as a finish coat for interior surfaces. The Army and Navy had similar (but not identical) standards for Yellow Green, which mixed a base (yellow) zinc chromate primer with black enamel and ground aluminum. Because the aluminum pigment quickly settled out and hardened if Yellow Green was stored, the primer had to be mixed each day in each factory, depot, or field application. Neither service standardized a final color, and few dated records included samples of Yellow Green.

In early 1942, aluminum shortages forced the US to find alternatives to Yellow Green, leading to the famous "Salmon" color (tinting zinc chromate primer with iron-oxide pigment), Curtiss Cockpit Green (tinting zinc chromate primer with gray enamel in an attempt to replicate Yellow Green), and several other variations before the introduction of Interior Green (zinc chromate primer tinted only with black) in mid-1943.

Reports hinted that Interior Green was very similar to Yellow Green, but just what did Yellow Green look like?

A partial answer turned up in a January 1941 US Navy report on new non-specular insignia colors. The Naval Aircraft Factory in Philadelphia primed a number of aluminum plates before spraying the new insignia lacquers on one side of each plate. The back of each plate was left with a single coat of Yellow Green. Normal application of primers called for a first coat of untinted zinc chromate, but these plates clearly received only a single coat of Yellow Green.

To provide a comparison, I scanned three of the plates with a May 1943 ANA standard for Interior Green. Clearly, the two colors were NOT almost identical. In the scan, both colors tended to warm up, becoming a bit browner or more olive than the originals appeared in daylight. The Yellow Green had been sprayed onto the plates, and an uneven application showed some stippling, with the heavier applications appearing slightly darker. On one plate, the ghost of the blue aluminum grade stamp ("24ST) shows through. There are slight color variations on all the plates, even though they were primed in the same facility at the same time.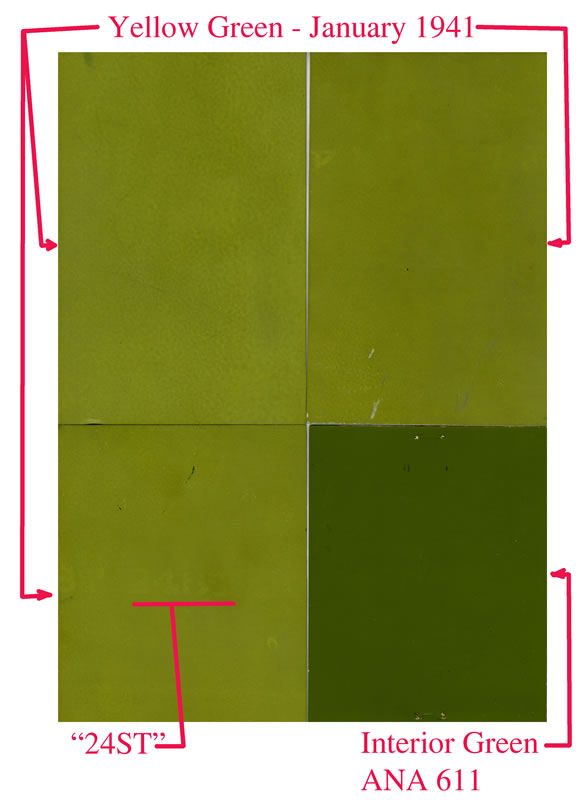 What does this do for modelers? Little - other than providing a sense of how one day's application of Yellow Green appeared in early 1941. Anyone adjusting his monitor so that the Interior Green sample matches FS595a color 34151 should have a slightly better idea, but in the end no two mixes and applications of Yellow Green are likely to be identical.

Those wishing to view the originals of these plates will find them at the US National Archives 2 in College Park, Maryland. See Record Group 313, Naval Operating Forces General Files, 1941-42. MLR A1 288, Box 22, Folder 4.
---
Text and Images Copyright © 2012 by Dana Bell
Page Created 24 October, 2012
Last Updated 21 December, 2012

Back to Reference Library