Sea Fury FB.11 TG129 of 871 Squadron, photographed in May of 1952. This is the Pattern 3 scheme as applied by Fairey Aviation of Canada. Fuselage codes are 24" high on this aircraft. Spinner appears very dark (darker than the upper surface camouflage color), and is likely blue.

---
Sea Fury FB.11 WG566 illustrates the factory-applied Pattern 2b scheme. It was delivered in 1951 wearing full RCN markings. Note the single-line service identifier and the incorrectly proportioned fin flash applied by Hawker. It is shown in service with 870 Squadron aboard the Maggie in 1952. Spinner tip is reported to be blue.

---
Sea Fury FB.11 TG118/108 of 870 Squadron, illustrating the new marking scheme introduced in mid-1952. The red spinner with a white star motif and the black outlined red lightning bolt on the outboard side of each wing tank identify this aircraft as part of 870 Squadron's ad hoc demonstration team circa September 1952. Items to note are the lower Pattern 4 demarcation line, the orientation of the spinner star points to the prop blades, and the thin black outline on the spinner star and drop tank flash. Also note the later stencil style service identifier and serial number.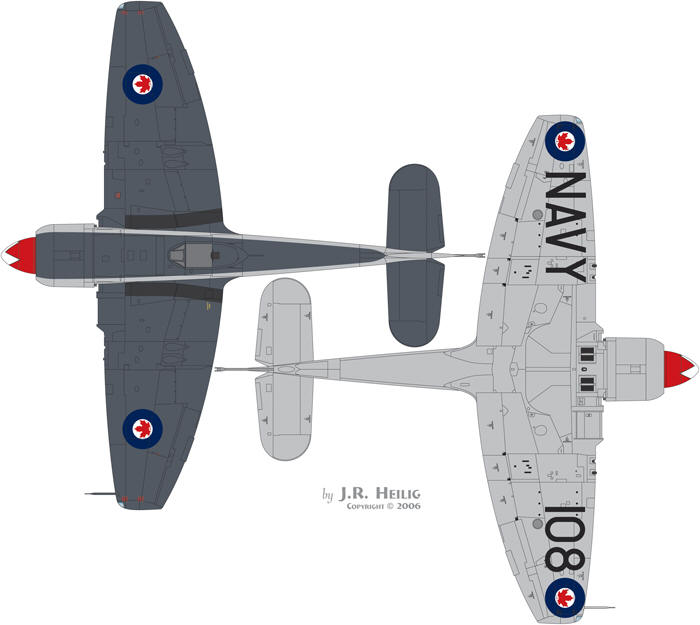 ---
Sea Fury FB.11 WG569/135 illustrates a second example of the new marking scheme. This aircraft was delivered from Hawker in Pattern 2b, and has completely standard markings, with the service designator and serial revised after delivery using the orignal style of lettering. It is illustrated as it appeared in November of 1952 when it was involved in a landing mishap aboard the Maggie off Bermuda. Spinner color may have been EDSG, although WG569 definitely had a red spinner at a later date.