Colors & Markings
of the Hawker Sea Fury
in Royal Canadian Navy Service
1948-1956
Part Two - Pattern 1 Illustrations
by Jennings Heilig


HyperScale is proudly supported by Squadron
Canadian Sea Fury Camouflage and Markings
Pattern 1 Scheme
Sea Fury FB.11 TF999 from the initial batch of deliveries in 1948. It is seen when in service with 803 Squadron in 1949. Colors are Royal Navy standard EDSG and Sky. In this case, the British roundels have had a small blue RCN maple leaf added to the red center spots. Squadron codes are white, and the full serials are retained under the wings per the RN standard. Whether it was the Hawker factory or the RCN riggers at Eglinton who applied the RCN service identifiers, maple leaves, and squadron codes is open to speculation. However, it is certain that all three had been applied prior to the aircraft's departure for Canada in May of 1948.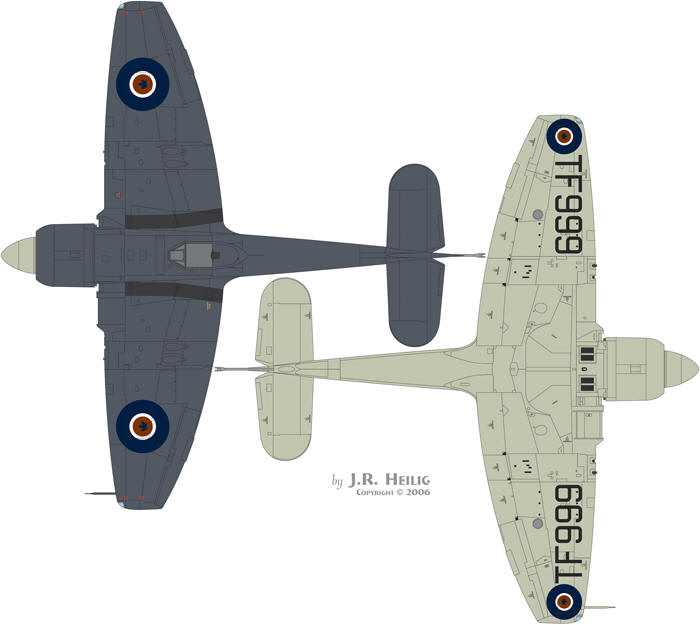 ---
Sea Fury FB.11 TG113 from 803 Squadron in the Pattern 1 scheme circa September 1948. This aircraft is somewhat unusual in that it carries crew names below the windscreen and a naval ensign on the rudder. Codes are a slightly different style from those applied to TF999 seen above.

---
Sea Fury FB.11 VW230 is illustrated in the Pattern 1 scheme while in service with 883 Squadron in 1950. This aircraft was one of the 1949 batch delivered without any RCN markings applied. Note that even in regular squadron service it has had no maple leaves added to its roundels, although the service identifier has been changed.

---
Text & Images Copyright © 2007 by Jennings Heilig
Page Created 27 March, 2007
Last Updated 26 March, 2007

Back to Reference Library