Scouts and Models
by Iain Matheson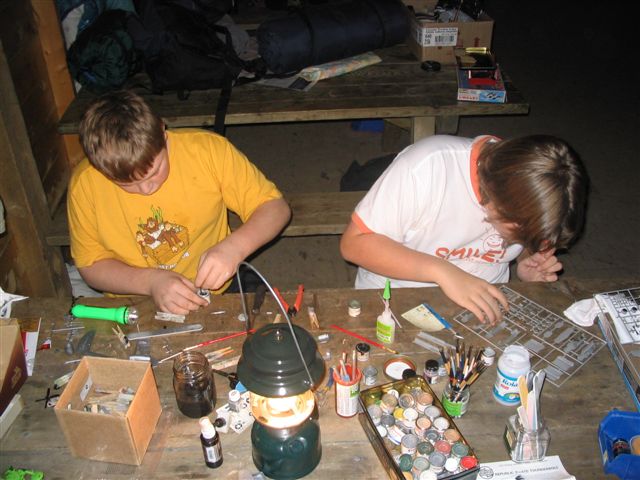 HyperScale is proudly supported by Squadron.com
I'm the Troop Scouter for 4th Sackville Scout Troop and I was looking for a leadership project for my son Geoffrey. He needed some work in that area so we decided to have a model building camp. We booked a place called Camp Chaswood, a 40 by 60 foot building that is out in the middle of nowhere. All the building has is a woodstove and picnic tables, there is no electricity.

Geoff's job was to pack the supplies needed and act as an instructor for the model building sessions. At this point I have to mention thanks to Garth Lepine for his donation of the kits. You see, last year he gave Geoff 100 old 1/72 scale kits for 2 of mine! I sold a few of them to get my cost back, Geoff claimed a bunch and we took 30 of them to camp. Only 2 or 3 came home! Also, thanks to Bob Aitkens for a donation of quite a few older 1/72 scale decals and a few kits. The decals still work!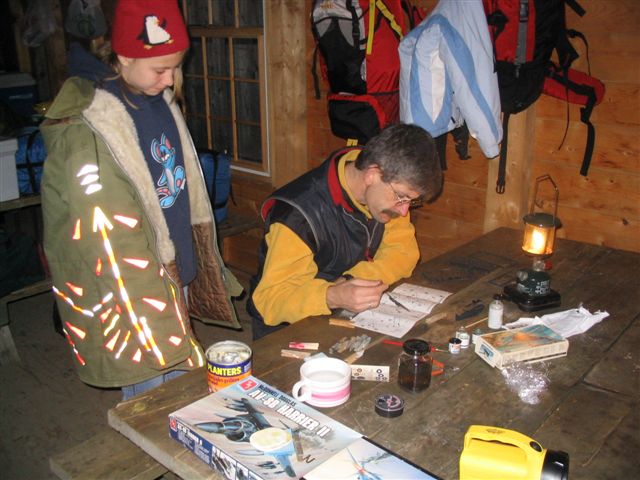 We arrived Friday night in the pitch dark and as soon as we had a fire going and our Coleman lanterns running the kids wanted to get right at it. I wanted to wait until daylight but hey, why not! It was a little hectic getting them started but with their young eyes and by the light of the lanterns, away they went. I took the younger ones and Geoff helped the older ones. Not many of them had ever built a model before and they needed a lot of help following the instructions but they all got a start and one guy actually finished one that night.

The next day after a good breakfast ( my Troop are Egg McMuffin experts) we started again, this time with the help of daylight. I spent the whole day going from kid to leader, showing them what to do next and offering tips. In order to speed things up we used we broke out the superglue and accelerator. Some of those planes have more glue than plastic!!! I'm glad Geoff brought the de-bonder!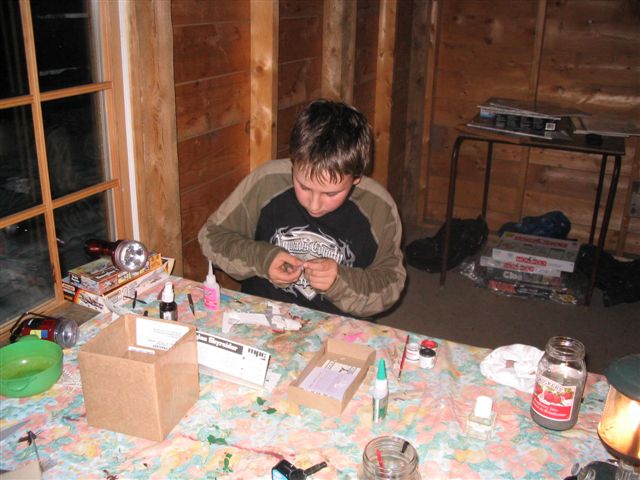 We had planes of all types but I started them all off with small single engined fighters and from there it was grab what you want. We told the kids to paint them whatever color they wanted and to do the same with decals. No rules (see the Spitfire chasing the buzz bomb that has bombs attached to it!) Geoff brought his collection of Humbrol flats so they would dry fast. All that flat paint and one can of gloss green. Guess what ended up on a Hurricane. Emerald green...yuck! It was not unusual to see a few planes near the woodstove to hurry up the drying time. By the time the night came I was worn out from answering questions all day!

We woke up Sunday morning to find we had been snowed in! Good thing we had the models because while I spent a good part of the day on the cell phone re-arranging our transportation plans the kids were all "experts" now and just sat there working on their models all day. In the end we had to walk out, a mile or so and some of our vehicles had to be rescued the next day after the roads were plowed.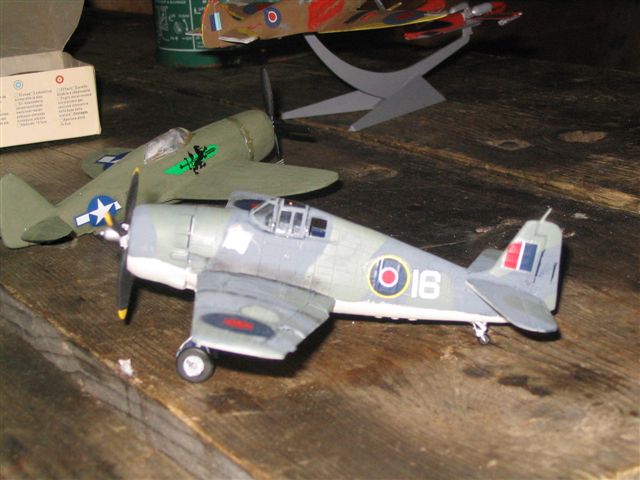 Its safe to say the kids had a great time since they were very busy all the time and never bored. Everybody got to build at at least a couple of models and some took one home with them to build later. Lots of modelling badges were awarded at our next meeting after the camp.

Click the thumbnails below to view larger images:
---
Text & Images Copyright © 2005 by Iain Matheson
Page Created 01 March, 2005
Last Updated 03 March, 2005

Back to Reference Library