Royal Navy
Submarine Colours
by Glen Porter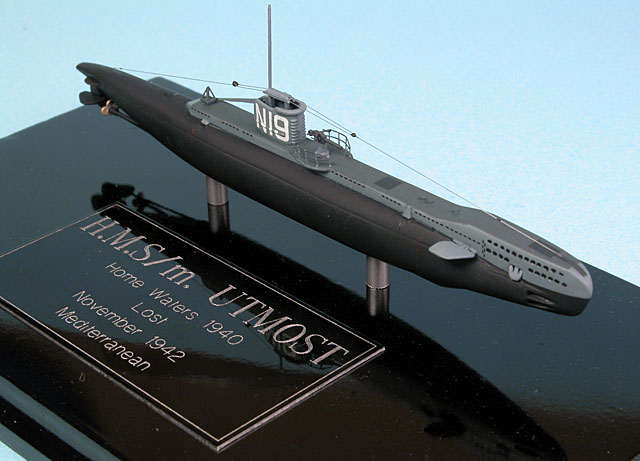 HyperScale is proudly supported by Squadron.com
Royal Navy Submarine Colours
What is especially surprising about this subject is the lack of knowledge considering what we know about the colours of aircraft, armour and aurface ships. Even the German U-boats are pretty well covered.
While building my recent model of HMS/m Utmost, I ďGoogledĒ R.N. Submarines and got plenty of web sites but absolutely no information on colours. I asked a friend to try on another maritime web site chat room and he got some response, which helped, but I canít vouch for its accuracy. In fact the only piece of accurate information I received, was from Alan Ravenís book ďCamouflage Volume FourĒ, page 41, the H and J camouflage schemes for the S class later in the war. This didnít help much with Utmost.
With one exception, I canít vouch for the accuracy of any of this; the exception is the information from Alan Ravenís book. The rest, I canít attest to its accuracy one way or the other and if any one could correct any of it, I would be only too happy to hear from them. Most of the info is third, fourth or fifth hand but itís all I have and itís better than nothing.
It would seem that the pre and early war boats wore either dark, medium or light grey, that is, AP507A, B or C on their casing and tower sides, black or a very dark grey on the decks and black on the pressure hull and lower surfaces. This would appear to be mainly for Home Fleet boats and the dark AP507A was used on most. I canít find any evidence of any colour other than black on the lower hulls.
In the Mediterranean, at one stage, the 10th flotilla, on most of its boats, used a dark blue [PB10], which Iíve read several different names for. Dark Mediterranean Blue, Cobalt Blue and Royal Blue have all been quoted but unfortunately WEM dose not make this colour so its any bodies guess just what it looked like. In the artwork of HMS/m Upholder, to be found in several publications, in this scheme, it has a black boot topping and dull red lower hull. Again, Iím told, most ďTĒ boats in the med used AP507A with no lower colour mentioned. Iím also told that some ďSĒ boats were seen in overall PB10 but I donít know if this means including the lower hull. Also some boats, no class mentioned, may have been overall black or dark grey, again, no mention of the lower hull colour.
Some Far East boats were apparently in dark olive green. I have no idea what this colour may be, but as a kid growing up in Adelaide, South Australia, in the late 40s, early 50s I saw visiting ďAĒ class boats in a dark green. This may be the above colour. 1930s China Station boats were likely white.
Alan Raven, in his book RN Camouflage Patterns Vol 4, has told us of two camouflage schemes designed particularly for submarines. The ďHĒ [Home] scheme used white and B30 on the casing sides and tower, black or 507A at the captainís discretion on the horizontal surfaces and PB10 [dark blue] on pressure hull and ballast tanks. I assume this PB10 went all the way to the keel. Submarines on foreign stations used scheme ďJĒ,with B20 and G45 on casing and tower sides and decks, pressure hull and ballast tanks in black.
All these colours, bar PB10, are available from White Ensign Models and PB10 is available as a colour chip from Snyder and Short.
Itís interesting that so often people give us a description of a subís colours above the water line and nothing below. I believe, to build an affective model of a submarine, it needs to be ďfull hullĒ.
Unlike the U-boats, most British subs carried their pennant number on their tower sides. I believe it was usually in white and it varied in size from half to quarter the hight of the tower. I know why the U-boats didnít carry theirs. What I donít know is why the British did.
I think the best plan of attack would be to find a photo of a particular sub were you can identify the colours with reasonable accuracy and work from there. I would not use dull red on the lower hull unless I had specific information.
So, there you have it. As Iíve already said, I canít vouch for the accuracy of most of this and I would be happy to hear from any one on the subject.

---
Text Copyright © 2004 by Glen Porter
Page Created 13 November, 2004
Last updated 13 November, 2004
Back to HyperScale Main Page
Back to Reviews Page