Hornets' Nest
RLM 83 Dark Blue
By Michael Ullmann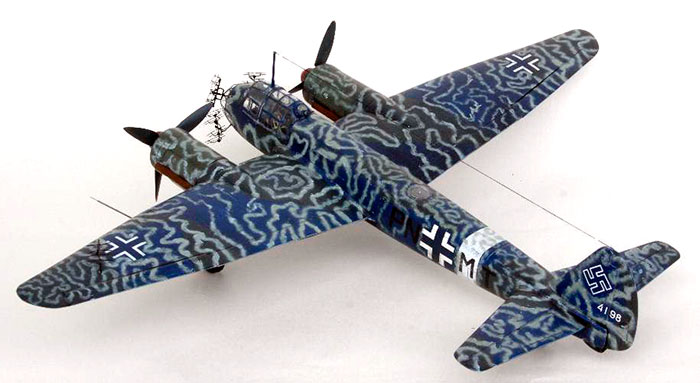 HyperScale is proudly supported by Squadron

Hola Folks,
Last year in September I visited the IPMS Sweden Nationals.
They asked me to give a presentation about RLM-colours. I asked them I they want to hear something about my latest discoveries. Since then I have been asked several times to give more information regarding RLM 83. Here we go:
Test Order E2-45/31
(Development and verification of camouflage for the Mediterranean Sea)
Report August 1943:

Alongside RLM 73 a "darkblue" colour will be use. Flighttest in the near future.

Report September 1943:

Using the camouflage pattern "Land" and "Sea" with RLM 73 and the darkblue colour 300/III suggested for introduction.

Report November 1943:

Closed with report dated 10. November 1943. Colour RLM 83 "DARKBLUE" with RLM 72 for Sea- and RLM 70 for landaircraft suggested for introduction.

Sammelmitteilung 2, dated 15. August 1944:

…on the dark shades RLM 72, 73, 75, 81, 82, 83 …. (no colour was stated)
These original documentation of the introduction of the new colour leads to the conclusion that we have to expect a lot of "darkblue" Luftwaffe aircraft in the Mediterranean theater.
Much more important for all those fighter-fans: This "dark green", formerly known as RLM 83, is nothing more, nothing less than a dark green variation of RLM 81.
More photos of my finished Ju 88: http://www.scalemates.com/whatsnew.php
---
Text & Images Copyright © 2013 by Michael Ullmann
Page Created 16 July, 2013
Last Updated 16 July, 2013

Back to Reference Library