A Chat with Revell GmBH
by Brett Green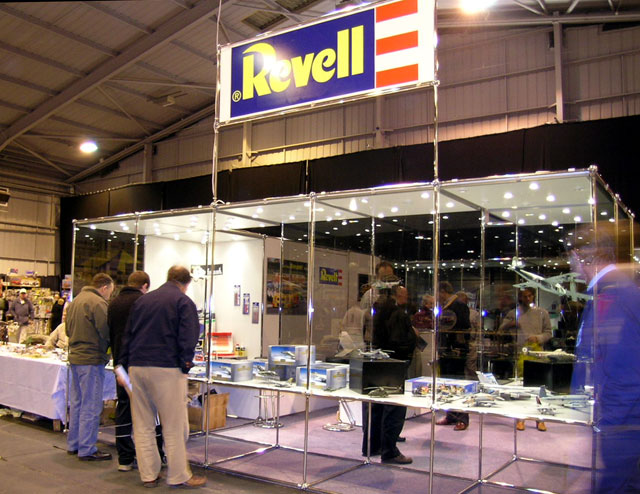 Revell Stand
Scale Modelworld, Telford International Centre
23 November, 2003


HyperScale is proudly supported by Squadron
Revell has certainly been busy.

Revell's series of new-tool 1/72 scale kits in the 1990s, including the Messerschmitt Bf 109G, Focke-Wulf Fw 190 and Messerschmitt Me 262, represented a significant step forward from the earlier generation of small scale aircraft models. Revell also recognised the "Luftwaffe '46" trend emerging in the 1990s and released several drawing board designs including the Focke-Wulf Flitzer and Me P.1099. All of these models featured crisply recessed panel lines, accurate outlines, reasonable detail and a low price tag.

More ambitious projects followed. It has been several decades since we have seen any genuinely new, big 1/72 scale models from a mainstream manufacturer, but Revell has addressed this void with a busy development programme in recent years. Their Heinkel He 177, Dassault Bregeut Atlantic and Blohm und Voss Bv 222 offerings have set a new standard for large 1/72 scale kits.

Revell has also entered into creative development and re-packaging arrangements with other leading model companies including Dragon and Hasegawa.

The corporate entity of Revell has gone through some major changes over this period. Revell is now a privately-owned company, and comprises three main divisions:
Revell GmBH (formerly Revell AG, commonly referred to by modellers as "Revell of Germany"). Revell AG (UK), Revell AG (France) and European Direct Representation plus agents and distributors also operate under this banner.

the American operation, Revell-Monogram LLC, and

Revell-Monogram Asia Pacific – a new entity
These are big businesses. Turnover of the European operation alone was more than USD$50 million in 2002. Germany is Revell's single biggest model market in Europe.

Revell's range is broad. Their product lines cover plastic kits (cars, trains, bikes, ships, military vehicles, planes, helicopters etc); die-cast models and even slot cars. I was surprised to hear that Revell release around 150 new catalogue items every year. Of course, many of these are older kits with new markings. There is plenty of re-boxing potential with the huge tool banks of Matchbox and Revell.

However, the total does include around 10-30 new tool models each year – a creditable record for a major manufacturer in this difficult industry climate.

The man responsible for Research and Development, Project Management and Box Art for Revell's military, aircraft, helicopter and ship models is Volker Vahle. Volker has been working at Revell since 1980, and has been directly involved with the improved quality of kits since the early 1990s.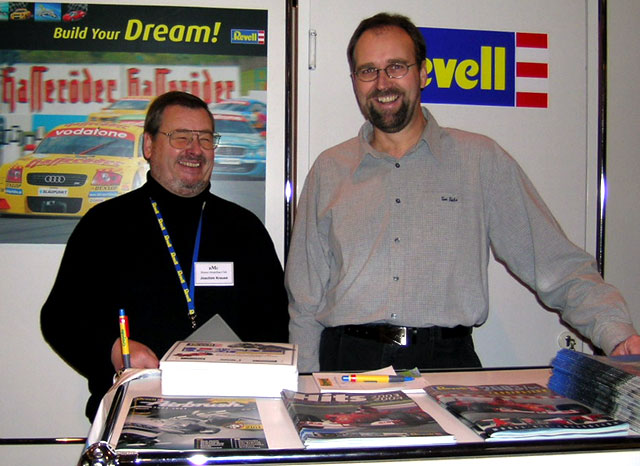 German modeller Joachim Krause (left); and Volker Vahle, Project Manager from Revell GmBH (right)


He commented that the 1/72 scale Heinkel He 177 was a bold initiative for Revell. Significant investment was required for development and tooling such a large kit, but fortunately it was successful in terms of sales and product life potential. This success paved the way for more new-tool kits such as the S-100 Schellboot, the Bv 222, and the impending Ju 290 and Type VIIC U-Boat.

Volker's objective for future releases is to maintain and even improve the current quality and to include a good level of detail. However, he is willing to compromise detail in areas that will not be seen – a sensible policy for controlling costs and therefore maintaining an affordable price at the hobby shop.

Although Volker could not be specific about what the next round of releases will include, he did comment that "anything with propellers sells". He also mentioned that we are not likely to see any more Luftwaffe '46 models – the focus will be on "real" aircraft.

The typical process for a future release would start with Volker researching likely subjects with input from consumers before developing a proposal for Revell's corporate consideration. Meetings are taking place now to decide new products for 2005/06. Once a project is approved, much of the design work is done by in-house Revell staff using 2D and 3D technology.

Some of the challenges facing Revell include Copyright and licensing issues. These may delay projects for up to a year or, in some cases, force their cancellation.

Revell will not be announcing its 2004 new-tool line up until all their worldwide distributors have been advised. Volker is keeping his cards close to his chest too, but he does say that he wants Revell to encourage both new and continuing modellers by presenting inspiring subjects.

As ScaleModelworld was taking place, Revell's big 1/72 scale Type VIIC U-Boat and Junkers Ju 290 were both in the warehouse awaiting immediate distribution. Both models are expected to appear in European hobby shops during the first week of December.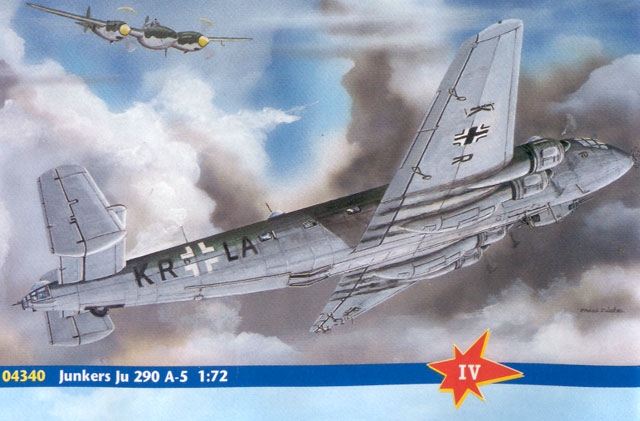 Now they are what I would call "inspiring subjects"!

We can all look forward to seeing what Revell has planned for 2004 and beyond.
.
Thanks to Volker Vahle and Thomas Randrup from Revell for their time and courtesy.
---
Text & Images Copyright © 2003 by Brett Green
Page Created 1 December, 2003
Last Updated 19 April, 2004

Back to Reference Library