PZL P.37 Łoś (Elk)
by Lukasz Kedzierski

PZL P.37 Łoś

Mirage's 1/48 scale PZL P.37A is available online from Squadron.com
PZL P.37 (Panstwowe Zaklady Lotnicze - National Aviation Establishment) was the most modern aircraft in the inventory of the Polish Air Force in September 1939 and a symbol of Polish technological ingenuity. In fact it was one of the best medium bombers of its time featuring several advanced technological designs, combining good performance and manoeuvrability with high bomb carrying capability. However, too few aircraft were delivered to the front line units by the time WW2 broke out to make a considerable contribution to the Polish war effort in September 1939. This was due to design's "teething" problems and equipment delivery delays.

Development
The PZL P.37 was developed in response to the specifications issued by the Departament Aeronautyki (Department of Aeronautics) in 1934 for a new twin engine bomber capable of carrying a bombload of 2000 kg (including 300 kg bombs) with speed in excess of 350 km/h and a range of 1200 km. The task of designing a new aircraft was given to a team of engineers led by Jerzy Dabrowski and Piotr Kubicki.

The new design was aerodynamically "clean" with a fuselage of small elliptical cross-section that enabled the plane to reach speed of 400 km/h, this however, necessitated the inclusion of bomb bays in the wings. To accommodate the bomb bays Dabrowski designed a new wing profile of very good aerodynamic characteristics that was similar to the first laminar profiles, which become widely used in military aircraft later during the war. The wing also featured a caisson patented by dr. Misztal and successfully used in Polish challenge aircraft PZL.19 and PZL.26. Departament Aeronautyki accepted Dabrowski's project with a few minor modifications such as reduction of aircraft's defensive armament in favour of achieving higher speed.

Prototypes
The construction of prototypes commenced in 1935 and in the same year PZL received and order for 10 production PZL P.37A's soon increased to 30 aircraft. The first prototype (PZL.37/I, no. 72.1; 72 being military designation of the type) was powered by Bristol Pegasus XIIB and test flown in 1936 revealing several problems with fuel system, main undercarriage shock absorbents, rudder etc. These were fixed by PZL and in 1937 the aircraft was transferred to ITL (Aviation Technology Institute) for further testing. The second prototype (P.37/II, 72.2) was completed in 1937.

The aircraft was powered by Bristol Pegasus XX engines, had redesigned cockpit and twin vertical stabilizers in place of a single one to improve the rear field of fire. Revolutionary unit with sway beam and twin wheels replaced heavy main undercarriage unit with a single wheel. A new undercarriage was designed and patented by Piotr Kubicki.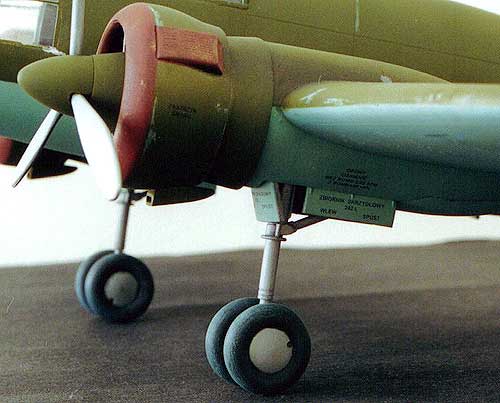 In 1938 both prototypes were tested in ITL. During those tests P.37/I was lost due to inadequate riveting of the main wing that caused the wing to break off during flight. Production started in 1938 with 10 P.37A's (single vertical tailplane) being completed first, followed by 20 P.37Abis (twin tailplane). Two aircraft of the latter batch were converted to demonstrator aircraft with the civil registrations SP-BNK and SP-BNL. SP-BNK was used to test Gnome-Rhone (GR) 14N engines and became a prototype for the export variant P.37C (P.37/III). Łoś C was demonstrated in Greece and Turkey where it crash-landed due to poor weather conditions. The aircraft was left in Turkey, while the crew went back to Poland. SP-BNL was used in a promotional flight to Romania, Bulgaria, Greece and Yugoslavia where it was shown in Belgrade during the International Aviation Show in 1938. During the same year this aircraft was shown in Paris and in the meantime a flight of 2 Łoś A's and 1 Łoś Abis was demonstrated in Bulgaria. Łoś was very well received by the international aviation experts and was considered to be one of the best bombers at the time due to its high speed and great bombload.

In 1938 PZL started a licence production of Bristol Pegasus engines designated PZL Pegaz XXA and B, and initiated production of PZL P.37B of which 124 aircraft were ordered by the Polish Air Force. By the end of 1938 PZL completed 50 Łoś B's, the remaining production was postponed due to a series of unexplained crashes, shifting resources to the production line of PZL P.43 (export version of PZL P.23 Karas) and initiation of production of a new fighter, PZL P.50. In early 1939 the production was halted altogether due to the change of Air Force Commander-in-Chief, who put more emphasis on the development of fighter planes. Total of 104 airframes was completed and production of the additional 20 was moved to a new PZL factory in Mielec of which only a few were completed before the hostilities of September 1939 broke out.

If not for the war Łoś could have been a huge PZL export success. PZL planned production of export variants P.37C with GR 14NO1 engines and P.37D with GR 14N21 engines, which were offered to several European countries. Belgian goverment purchased the rights to a licence production of Łoś, whereas Greece ordered 12 aircraft with the possibility to expand the order to 24. Bulgaria displayed interest in acquiring 15 P.37C's, Yugoslavia 20, Romania was interested in a procurement of 30 P.37D's as well as a licence production, Turkey was interested in a purchase of 10 P.37D's with additional 25 aircraft to be assembled in Turkey from parts delivered by Poland. Other countries interested in Łoś included Denmark, Estonia and Finland. The Spanish Republican government placed a clandestine order for 50 Łoś C's, but the Republicans were defeated before the deliveries could commence. If all of the above orders were finalised, it would have kept Łoś on the production lines well until 1940.

In Service
The First P.37s (mainly A and Abis) were delivered to operational units in late 1938 and equipped 210 Dywizjon Bombowy (bomber squadron) consisting of 211 and 212 Eskadra, and 220 Dywizjon Bombowy (221 and 222 Eskadra) of the 1st Pulk Lotniczy (Aviation Regiment). Each eskadra consisted of 9 aircraft, however, deliveries were very slow due to delays in deliveries of radio equipment, guns, bomb racks and propellers.
210 Dywizjon reached combat readiness in March 1939 and at the same time 215 Dywizjon Bombowy was being formed consisting of 216 and 217 Eskadra. By April 60 P.37s were delivered and in June there was 36 Łoś in the first line units and 38 in reserve. By the end of August 1939 the Polish Army was put on alert since war seemed inevitable. Łoś equipped units formed part of the Brygada Bombowa (Bomber Brigade) along with units using obsolete PZL P.23 Karas.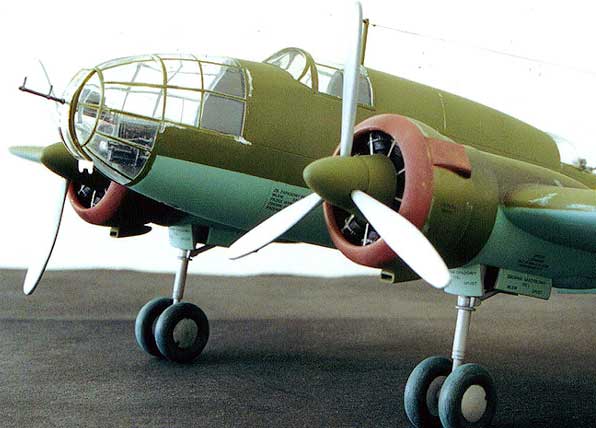 On 31 August 1939 the Air Force had a total of 86 PZL P.37s: 36 in X and XV (ex-210 and 215) Dywizjon as part of Brygada Bombowa, 31 in Malaszewice Base (20 in XX reserve (ex-220) Dywizjon plus additional 11 from various training units), 5 in Samodzielny Dyon Doswiadczalny (experimental unit) and 14 undergoing repairs mainly in PZL Okecie factory. Additional 31 airframes were at different stages of assembly in Okecie and Mielec.
At War
Enemy air superiority, dispersal of Polish bomber units and inadequately equipped field airstrips prevented the effective use of Poland's most modern aircraft in the September Campaign. Łoś was mainly used for missions that included reconnaissance and bombardment of German mobile forces, a task for which Łoś was not intended. Moreover, none of the sorties included a large number of aircraft that could inflict any considerable damage.
Repairs of damaged aircraft were not possible since the ground crews did not have all the essential equipment and battle worthiness was further affected by the fact that most of the aircraft were not fully equipped (radio, compass, etc.). Shortage of fuel and inability to coordinate operations with Polish fighters (it should be noted that PZL P.37 was much faster than any of the contemporary Polish fighters) deteriorated the situation even more. P.37's of Brygada Bombowa made a total 135 sorties (from 1.09 to 19.09.1939) of which 25 were purely reconnaissance. Most of the bombing missions involved attacks on randomly chosen mobile German forces and a total of 119 tonnes of bombs were dropped.
27 aircraft were lost which accounts for 75% of the initial strength (59% including reinforcements delivered during the hostilities): 11 were destroyed by enemy fighters, 5 by enemy AA fire, 1 by friendly AA fire, 2 were destroyed on the ground by enemy bombers, 3 were abandoned by crews due to technical difficulties, 3 were damaged on the ground and lost due to the pilot error, 2 crash landed due to the lack of fuel.
German forces captured a total of 41 P.37s in Warsaw and Mielec. Those aircraft were at different stages of assembly although several were completed. Polish workers used by Germans to clear airfields destroyed the majority of them, which resulted in only two PZL P.37B's being airworthy. Both aircraft received German markings and one was sent to Rechlin for testing where it crashed. The second aircraft was a part of the "Victory in the West" exposition that took part in Vienna in 1940. Its final fate is unknown.
The German war booty also included 50 brand new PZL Pegasus XX engines that were sold to Sweden and used in Ju-86K-13.
Polish crews evacuated 27 P.37s to Romania. These aircraft were ceased by the Romanian government and despite Polish government's diplomatic efforts backed up by France and Great Britain the aircraft were never returned to Polish Air Force, which new squadrons were being formed in France. Later on the aircraft equipped 76 and 77 Squadron of Fortele Aeriene Regale Romane (Royal Romanian Air Force) and took part in the attack on Soviet Union in 1941.
By the end of 1941 Łoś was used for training of Ju 88 crews and remained in this role until 1944.

Powerplant: two 680 kW PZL Pegaz XX engines

Crew: 4

Wingspan: 17.93 m

Length: 12.92 m

Height: 4.25 m

Weight: empty 4935 kg, max loaded 8880 kg

Max speed: 412 km/h at 2800 m

Service ceiling: 5900 m

Range: max. 1750 km

Armament: three 7.92 mm either Vickers F or PWU wz.37 machine guns and up to 2595 kg of bombs
---
Comparison between PZL P.37B Łoś and other pre-war medium bombers:
type

powerplant (kW)

wingspan (m)

length (m)

weight (kg)

armament

bombload (kg)

max speed

range (km)

service ceiling

PZL P37B

2 x 680

17.93

12.92

4935

3 x 7.9 mm

2595

412 km/h

1750

5900 m

He-111P-2

2 x 810

22.5

16.4

6380

3 x 7.9 mm

2000

410 km/h

1500

8000 m

Do-17M-1

2 x 662

18.0

16.25

5610

4 x 7.9 mm

1000

365 km/h

1375

6700 m

Blenheim Mk. I

2 x 618

17.17

12.11

3674

2 x 7.7 mm

454

418 km/h

1810

8315 m

Wellington Mk. IC

2 x 736

26.26

19.68

8417

6 x 7.7 mm

2041

378 km/h

4104

5486 m

Fiat BR-20M

2 x 736

21.56

16.68

6500

3 x 12.7 mm

1600

440 km/h

2750

8000 m

SM.79

3 x 735

21.32

16.25

7610

2 x 12.7mm

3 x 7.7 mm

1200

433 km/h

2000

7000 m

SB-2

2 x 632

20.33

12.27

4138

4 x 7.62 mm

1000

423 km/h

2150

9560 m

Ki-21-II b

2 x 1104

22.5

16.0

6070

1 x 12.7 mm

4 x 7.7 mm

1000

486 km/h

2700

10000 m
The PZL P.37 in 1/48 Scale
For modellers in Poland, the Łoś is an essential part of a collection. As far as I know all my friends had a model of Łoś so it is a pretty common thing, but for many of you it is an esoteric subject. For me, Łoś started my modelling passion (otherwise described by my wife as a mental disorder and obsession that's out of control) since it was the first model kit that I put together. It was Mikro's 1:144 scale PZL P.37B.
A few years later ZST Plastyk released their 1:72 offering that has been re-boxed by numerous companies in Poland and it's the only one model kit of this aircraft in 1:72 scale. PART has produced two photo-etched sets that improve the model considerably and Engines 'n' Things makes Pegasus engines for Los. However, everyone was longing for 1:48 scale kit. S-Model released in the mid 90's a vacuformed kit in this scale enhanced with resin parts (see construction feature elsewhere on HyperScale), but it was too expensive for many modellers and not really suitable for vac-illiterates (I have this kit and its resin parts will come handy soon).
Finally Mirage Hobby, a company that makes quite a lot of kits of Polish aircraft, armour and ships, released two different kits of Los in 1:48 scale - single tail P.37A and twin tail P.37B. As you can imagine I got both of them straight away as well as resin Bristol Pegasus engines and PART photo-etched sets (3 altogether dealing with interior and exterior details and offering replacement flaps) that were releases almost simultaneously with the Mirage Hobby kit. However, this article deals with the out-of-box construction of PZL P.37A, which will be hopefully soon followed by another build feature of PZL P.37B stuffed with metal and resin.
The Mirage Kit In The Box
What you get in the box is 5 sprues of parts moulded in dark grey plastic with recessed panel lines, one sprue of transparent parts (nice and clear, but a bit thick) and an excellent decal sheet printed by Techmod.
Major parts have a slightly grainy surface and a few sink marks, and my example had a hole in the lower wing next to the engine. Smaller parts are a bit simplified, but acceptable. Cockpit interior is pretty well detailed with switch and radio boxes, oxygen bottles, emergency flares and ammunition drums for machine guns (both types, Vickers and PWU are included). Unfortunately, the instrument panel is very oversimplified (holes in the panel) and ventral gunner position is moulded in closed position, which is correct since it was usually closed on the ground, but it would be nice to leave it up to the modeller.
Flaps can be depicted either closed or deployed and wing bomb bays can be shown open with 18 100kg bombs inside. A fuselage bomb bay is not provided, which is a pity since it was the only one that could carry 300kg bombs or additional fuel tanks, and I suppose they all were opened simultaneously.
There are also optional spinners, main undercarriage legs and wheels with different hubs, but this is applicable to B variant not A. The engines are probably the biggest let down of this kit, but once installed and painted not much can be seen anyway.
Instructions are clear and comprehensive (entirely in Polish). There is the type history and specifications, tips and hints for modellers (AM style), 20 construction diagrams as well as painting and decal placement guide. There is an additional sheet with colour profiles for all decal options and colours are given as Humbrol numbers.
As usual, I started with a cockpit and after painting, drybrushing etc, was quite happy with the final result. I know I said that the instructions are clear, however, the placement of different subassemblies in the cockpit is sometimes vague and reference photos are needed.
Both fuselage halves went together without problems, but be aware there are no locating pins. Some of the panel lines did not actually joined whereas others did and I suppose that is manufacturing fault, but it was easily corrected. The ventral gunner position needs some attention as well namely getting it into shape (the frame has different width on both fuselage halves). Tailplane assembly did not caused any problems, but I sanded down the strips covering riveting since they were too pronounced.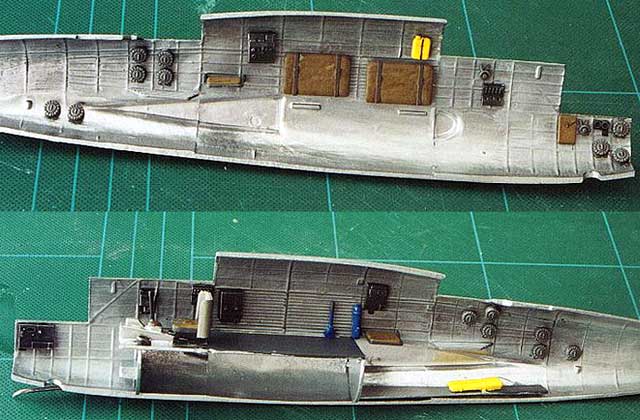 Wings were next and these require some work. I decided to depict flaps in a deployed position and have the bomb bays open. The assembly of 18 bombs was a real pain and their fins are better replaced with scratchbuilt ones from plasticard. Do not follow instructions here and install bombs after completion of painting otherwise you will keep loosing them while dealing with the wing-fuselage joint (I learnt it the hard way).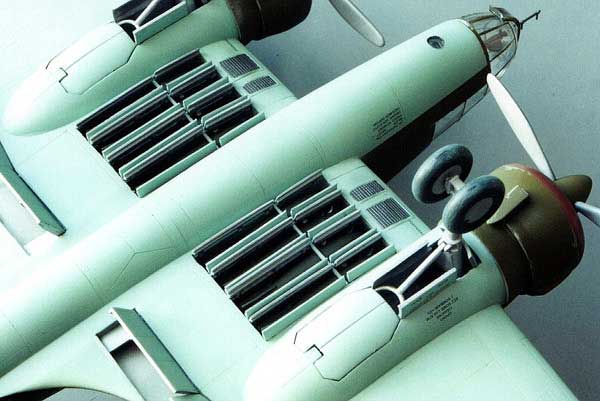 The flaps opening has a conspicuous "step" on the inside surface of upper wing that needs to be sanded if you want to have the flaps in a dropped position. The radiator imitations on the wings look ridiculous and need replacement, but they are included in one of PART PE sets.
With wings, fuselage and tail section all done it was time to put them together. They do not fit very well and all joints require some filling, filing and sanding, but I have done it all before so there was no surprise here. Engines' and propellers' assemblies did not pose any problems neither did undercarriage.
Next I turned my attention to glazing. The windscreen comes together with a section of upper fuselage, which caused a bit of a problem since the fuselage sides were springing apart and some persuasion with clamps, rubber bands and superglue was needed. The cockpit and dorsal gunner canopies fit nicely, but they a bit on a thick side of things and this may be a problem when you want to show them in open position. The nose glazing comes in two halves split vertically along the frames so caution needs to be exercised when sanding down the joint. And that pretty much concludes the construction.
Painting time!! Well, not much variety here since all pre-war Polish aircraft were painted Polish khaki upper surfaces, light blue-grey lower surfaces. And that's what you get in here - three marking options sporting identical camouflage. Two of them are Polish - P.37A white 1 (72.11) of 212 Eskadra Bombowa in 1938 and white 3 (72.5) of the same unit in 1939. Apart from squadron numbers and serial numbers (only on the left side of the fuselage) these aircraft are also wearing the PZL logo on the tail and Polish national insignia on the wings and rudder. Polish checkers on the upper wings were positioned asymmetrically in relation to the fuselage, which was supposed to make aiming by an attacking fighter more difficult. Both aircraft also sport the unit logo - Ursa Major (Great Bear, a constellation on the Northern Hemisphere sky), white 1 has also a foundation inscription on the fuselage, this particular aircraft was purchased from money donated by Polish banks. The last option is a sole P.37A in Romanian service that belonged to 76 Squadron (1941). This aircraft wears the Polish camouflage, but has a yellow fuselage band, Romanian crosses in six positions and white 201 number on the tail.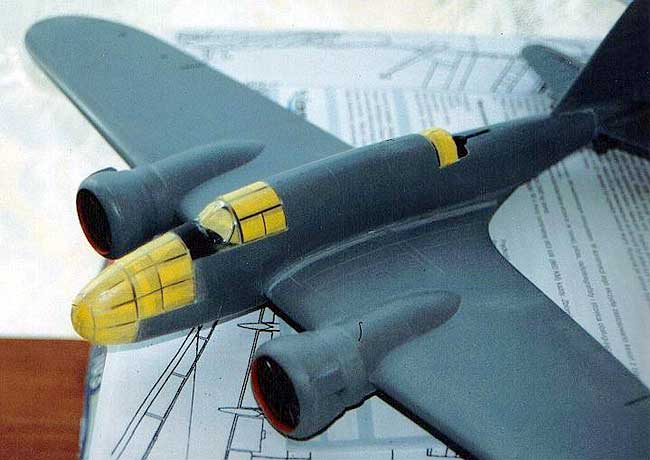 Mirage Hobby gives you Humbrol paint colours, which is fine with the exception that some of them are no longer in production like the elusive Polish khaki - Humbrol 142. I have never seen this colour and cannot buy it here in Australia (my friends told me it is still available in some hobby shops in Poland) and everyone has a different idea as to its shade ranging from dark green to khaki. I am no expert in this area, but I tried khaki before (Tamiya XF-49) and that does not look right, I also used MM equivalent of H142 that is called Field Drab and this one does not look right either, and I have seen green but that seems to be too dark. So I mixed my own brew of Polish khaki form Humbrol 150 Forest Green with some scarlet, yellow and green. Looks good to me.
Undersides are quoted as light blue (H65) and that's what I used, but I think it's wrong. The colour should be more greyish and I was told that H147 or lightened H87 are the correct colours. Everything else is easy - Towsend ring and exhausts were painted H113 drybrushed with some silver and copper, propeller blades and undercarriage are aluminium. Weathering was accomplished by spraying with lightened main camouflage colours and Tamiya smoke as well as minimal paint chipping. It has to be remembered that these aircraft were in service for about a year so do not go overboard here.
The entire kit was sealed with Super Shine and decals applied. Decals are printed by Techmod and are of outstanding quality. Perfect register, colour density and thickness with minimal carrier film (that applies to my Łoś A, in Łoś B decals are out of register).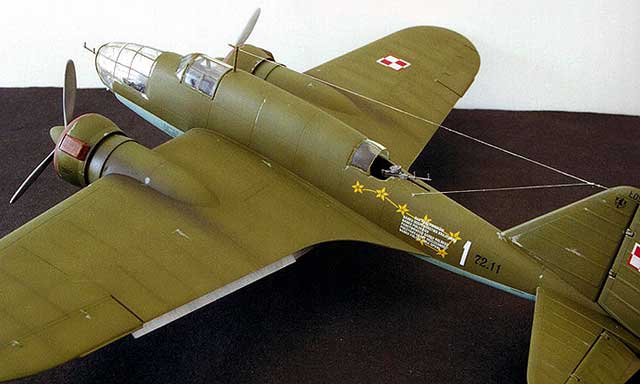 You get two full sets of national insignia (both Polish and Romanian), stencils and all the other markings. I used Aero Set and Sol on my decals and there was no adverse effects and no silvering at all. Fantastic!! The entire model was then sealed with H135 varnish and final details were installed such as antenna, guns and all the bombs that fell out from bomb bays.
What's an outstanding kit!
Do not expect Tamigawa-Revelloogram quality but it is definitely a good kit with just a few small faults. Decals are fantastic, there is plenty of potential for improvement and it builds into a pretty big model of a very interesting aircraft. And believe me you can even win competitions with this kit built out-of-box (I did).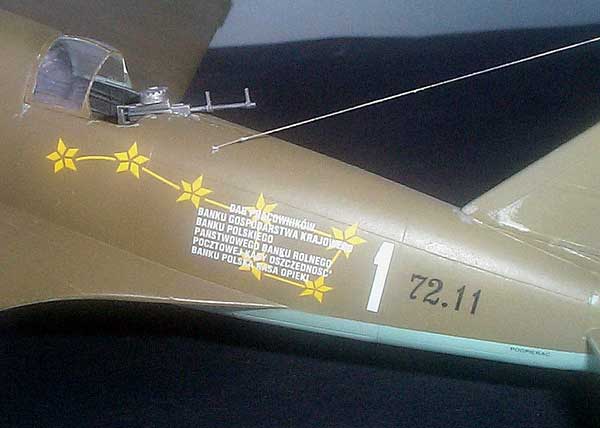 My next Łoś will involve PART's photo-etched sets and S-Model resin combined with Engines'n'Things powerplants.
In contrary to the common believe that there are no references to PZL P.37 (expressed on Internet Modeler, Hyperscale discussion group or some hobby magazines) I have to assure you there is plenty. The only problem is that they are all in Polish, have been published some time ago and are not easily available at the moment.
I can highly recommend two of them: Samolot bombowy PZL P-37 Łoś (Bomber aircraft PZL P-37 Los) by Jerzy Cynk (an authority when it comes to Polish aviation) published in 1990 and Samoloty bombowe wrzesnia 1939 (Bombers of September 1939) by Andrzej Glass et al. (another expert in Polish aviation) published in 1991 (see attached pic).
The former is a comprehensive monograph dealing with the history of Polish bomber aviation, history of development of Los, technical description and day by day account of combat use of PZL P.37s in 1939.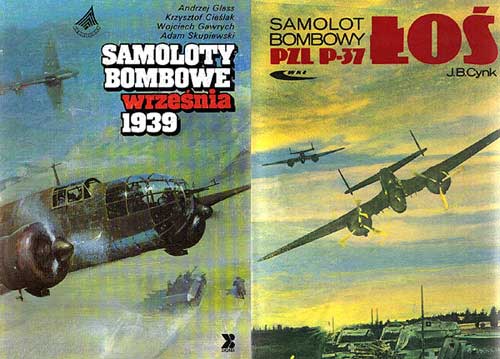 The latter has been written with modellers in mind and contains a brief introduction about pre-war use of bombers in different countries with emphasis on Poland and Germany and in subsequent chapters deals with bombers of Polish Campaign of 1939 (development, technical descriptions etc.): PZL P.37 LWS-4, Do-17, He-111, Ju-86 and Ju-52. There are 3 fairly brief sections describing the use of bombers by Poland, Germany and Soviet Union (just half a page). The last section is a real gem since it is a reprint of the original user manual for PZL P.37 from 1938 with good photos of the cockpit etc. (I wish they were printed on better quality paper). There is also a full set of scale plans, cutaway diagrams and colour profiles for all the aircraft mentioned.
Another useful book is Polskie konstrukcje lotnicze 1893-1939 (Polish aircraft designs 1893-1939) by Andrzej Glass published in 1976. This one deals with every single aircraft, glider and engine built in Poland during this period.
There is also a series of articles and colour profiles published over the years in Skrzydlata Polska (Winged Poland) magazine and more recently Mini Replika published a set of scale plans with corrected positions of various panel lines.
And I bet that two recently published books (in English this time), White Eagles and Polish Air Force 1939-1945 have some good photos and colour profiles of Los. Unfortunately I do not have either of them at present.


Click the thumbnails below to view larger images:
---
Model, Images and Article Copyright © 2002 by Lukasz Kedzierski
Page Created 11 January, 2002
Last updated 11 January, 2002
Back to HyperScale Main Page
Back to Features Page