PBY-6A Catalina
at HARS' hangar, Albion Park, Australia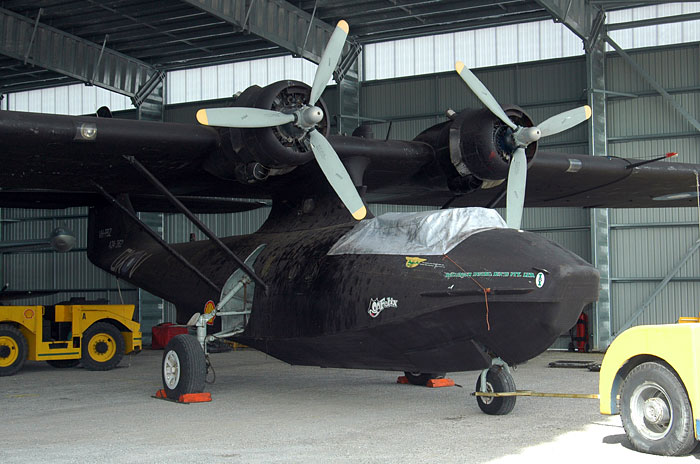 Consolidated PBY-6A Catalina
images by Brett Green
text by HARS

HyperScale is proudly supported by Squadron.com

You can visit the HARS website for more information about the Society,
its aircraft, its restorations and operations
---
The Historical Aircraft Restoration Society
The Historical Aircraft Restoration Society (HARS) was formed in 1979 by a group of aviation enthusiasts interested in the preservation of Australian Aviation History. Their mission is "To recover and where possible restore to flying condition, aircraft or types of aircraft that have played a significant part in Australian Aviation History both in the Civil and Military arenas".
HARS has restored a large number of aircraft from the small, including a Cessna C-180 and a DeHavilland Tiger Moth, right through to the pride a Lockheed Super Constellation.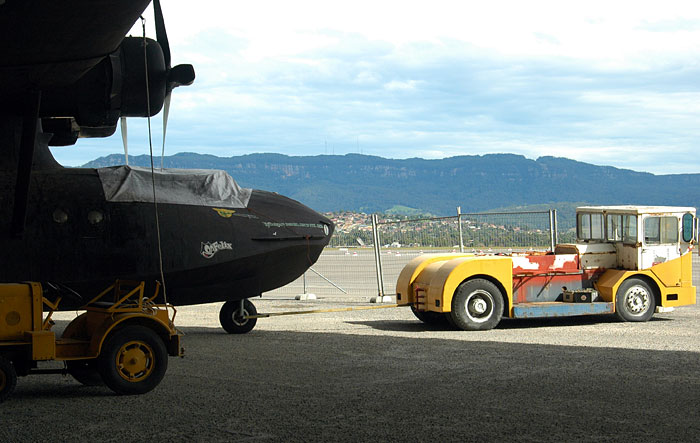 In November 2002, the Society relocated its operations to The Illawarra Regional Airport, Albion Park Rail. In recent years, significant growth in aircraft acquisitions has required the Society to seek a more permanent facility capable of expansion. HARS' new home at the Illawarra Regional Airport will allow the Society to establish a world class Flying Museum.
---

HARS' PBY-6A Catalina
The Catalina operated and maintained by the Historical Aircraft Restoration Society, was purchased in 2002 in Portugal where it had been operated as a water bomber under Chilean registration, and was flown to Australia in September 2003.

The aircraft is a PBY-6A model, built in 1945 by Consolidated at its New Orleans plant, c/n 2043 and delivered to the US Navy. It was later sold as surplus to the Aircraft Instrument Corporation and placed on the US Civil Register as N9562C. It was later transferred to Chile and flew with several companies until placed in storage in 1960 for twenty years. It was retrieved from storage and began operations as a water bomber with registration CC-CCS. Whilst in service fire fighting the aircraft sank in Lago Guitierrez, Argentina on the 27th of January, 1986. It was salvaged, rebuilt and back in service in 1988. In 1991 it was ferried across the Atlantic for operation by the Spanish land management department ICONA. Subsequently it went on charter to Aerocondor in Portugal.

HARS intends to restore the Catalina to conform as closely as possible to the configuration of the famous RAAF "Black cats" of World War II. The RAAF "Black Cats" were pure flying boats, enabling long range and maximum possible loads with extended water take offs. The Society's PBY-6A ia an amphibian (with retractable wheels) for taxiing to our workshop, the only practical way to maintain the aircraft, but once fully restored, in flight with wheels retracted, it will resemble the original "Black Cats" very closely.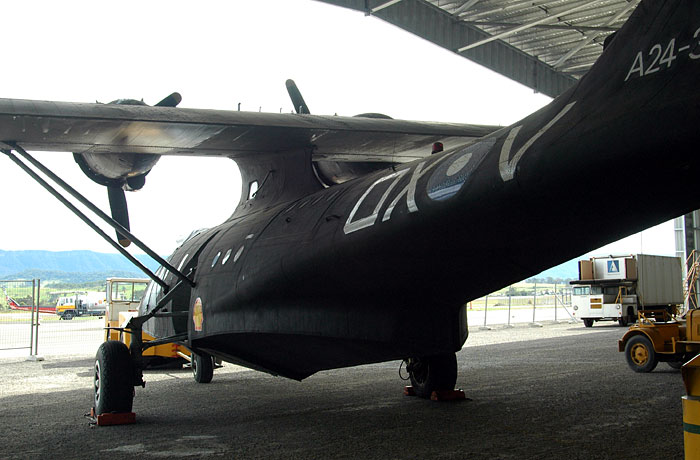 The incredible versatility of the Catalina was demonstrated most during World War II. The Society's exhibit will proudly represent the "Black Cat" squadrons of the RAAF and will be a fitting tribute to the 239 Australian airmen who lost their lives undertaking hazardous bombing and mine laying missions both at night and in daylight, and always at very low altitudes. These activities caused significant disruptions to the Japanese supply lines particularly with oil and essential military cargoes by the destruction of their shipping. Because of their long range capability they proved to be excellent reconnaissance aircraft. Their most notable activity in this capacity was in the shadowing of the Japanese Naval Force just prior to the Coral Sea Battle. In all, The RAAF had a total of 166 Catalina aircraft.

Even after the outbreak of war, Qantas took delivery of nineteen Catalinas between January and October 1941. They were to convey important persons as passengers traveling overseas. Their most notable route was the 'Double Sunrise Service' direct from Perth to Ceylon. it was the only form of personnel transport between Australia, Europe and America during the war.

Catalinas continued in passenger service after the war linking many of the Pacific islands with Australia. The last Qantas flying boat service was a Catalina New Guinea flight on July 24th, 1958 using VH-EBD. New Guinea services were then taken over by TAA using two amphibian PBY-5As acquired from Canada. The undercarriage and hydraulics were removed to increase payload.

Several other airlines, including Ansett, employed Catalinas in the 1950's and 1960's for brief periods on island work. It was disappointing that none were preserved in flying condition and that an airworthy example has had to be purchased overseas at a great expense.

Click the thumbnails below to view larger images:
---
Images Copyright © 2005 by Brett Green
Text Copyright © 2005 by HARS
Page Created 03 May, 2005
Last updated 02 May 2005
Back to HyperScale Main Page
Back to Features Page