HyperScale is proudly sponsored by Meteor Productions
This monograph pertains specifically to one P-40E on one PYN-ups Decals sheet. It illustrates, however, the process we use to create all our sheets. I do not have time, unfortunately, to write similar monographs about other aircraft in similar detail—the results are in the decals. I'm writing about this process here primarily because I really like this plane, I respect Dick Cresswell, and I think you may be interested in the process we go through.

Our new PYN-up Decals sheet PYND48025 includes one of my favorite aircraft of all time, and one that really impressed me when I saw the photo for the first time as a kid.

It also turns out to be a more controversial ship than I ever expected. There are only three known photos (all black and white) of this plane. One is a clear official photo of the flag emblem (above). Two were taken by a RAAF Hudson crewmember in late January 1943 as the plane was being flown to Amberly, Australia, for replacement by a new P-40K, are rather grainy and difficult to evaluate. Luckily for history's sake, they were obtained by Peter Malone and Frank Smith from the Hudson crewman about 40 years ago.
Before I launch into the long discussion below, I need to thank several folks whose extremely important assistance and previous research immeasurably helped me. From Australia, I'm particularly indebted to Peter Malone, and to Gordon Birkett and Gordon Clarke (from ADF-Serials.com) who were also very helpful. The ADF-Serials.com guys are doing Herculean work on thousands of planes flown by the Australians—check out their web site! I also relied heavily on Ian Baker's wonderful series of monographs on Australian aircraft camouflage and markings.

From the US, Dana Bell provided absolutely crucial information woven throughout this analysis, and my friend Mike Lampros was most helpful. Thanks to you all!

Please note that not all these folks agree with each other (or me!) on every point, and the conclusions below are my own, based on my study of the available information, and are solely my responsibility.

It's interesting to note that although these planes were typically known in Australia as "Kittyhawks", the RAAF did not use the RAF designations "Kittyhawk IA, Kittyhawk III, Kittyhawk IV," etc., but rather the normal US designations of "P-40E, P-40M, P-40N," etc., to differentiate the various versions.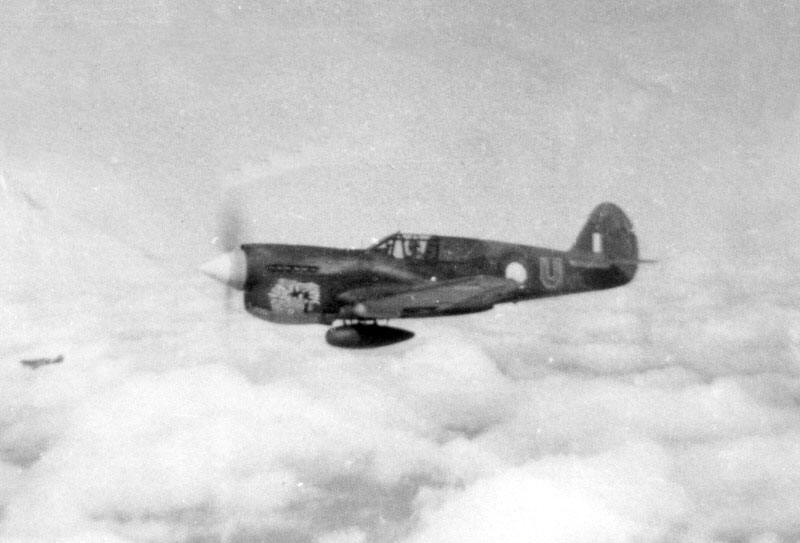 The discussion below covers general issues, camouflage, standard markings, and special markings. We must differentiate between verified historical fact and conjecture. Furthermore, conjecture can usefully be split into fact-based inferences and WAGs (wild-assed guesses). We'll concentrate on the two former as much as we can
General Background Issues
As modelers, we tend to focus on the equipment military men used, and the more famous the man, the more interested we are in his plane. This is inevitable given the nature of our hobby, but we would do well to remember and honor the men who operated the equipment we model.

Squadron Leader Richard C. Cresswell, DFC, RAAF, flew the P-40E portrayed in our PYN-ups Decal. At 85, Dick is alive and in decent health for his age. His mind remains sharp as a tack, as I can confirm from my recent conversations with him.

Dick joined the RAAF in 1938. A tough and focused leader, he was selected to organize 77 Squadron, RAAF, for the defense of Darwin in the summer of 1942. In November he shot down the first Japanese aircraft at night by an Australian over Australia. This was also Dick's first kill and the first kill for the new 77 Squadron. Dick went on to command other squadrons during World War II, and remained in the Air Force after the war.

In 1950, Dick was once again in command of 77 Squadron, this time flying Mustangs from bases in Japan against North Korean forces attacking South Korea. While under his command, 77 converted from Mustangs to Meteors, and after some ill-fated air-to-air combats with MiG-15s, focused on dangerous ground support missions. In Korea, Dick flew 144 combat missions: 110 in Mustangs, 24 in Meteors, and 10 in F-86s while flying with USAF units.

After the Korean War, Dick filled a number of staff positions, but continued to fly, including Sabres and even Beavers in Antarctica. He retired from the Royal Australian Air Force as a Wing Commander in 1957.

Wing Commander Cresswell is a fine man, and we do well to celebrate his accomplishments. That he flew such an interesting P-40 is just icing on the cake!

To begin, his ship was a P-40E-1-CU, USAAF serial number 41-36014, Curtiss C/N 19937, with RAF serial ET750. In Australian service it was allocated serial A29-113. Although not germane to this tale, the plane eventually crashed and burned on 25 June 1943 while assigned to 2 OTU.

There are a number of facts uncovered by famous US author Dana Bell in his vast research that heavily influence this discussion.

First is the nomenclature: ALL P-40E-1s were built to British specifications. In fact, the "-1" specifically indicated the planes were paid for by the US Government (Army Air Force) but intended for Lend Lease. Available documentation indicates that although all of the E-1s were intended for Lend Lease, some actually went directly to USAAF units. Furthermore, all P-40E-1s were assigned BOTH USAAF and RAF serial numbers. The implications of this are discussed in more detail below.

From these documented facts, the story gets a bit muddier, at least from the modeler's point of view!
Dick Cresswell noted in an interview conducted by Peter Malone that he received this plane in July 1942, at the time of his promotion to Squadron Leader and the command of 77 Squadron. He recalled that he chose it himself from a group of brand-new aircraft that had been built to British specifications with British instruments and equipment. He took this particular aircraft because the "13" in the serial number spooked some of the more superstitious pilots in the unit and he intended to disprove their fears—which he well and truly did!

Previously he had flown a very worn out ex-USAAF P-40, and he was excited to have brand-new equipment. Dick specifically recalled that his new plane was camouflaged differently from his earlier, ex-USAAF P-40. He noted the earlier planes were "brown on top and blue on the bottom" (presumably Olive Drab over Neutral Gray, which could easily have appeared brown and blue). He stated that A29-113 was "brown and green on top and much lighter underneath," which is consistent with the Curtiss factory-applied RAF Temperate Land Scheme discussed in more detail below.

The first half of 1942 was a time of confusion and preparation in Northwest Australia, where this saga begins. The USAAF's 49th Fighter Group, operating P-40s, arrived with a core of well trained pilots and maintenance men (some in service since the prewar period), and a rough but improving supply chain behind them. However many of the replacement pilots were not as well trained and the accident rate was high. The RAAF, on the other hand, had experienced fighter pilots available, but not much in the way of equipment, and inadequate organization and maintenance facilities.

Some swapping around occurred, and the RAAF's 75 Squadron was soon equipped with P-40s and in March moved up to Port Moresby to defend that area. The Americans went to Horn Island and the Darwin area to aid in its defense. This intermixing led to some potential problems for postwar model airplane builders. It is regrettable that the Aussies and Yanks there paid more attention to launching effective combat sorties to defend Australia and New Guinea than to adhering to "official" lines of demarcation, organization, and color documentation. (The hell with the war; get the damned paperwork straight! Oops, sorry. My tongue just pushed through my cheek…)

77 Squadron, RAAF, moved to the Darwin area in July 1942, and it was here that Dick got the first night kill by an Australian in Australia when he shot down a Betty attacking Darwin usually reported to have occurred in the early morning hours of 23 November 1942 (although in a 1981 letter to the RAAF Meteorological Service, Dick Cresswell stated the kill occurred at about 0130 on 24 November 1942).

Cresswell used the squadron's time in Darwin to get everybody fully proficient and operating as a team. A hard-nosed combat leader, he also forbade personal photography in the area. One wonders what could possibly have gone through his mind, as he should have damned well known that this photography ban would 60 years later cause multitudes of scale modelers to pull their hair out! Even four decades after the war ended, upon learning that a RAAF Hudson crewmember had taken a couple of photos of his plane (the only two in existence except for the official RAAF shot of his nose art), he remarked that the guy shouldn't have had the camera!

While it is generally accepted that Cresswell's A29-113 was assembled by 1 AD, RAAF, it is POSSIBLE (in my view, extremely unlikely) that it was assembled by the USAAF. This poses a potential markings problem that will be discussed more below.
Per Dana Bell's research, Curtiss applied a number of different camouflage colors and schemes to P-40s built for the British. However, ALL P-40E-1s were camouflaged at the factory in the Curtiss versions of the RAF Temperate Land colors of Brown (Dark Earth) and Green on top. Obviously plenty of P-40Es were finished in the Army Air Force scheme of Olive Drab over Neutral Gray, but no P-40E-1s were. However, the RAF Temperate Land camouflage on P-40E-1s that went to the USAAF may help in some cases explain American P-40Es in variegated camouflage.

No P-40E-1s were finished in the RAF Desert scheme, although P-40K-1s and P-40K-5s certainly were.

As noted, the Curtiss factory topside colors were Brown (Dark Earth), du Pont color 71-009, and Green, du Pont 71-013, on top (the Curtiss equivalents of RAF Dark Earth and RAF Dark Green). These were applied in a standardized variegated topside pattern with rubber or wooden masks. Usually it's possible to tell whether a ship was wearing the original factory scheme or had been repainted elsewhere. This is due to the unlikelihood that a painter in the field would have been able to (or bother to) precisely follow the original pattern.

Again, per Dana's research, the underside color was the Curtiss equivalent of RAF Light Grey (FS 36463) on all except the last few P-40E-1s, which may have been painted in the Curtiss equivalent of RAF Light Blue. This is true despite the clear notation on the Curtiss paint shop plans that the underside color was "Sky Type S."

How this came to be is an interesting story. Dana discovered that the British Purchasing Commission had only a 1938 version of the RAF color chips, which obviously did not include a chip for Sky ("duck egg blue/green"), which came into official use only in 1940. When they were told to use "Sky" undersurfaces, the only two colors available in the chips they had were Sky Grey and Sky Blue. Apparently since the instructions didn't say "blue," it was assumed the color intended was Sky Grey, and this is what was provided to the American paint manufacturers.

A29-113 was almost certainly painted light gray underneath.

Dana has found no evidence that P-40s up through the P-40E painted at the factory per British specifications EVER received an underside color equivalent to RAF Sky ("duck egg blue/green"). Although not germane to this story, this also means the AVG P-40B/Cs had light gray undersides, NOT Sky!

From Peter Malone's research into colors used on parts from P-40 wrecks in his collection, the color matches on actual aircraft appear to be:
Green FS 34096

Brown FS 30095 (30118 is also close)

Gray FS 36622, but a little more blue (note the official match was closer to FS 36463)
Along with the results of Dana's research, close evaluation of the color demarcation lines in the available photos of A29-113, aided by varying the contrast in Photoshop, indicates the plane had the nominal factory-applied camouflage pattern. There is no indication whatsoever that it was painted in the RAF Desert Scheme, which we would not expect anyway.

It has been suggested that this ship was assembled by the Americans and was therefore originally painted in the US colors of Olive Drab over Neutral Gray. According to this theory, the plane was overpainted with another topside camouflage color, presumably brown, to create an Olive Drab/brown variegated camouflage scheme seen in the photos.

This is not a persuasive argument. First, this aircraft was without doubt a P-40E-1, and all P-40E-1s were painted at the factory in the RAF Temperate Land scheme. Also, the assertion that because the plane was assembled by the Americans means it was, per se, camouflaged in the US Olive Drab over Gray scheme, is rather weak. After all, a P-40 was a P-40, and either the Aussies or the Americans could have assembled their own AND each other's ships. Do not forget that it is fact that this plane was built to BRITISH standards and had officially been assigned a RAF serial number before shipment to Australia. We are not aware of any documented instances of RAF specification P-40s being painted at the factory in US Olive Drab over Neutral Gray.

It is highly unlikely that Australians would have completely repainted a perfectly good, brand-new aircraft with a serviceable and appropriate paint scheme, especially with colors from a foreign air force. Ian Baker's research certainly downplays what used to be conventional wisdom about the frequency with which the RAAF repainted aircraft received from other air forces, specifically the RAF and USAAF. He has documented official instructions to the effect that if the paint scheme on the plane as received was adequate and appropriate to the climate, the plane was NOT to be repainted.

Furthermore, as noted above, painters in the field seldom if ever precisely follow the factory paint demarcation lines. Where clearly visible in the photos, A29-113's pattern matches the factory scheme.

Finally, it is far more likely the Australian 1 AD rather than the Americans assembled the plane, although this is a more important issue in the markings discussion below.

Without doubt, some Australian P-40Es were repainted at some point in their lifetimes, particularly after accidents. Only Aircraft Depots and Repair and Salvage Units had the facilities to undertake major repainting. Operational squadrons were only equipped to paint items such as code letters and carry out minor repairs and paint touch-ups. There is no evidence A29-113 was repainted during the time Cresswell flew it.
The crucial fact about P-40E markings also comes from Dana Bell, who refers to the Curtiss factory camouflage drawings to note two previously unknown items.

According to the official requirements, Curtiss applied USAAF stars to all P-40E-1s that left the factory in "flyaway" condition. In other words, if a pilot climbed into the cockpit and flew the plane away from the Curtiss factory, it had USAAF markings already applied. Since most or all of these planes were going to the USAAF anyway, this makes sense. This would have applied to P-40E-1s in British camouflage that were earmarked directly to USAAF units.

The second fact Dana discovered clears up decades of confusion and argument. If the P-40E-1 left the factory in crates, NO INSIGNIA was to be applied! Rather, decals for Nationalist Chinese, USAAF, and RAF markings were to be included in the crates for EACH airframe, along with a quart of decal lacquer. The appropriate markings were to be applied only when the aircraft was assembled in the combat theater.

This is huge. Years of speculation about "overpainting" of RAF or USAAF insignia must now be reevaluated in the light of Dana's new information. This applies equally to discussions about Cresswell's A29-113. It also helps explain the minor and major differences in locations where the insignia was applied on individual aircraft. When you have a ground crewman (commonly called an "erk") with a glue pot, paintbrush, and insignia decal, and no knowledge of "IPMS National Contest Standards" (private joke for IPMS-USA members), the variation in locations is understandable and expected.
---

Roundels
In the discussion below, I use the term "RAF" to denote standard British/Commonwealth insignia. This applied to the Australians until July 1942, when the insignia began to change. I use the term "RAAF" to refer to the famous blue/white insignia adopted by Australia from late 1942 on.

To understand why we chose the national markings provided on our PYN-up Decals sheet, you'll need to know a few things about RAAF markings in 1942 and 1943. We are indebted to Ian Baker for his exhaustive research into Aussie markings and the notes below are paraphrased from his various monographs. If you want a more expansive discussion of Aussie markings, buy Ian's books—they're well worth the money!

First, and contrary to conventional wisdom, the Australians did not begin to remove the red "dot" from the RAF insignia until late August of 1942. Furthermore, the official directive changed in August was to remove ONLY the red dot from the OVERWING roundels! Nothing was stated about removing the red dot from the underwing roundels, fuselage roundels, or fin flashes.

An additional directive change was released in probably late October 1942 requiring the red to be removed from the underwing and fuselage roundels, and was mostly completed in combat units by the end of 1942. Thus, our popular conception of Aussie blue/white national markings didn't formally exist until very late in 1942, a year after the war in the Pacific began.

I asked Dick Cresswell a short time ago about this, and 60 years after the fact he did not recall the two-stage red removal. He supposed that perhaps it took so long for the first instruction to reach the unit they might have met both requirements at the same time, but he really didn't recall specifics.

Thanks to Peter Malone, we now know the story that may have led to the removal of the red. On 26 June 1942, Catalina A24-17 was landing at the US seaplane base at Havannah harbor at Efate Island. A Marine Wildcat of VMF-212 was scrambled to investigate an unidentified aircraft. He fired on the RAAF Catalina scoring a number of hits but failed to down it. None of the crew were injured and, after temporary repairs, it was flown to Noumea where it was repaired by the USN seaplane tender "Curtiss."

This incident may have contributed to the replacement of the red in the over-wing roundels, but it was not the only incident. There were others of RAAF aircraft firing on each other believing that they were seeing Japanese markings. On another occasion at Milne Bay, 75 Squadron had an extended fight in and out of the mists scoring many hits on Jap aircraft. Only one problem, there were no Japanese there! The Intelligence Officer at the time showed Peter his reports. One of his recommendations was to remove the red from the roundels.

So what insignia was applied to Creswell's A29-113? (Who knew what, and when did they know it?…).

We can assume, according to the official Curtiss factory drawings, that the separate decals provided by Curtiss with the airframe were the standard 47" RAF-style type B red/blue roundels for the overwing surfaces, 32" type A red/white/blue for the underwing, and 36" type A1 red/white/blue with the broad yellow surround for the fuselage.

No photos showing the overwing roundels on A29-113 exist, but it is questionable to assume the standard 47" RAF type B roundel was ever applied since this ship was delivered to the unit in July 1942, the month the overwing markings were to change. Yes—it's possible the large blue/red RAF roundel was applied, but even if it were, it would have been almost immediately painted out or stripped off and a (most likely) 32" blue/white roundel applied in its place. Photos of other RAAF P-40s in the factory-applied RAF Temperate Land Scheme taken in the second half of 1942 commonly show roundels of this type and size in 3:5 proportions (i.e., standard RAF type A without the red dot).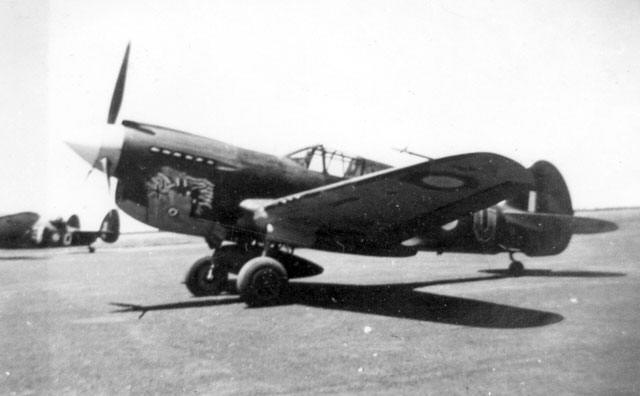 From the existing photos, we can verify the underwing markings were as provided by Curtiss, although the red dot has been overpainted with thin white paint and is still slightly visible. In other words, the underwing roundel DEFINITELY had a red dot at some point, but it appears to be overpainted in the January 1943 photo.

The fuselage roundel in the photos presents an interesting challenge. The factory-supplied red/white/blue/yellow roundel decal had a diameter of 36" and very likely was applied at the time the plane was delivered to 77 Squadron. However, the January 1943 photos to show a blue/white roundel of about the same size as the original RAF roundel. This may mean a new blue/white fuselage roundel was painted over the original RAF decal, and this is what we've chosen to portray.

But admittedly there's a bit of a rub here. The grainy photo of A29-113 in flight appears to show a dark area surrounding the fuselage roundel. This could have been an area where the decal lacquer used to apply the decal darkened the surrounding camouflage paint. It could be evidence of the yellow portion of the RAF type A1 roundel being painted out in a camouflage color, leaving a 32" diameter RAF type A roundel visible. Or, it could be just an artifact of the photographic film or JPEG compression. This remains an open and valid question.

We provide a large blue/white fuselage roundel with separate red dots in our PYN-up Decals sheet. If you do not agree with this assessment of the fuselage roundel, you can replace it with an appropriately-sized RAF A1 roundel (with yellow surround) or 32" RAF type A roundel without the center red dot.
---

Fin Flash
The fin flash is another problem area. By this point in time, the RAF was using the red/white/blue fin flash with the narrow white stripe, normally 24" tall. However, a multitude of photos exist of RAAF P-40Es with red/white/blue stripes of equal width (e.g., 8"), and the photos of A29-113 clearly show a wide white stripe of about 18" height.

Thus, it's possible Curtiss was still supplying the "old" RAF fin flash decal at the time this plane was shipped from the factory in March 1942, which was around the time the RAF was changing to the new style. It's also possible and perhaps likely the fin flash was painted on at the Australian Aircraft Depot. It most likely originally included the red bar since directives for its removal weren't released until three or more months after the plane entered service. The facts are not clear in this case.

What is clear, however, is that an 18" high flash with 9" white and 9" blue bars was on the plane at the time it was photographed in January 1943. We believe an 9" red bar originally appeared in the normal location and was overpainted with camouflage color in late 1942.

It has been suggested that the red may have extended all the way to the leading edge of the fin. This was often the case on Aussie P-40E-1s. Apparently the rationale for this "red to the leading edge" argument for this specific plane is based on a dark area on the photo forward of the white bar.

Once again, we do not find this argument persuasive, as close evaluation of the two photos that show the fin flash indicate the dark area forward of the area where the red bar in the fin flash would have originally been was actually the green camouflage in its normal pattern and not evidence of any overpainting.

In any case, we provide a separate red stripe for the fin flash that you can replace or repaint according to your opinions.
---

Serial Numbers
In the immortal words of Monty Python, "And now for something different!"

The serial number on this plane is positively, absolutely, a WAG!

Yes, we know the serial number, A29-113, as historical fact. However, the RAAF used either black or light gray serial numbers on P-40E-1s, and both the color and precise style (font) depended on the Aircraft Depot where it was applied and the batch with which it was processed.

The problem comes from the lack of visibility in the grainy photos in the area on the fuselage where the serial number would have been applied. You would think even a grainy photo would indicate whether a black or a light gray serial was applied. Not so fast, grasshopper!

Both Black and Light Grey serials were applied in various positions, from a point where the serial was positioned totally ahead of the horizontal stabilizer, to a position where it was almost completely under the stabilizer. Even after varying the contrast in Photoshop, it is not possible to tell with any confidence where the serial was applied. From the photos, you could make an equally persuasive argument that no serial was applied! (But we don't believe that).

If the serial was applied ahead of the horizontal stabilizer, the individual code letter "U" would have partially overpainted it, and this is what we've chosen for our main artwork. We believe that the serial was probably black and ahead of the horizontal stabilizer, but grey is also a possibility, so we've provided BOTH options on our decal sheet. This is the only part of our decal where we cannot make a strong recommendation to you.
The personal flags, spinner, and individual code letter comprise Dick Cresswell's personal markings.

Personal Flags
Upon assuming command of 77 in July 1942, Cresswell urged his pilots to create artwork or logos for their P-40s, and some breathtaking nose art resulted. A prewar sign painter named Newton painted the artwork, and soon the only plane not decorated was Creswell's own.

Dick was a no-nonsense combat leader and hadn't considered his own plane, so he told Newton to come up with a design. The famous four-flag design that resulted included the RAAF, Australian, British, and American flags flying proudly in a stiff wind.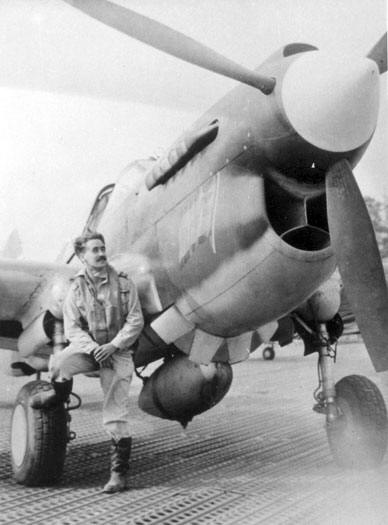 Largely unknown since the war, until discovered by some Australian researchers and provided to me by Peter Malone, was the RAAF squadron leader's command flag painted flying proudly on the lower right side cowling. The only known photo showing this flag was taken in 1943 after the cowling panel had been transferred from A29-113 to Cresswell's brand-new P-40K, A29-166, AM-U.
The photo of the squadron leader's command flag on the right side of the nose is taken from such an angle that it's impossible to determine whether the squadron number ("77") was painted on the flag under the eagle, as was fairly common in the RAF, (see the famous photo of Doug Bader climbing out of the cockpit of his 242 Squadron Hurricane). I asked Dick about this and he told me the RAAF did not follow this practice and his airplane there was no number on his flag. Because of our production schedule requirements, we were note able to confirm the absence of a number until after our decal sheet had gone to the screen printer, so the main decal sheet includes two small "77s" that will not be used.

As noted, the lower cowl panels were interchangeable between the P-40E and P-40K and all five flags were transferred to P-40K A29-166 when Dick picked it up in late January 1943. Australian researchers confirmed this, as did Dick when I recently talked with him about this plane and his military service. Thus, with the addition of appropriate national insignia and code letters, these decals can be used to portray his P-40K!
---

Spinner
The spinner was painted at the factory in the underside color, which means for A29-113 it was originally Sky Grey.

The photos show a spinner that is definitely white on the front half, and a somewhat darker color on the rear half. This has traditionally been interpreted as some sort of light blue, but the tonal value of the rear half is similar to the underside light gray tonal value, so it is possible the back half remained in its original light gray color.

Dick Cresswell does not recall the color of the spinner; therefore a modeler could probably paint it just about any light color he desires. I recommend either the same light gray as the undersurfaces, or a light blue color matched to the lighter blue of the squadron leader's command flag decal.
---
Code Letter
The main object of contention, at least recently, is the color of the individual code letter "U." There are several aspects to this controversy, which are worth reviewing here.

First, Cresswell used the code letter "U" throughout this flying time in P-40s. It was first applied to his "used" ex-USAAF P-40, which he traded in for the brand new P-40E-1 A29-113 in July 1942. After he traded in A29-113 for his new P-40K, A29-166, in early 1943 and the RAAF established a "two-letter squadron code" system, he retained the letter when A29-166 was coded AM-U.

Second, there are no color photos of P-40E A29-113, and very few photos (none in color) of other 77 Squadron P-40Es during this time period, due to the firmly enforced restriction against photography.

A well-known Australian aviation researcher and author asked Cresswell late 1970s about the color of the code letter on his P-40E and was told it was red with white pinstriping. Peter Malone spoke to him at in 1980 and was again told it was red.

In 1981 Peter Malone interviewed Cresswell more formally, at which time he stated it was definitely blue. When pressed to identify the color, he recalled it was "command blue."

Now it's time for a very important digression.

Questions such as "what color was your fin tip" and "what color were your code letters?" are simply not valid "pilot questions." Pilots in combat are far more concerned about reliable engines and guns that fire when the trigger is pulled than the color of the bloody fin tip. Typically, unless the pilot was a model builder or historian BEFORE he went to war, he's about the last person who will accurately recall such minutiae. Pilots are concerned with flying the mission, killing the bad guys, and getting home safely. Anything else is usually an irritating distraction, and for we modelers to forget this is to risk looking like idiots in the eyes of war heroes.

Ground crewmen (erks) are much more likely to recall such details, because their professional lives were centered on the actual airframe and not the flying and combat missions. This division of knowledge and memory is obviously not always the case, but needs to be considered in every evaluation of wartime markings.

Peter Malone has interviewed former 77 Squadron erks who either don't recall the code colors during late 1942 or recall them as being red with a white outline, or just a white outline with no color. When I recently asked Dick Cresswell what color his codes were (yes, ol' Dave asked the idiot question, although I phrased it a bit more smoothly), he replied quite clearly "My AM-U had light blue codes." He specifically noted "AM-U."

This is an important point. Though typically portrayed as white in color profiles and decal sheets, RAAF squadron codes were officially (and generally in practice) the RAAF color K3-195 Sky Blue, from early 1943 on. Thus, it is historically verifiable that Cresswell's P-40K AM-U did in fact have light blue codes. Cresswell did NOT tell me that A29-113 also had blue codes.

On the other hand, after telling a well-known Australian author and later Peter Malone in 1980 the code letter was red, he told other Aussie researchers it was blue. Furthermore, he stated it would not have been red because it would have been confused with the Japanese insignia.

So the great fighter pilot and leader is on record many decades after the war ended stating it was red, it was red, it was blue, it was blue, and no comment. This previous sentence is most assuredly NOT a criticism of Dick Cresswell—as a squadron commander and combat pilot, he had far more important things to deal with (and remember) than the color of his bloody code letter!

Furthermore, any argument that red "could not" have been used due to possible confusion with Japanese colors is inconsistent with the RAAF continued use of red in the roundels and fin flashes at the time the code letter was applied. This begs the question of whether it could have been overpainted at some later time, but there is no evidence of this.

So, we must return to the two grainy 1943 photos that show his code letter (the third photo shows the nose only). In both photos the outline is clear and matches the white in the RAAF roundel, so we can safely assume it was in fact white.

The darker part of the code letter is lighter than the blue in the RAAF roundel and much darker than the light gray or light blue of the spinner. Since the spinner back half was possibly a medium grayish blue (called "light blue"), it seem rather unlikely the code letter was the "command blue" of the squadron leader command flag painted on the nose. If not "command blue," what?

At the time the photos were taken, the red had already been removed from the RAAF roundels and fin flashes, so no direct (and easy) comparison to red elsewhere on the airframe is possible.

It's been suggested we can compare the code letter to the red (or blue) of one of the national flags in the nose art, but this is absolutely NOT true since the flags were artistically rendered with blended highlights and shadows, making "pure" color comparisons impossible. Furthermore, since this was artistic nose art, what colors were used? Official RAAF paints? USAAF paints? Tins from the local hardware store? Captured RLM 103 paint? We might as well claim the artist used pre-Soviet Russian paint captured by the RAF contingent that fought with White Russians and somehow found its way, 20 years later, to Darwin! OK, that' just silly. But so is the argument that we can somehow compare the code letter color to the flags' colors.

This leaves us with conjecture, but hopefully of the historically-based type. There is no persuasive evidence, other than Dick Cresswell's statement, that the code letter was blue. I believe that Dick is both sincere (why would he be otherwise?) and correct when he stated his code letters were blue—but on P-40K A29-166 AM-U, not A29-113.

Because the black and white photos are literally no help in determining the color, and because some former 77 Squadron erks recall red code letters and none recall blue—in 1942—and because Dick Cresswell's first recollection of the color was red, I believe it most likely was red on A29-113. This is the way we've portrayed it in our main artwork, although our decal sheet also provides a blue code letter alternative.

Whew! This has been a long and occasionally torturous journey through the colors and markings of just one plane on one PYN-up Decals sheet. This is typical of the effort required for our research, and although we are certainly capable of making mistakes, we believe the results are worth the effort. I hope you agree.

I welcome thoughtful and historically-justified comments on this evaluation.
Good luck and good modeling!

Dave Klaus
President
Meteor Productions, Inc.



Dana Bell

Peter Malone

Photos provided by Peter Malone and Gordon Birkett

My interviews with Wing Commander Richard C. Cresswell, DFC, DFC (US), AM (US), RAAF, Retired, along with earlier interviews by Geoff Pentland, Peter Malone, and Frank Smith.

Ian Baker's series of monographs on Australian colors and markings (some also printed in various issues of Scale Modeller Magazine International)

Correspondence with Gordon Birkett and Gordon Clarke of ADF-Serials.com

RAAF Camouflage & Markings, 1939-45, Volume 1, by Geoff Pentland. Kookaburra, 1980.
---
Text & Images Copyright © 2005 by Dave Klaus
Page Created 13 May, 2005
Last Updated 12 May, 2005

Back to Reference Library