DeHavilland Mosquito FB VI

Model by Chris Wauchop
Museum Photos by Michel Poutnikov


Model Images and Description by Brett Green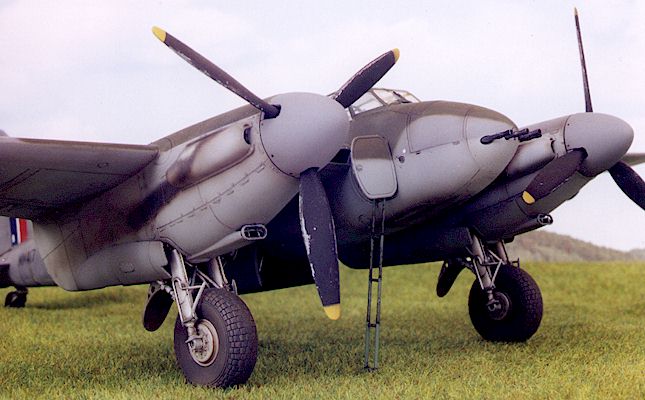 DeHavilland Mosquito FB VI
---
Contents
Chris Wauchop's Mosquito in 1/48 Scale
More Model Images
Mosquito In Detail - The Photo Essay (7 Images)
Here is Tamiya's new Mosquito in 1/48 scale built by Chris Wauchop.
The kit went together effortlessly. Detail is so good that very little extra work is required to produce a museum-standard model. The only additions and modifications made by Chris are listed below:

Drilled out machine gun and cannon barrels
Flattened tyres
Thinned out rear ring on bombs
Drilled out mesh covers in front of supercharger and glued on fine strip representing supports frames
Kit decal harnesses applied to lead foil and cut out
Drilled out weight-reduction holes on the wheel guards
Paints used were actually modern RAF colours in the Gunze range - Gunze 330 BS381C/641 Dark Green, H75 Dark Sea Grey and H335 BS381C/640 Medium Sea Grey lightened with about 30% white. Chris felt that these colours captured the feel of the three-coloured scheme better than the recommended paints.
The aircraft interior was painted H319 JASDF Light Green toned down with medium grey. Chris did not use the interior framing decal, as the colour looked a bit lurid. He masked and sprayed instead.
The bombs were painted Tamiya XF-51 Olive Drab and then weathered with a black-brown exhaust coloured stain. They were finished off with "scratches" from a 2B lead pencil.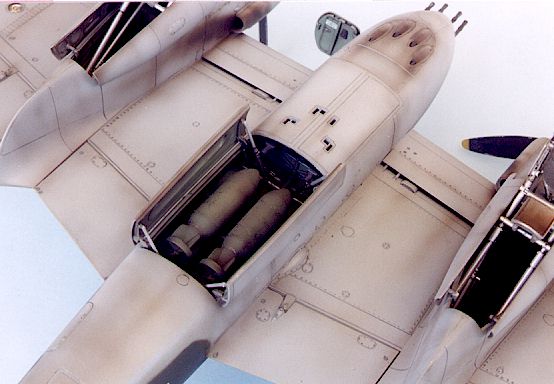 Decals gave no trouble using Gunze Mr Mark Softener. The fin flash was a little tall so Chris shortened it by 2mm. A white mark is in evidence on the fin flash in a number of photos. Chris does not think this is a souvenir of a passing bird, as it is symmetrical in shape and appears on other Mosquitoes. This mark was hand-painted after decals were applied.
Click on the thumbnails below to view the full-sized image. Click on your browser's "Back" arrow to return to this page.
7 photographs are categorised, captioned and thumbnailed below. To view an image at its full size, click on the thumbnail. To return to this page, click the "back" arrow on your browser.

Detail on the forward wall of a main undercarriage bay.

Undercarriage bay ceiling - forward

Undercarriage bay ceiling - aft

Nice detail of main wheel and leg. Note the lightening holes in the mudguard mount..

Front detail of the gear leg. The bent metal rods on the compression legs are gear door guides.
Retracting tail wheel detail. Note the splash guard recessed into the tailwheel bay.

Rolls-Royce Merlin 21.
---
Model by Chris Wauchop
Museum Photographs Copyright © 1999 by Michel Poutnikov
Model Images and Text Copyright © 1999 by Brett Green
Page created on Sunday, February 14, 1999
This page last updated on Thursday, May 09, 2002