Mogadishu MiGs
by Mick Toal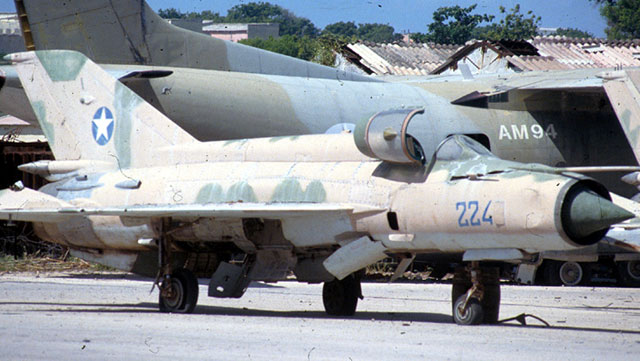 Blue 224 is a late model MiG-21. (M or more likely MF)
The green-grey camouflaged cargo plane in the background is an Aeritalia G222.

HyperScale is proudly supported by Squadron
Here are some photos of wrecked aircraft that I took at Mogadishu Airport, Somalia in the period 1992-94. I don't know much about aircraft, but a mate of mine has supplied the commentary.
---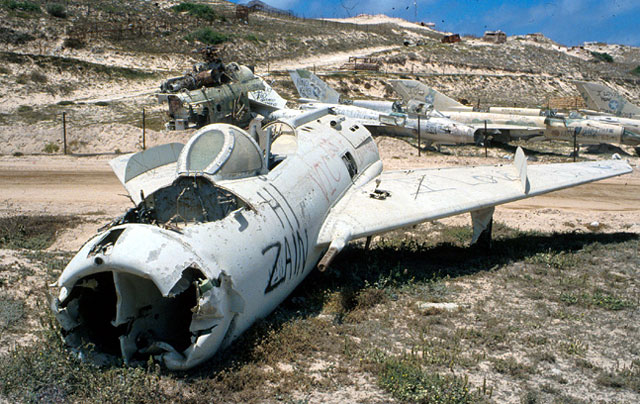 (above) The aircraft in front looks like a MiG-19 but the Somalis also had Chinese copies (F-6). The very pale paint (blue or white) is of interest. In the background are MiG-21s. The two camouflaged aircraft seem to be second generation MiG-21s (M or MF) with the large intake and radome, dorsal spine, broad fin and sideways opening canopy. But the silver one still has the older style intake and is probably a Chinese built copy, the Chengdu F7, which was a bit of a hybrid between the first and second generation MiG-21s;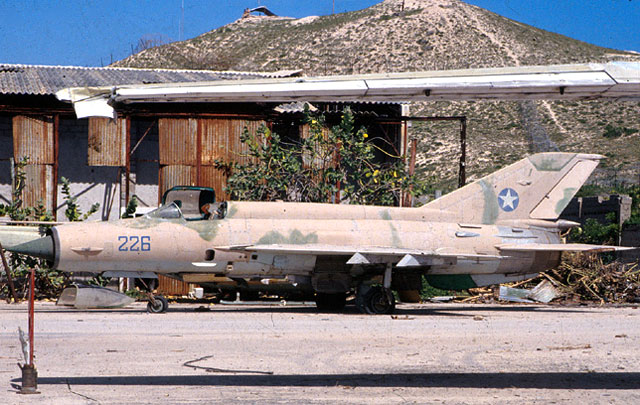 (above) Blue 226 appears to be a MiG-21MF. It seems almost airworthy!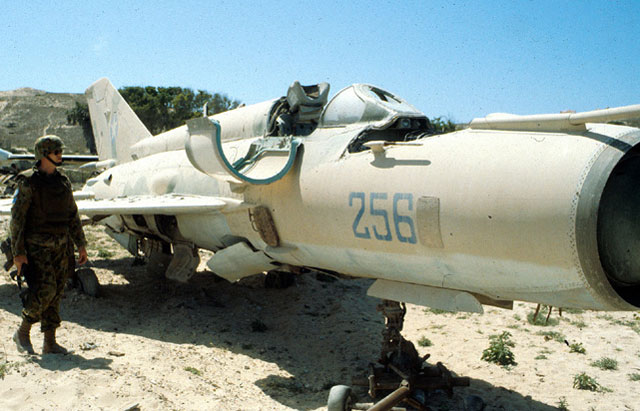 (above) Blue 256 is another late model MiG-21.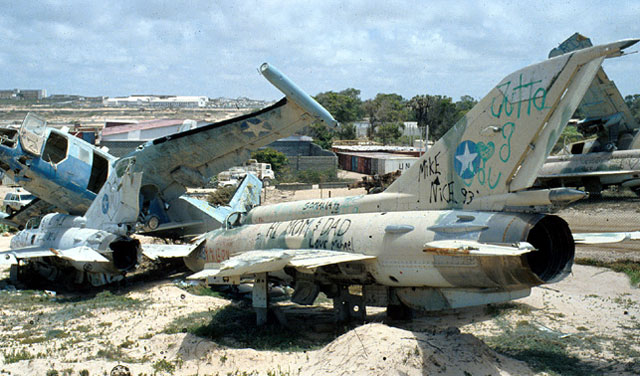 (above) More MiG-21s. The pale-coloured aircraft at the front seems to be a two-seater MiG-21UM, but it might also be the Chengdu equivalent. I expect that the colour is how they can be distinguished for I suppose the MiGs were a gift from Middle East country (hence the paint job) and Chengdus were Chinese aid. The blue plane is a Piaggio P166, while the brown light transport on the right is an Islander.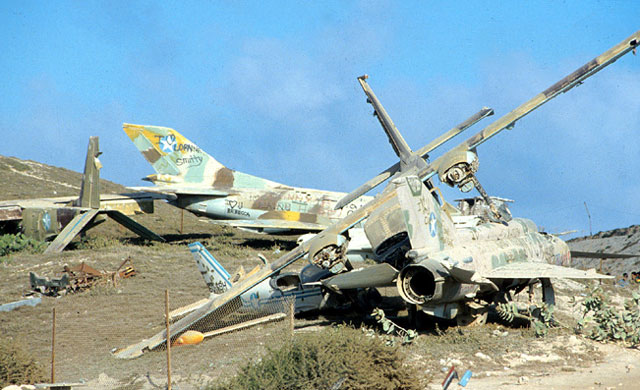 (above) A colourful MiG-19 in the background and another late-model MiG-21 in the foreground. The plane on top is an Islander, of which there is another on the left with broken tailplane. The blue and white plane under the MiG is a Siai-Marchetti SF260 trainer.
---
Images Copyright © 2002 by Mick Toal
Page Created 05 February, 2002
Last Updated 19 April, 2004

Back to Reference Library