Modelair New Zealand
Meet and Greet
November 2011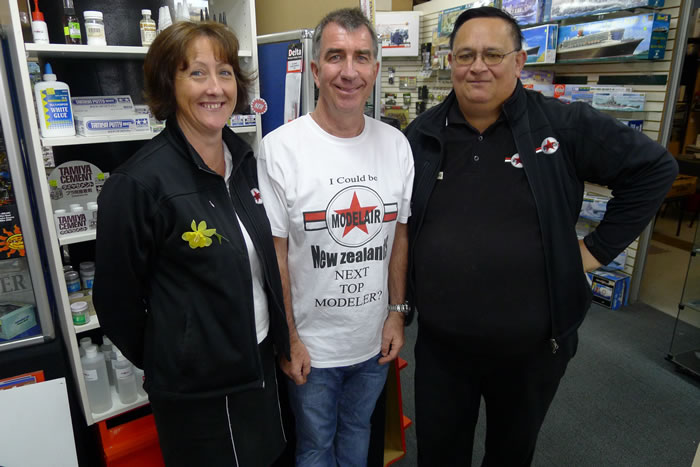 Nicky Thompson, John Darlington and Richard Thompson at Modelair's Auckland shop.
by Brett Green


HyperScale is proudly supported by Squadron
Last week I spent a few days in Auckland New Zealand as the guest of Nicky and Richard Thompson, owners of the Modelair hobby shop.
I was there for an informal "meet and greet" as part of Modelair's November "Modelling Madness" month. It was great to be able to catch up with old acquaintances and to put some new faces to familiar names.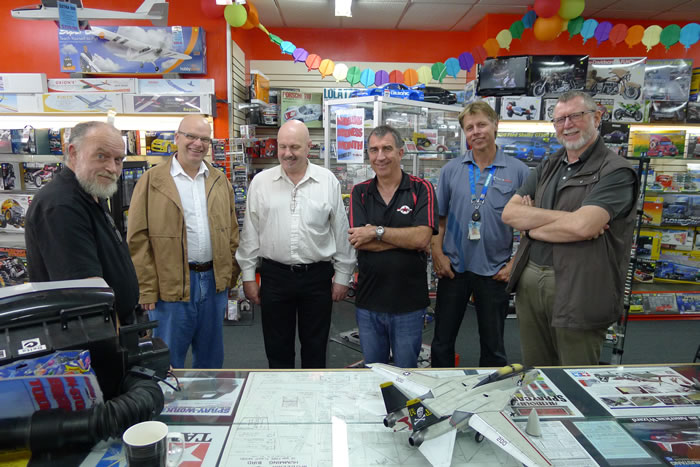 Some of the modellers at the Modelair "Meet and Greet", including
Pete Mossong, Brett Peacock, John Darlington and Dave Stewart.
---
Modelair focuses on plastic kits, with roughly equal emphasis on aircraft and armour; although there are also a good number of R/C, collectables, die-cast and gaming products lining the shelves. A selection of hard to find (at least in the Antipodean part of the world) paints and finishing products are available too, including Xtracolor enamels and the full range of Alclad metallics, tints and topcoats. I also bought a couple of bottles of Tamiya's new acrylic XF-86 Flat Clear – I didn't even know this was on the way.
I was most impressed with the large collection of built models on display in the bright and roomy shop. Many of these were built by Modelair staffer John Darlington. When I was returning to the hobby in the late 1980s, the inspiration offered by models displayed at my local hobby shop was the biggest factor that spurred me on to new techniques and improving my standards. In that instance, the shop and the models were owned by Chris Wauchop. Having Chris available to answer questions was an incomparable educational experience for me at the time. I am certain that John would be equally happy to field any questions about his models for Auckland modellers too.
After the shop event, my Auckland whistlestop tour continued with a visit to Tamiya NZ followed by dinner at a Thai retaurant with some of the North Island's scale modelling glitterati.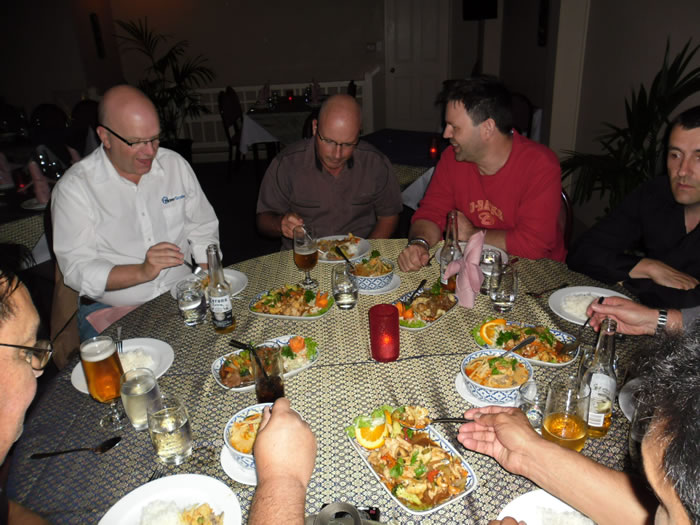 Before my return flight on Thursday, John Darlington took me out to MOTAT – the Museum of Transport and Technology. This technical museum is spread over a large campus and connected by its own tram service. Our destination was the Aviation Collection, which resides in a newly renovated building – you can still smell the fresh timber! Upon our arrival we were told that the restoration facility might be open for a little while, so we exited the main building and weaved our way between Sunderlands and a Ventura to find the hangar. The detour was well worthwhile. The centrepiece was a TBM Avenger in the process of restoration. This is a surprisingly big aircraft in real life. Other gems inside the hangar included a largely complete Miles Magister and a Link Trainer.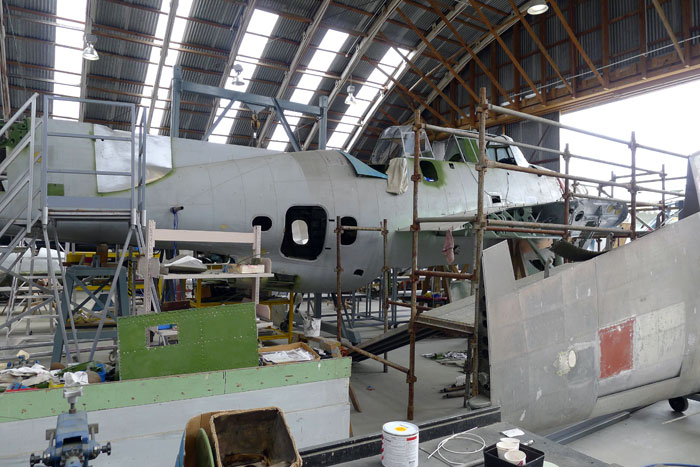 Just outside was a Lockheed Ventura assembled from the parts of several different aircraft, and undertaking the early stages of restoration by volunteers. We bumped into the Aircraft Conservator, Gerry Barton, and had an interesting chat about the origins, camouflage and markings of the museum's Ventura.
Back in the main building, around 40 restored aircraft were on display. Some of the highlights included a Lancaster, Harvard, a P-40E, and a post-Kahu A-4K Skyhawk.
Richard took the scenic route to the International Airport after lunch, detouring to Ardmore Airport for a few hours. This is an outer suburban airport and ex-WWII American and RNZAF air base. Today it is a busy centre for training and light commercial aircraft, but treasures also hide behind closed hangar doors.
Avspecs is an aircraft restoration company at Ardmore with an impressive list of projects, which include two Mosquitoes, a CAC-31 Sabre and several Spitfires (amongst which is a rare lowback Mk.XIVe). Thanks very much to Andy Hosking from Avspecs for giving us excellent access, and to Dave Stewart for showing us around.
Mosquito T.3 at Avspecs, stripped back to its bare timber.
---
Our final call for the day was just around the corner at the NZ Warbirds hangar, where Dave Stewart hosted a tour of their impressive flightline.
I would like to thank Richard and Nicky Thompson and John Darlington from Modelair for their welcoming hospitality over my two days across the Tasman.
---
Text Copyright © 2011 by Brett Green
Page Created 6 December, 2011
Last Updated 6 December, 2011

Back to Reference Library