Avro Lancaster Mk.II & F/O Clair Ferguson
Miss Kingsville
by Bob Swaddling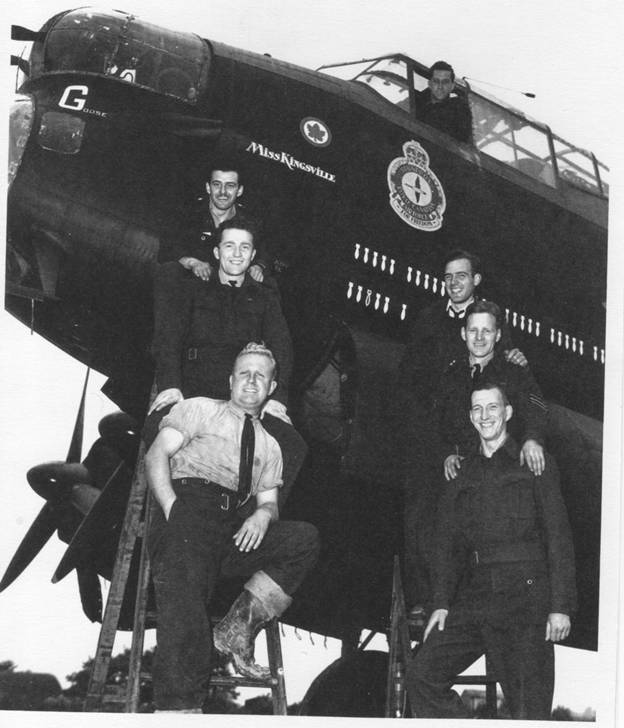 HyperScale is proudly supported by Squadron


In the early seventies my father and I would go to Detroit almost every weekend and hit all the hobby shops. He was into radio controlled boats and H.O. model railroading. I was into both of these but also plastic modeling so we always went to "The Squadron Shop" on John R and 9 Mile. At the time I was gathering any reference material that I could get on the Lancaster bomber. At Squadron I picked up "Profile Publications No. 235 on the Avro Lancaster Mk II". The Lancaster Mk II with Bristol Hercules radial engines was pretty obscure. On the car ride home I was thumbing through the pages of the Profile book and to my surprise there was a ¾ page photo on page 20 of a 408 (Goose) Squadron Lancaster Mk II with her ground crew posed on ladders in front of her. Painted on her nose was "Miss Kingsville". This Lancaster was named after my home town, Kingsville Ontario Canada. I had to find out who named her.
I inquired at the local Legion but nobody had ever heard of the a/c or recognized any of the ground crew. It was all a mystery. It seemed that she had been forgotten. I knew that my friend (and my ex-science teacher), Charlie Campbell, had been a tail-gunner on Lancasters so I finally called him. He told me that he had been on 426 Squadron but thought that Clair Ferguson might have been on 408. He said that Clair worked at the Customs building in Leamington, (the next town East of Kingsville). Maybe he would know something about the ground crew and "Miss Kingsville".

I took my Profile book and went to the Customs office in Leamington. There I met Clair Ferguson.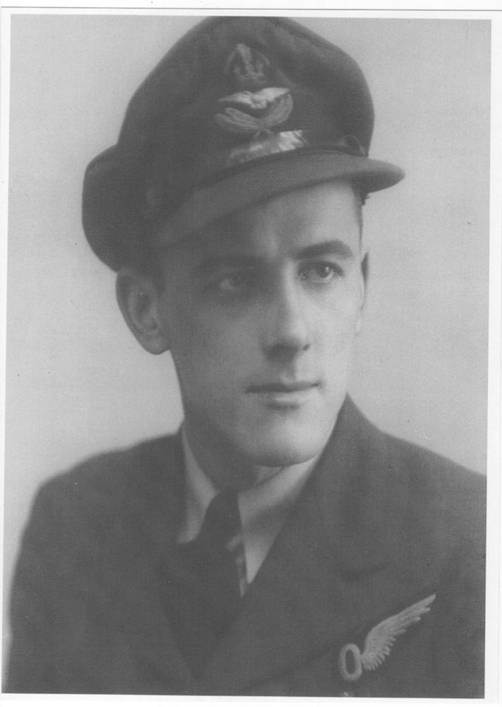 F/O Clair Ferguson
He didn't seem too interested in talking about his World War II days when I asked him. He said that he had indeed been on 408. I didn't know if he had been air crew or ground crew or even general staff. I opened the book to the photo of "Miss Kingsville" and asked him if he recognized any of the ground crew in the photo. His eyes lit right up when he saw the photo and he said "That was my plane! I was bomb aimer on Miss Kingsville!" He told me to come back the next day. I did and he gave me his personal photo collection. Then he told me the story of 408 (Goose) Squadron and how it became 408 (Town of Kingsville) Squadron and of "Miss Kingsville" EQ-G serial number LL636. The following is his story as he told it to me:
Clair Ferguson was from Leamington Ontario. Like everyone else he wanted to be a pilot but circumstances had him come out of training as a Bomb Aimer. He was shipped overseas and was assigned to 408 (Goose) Squadron RCAF. They were flying the Lancaster Mk II, equipped with Bristol Hercules engines instead of the more familiar Rolls-Royce Merlins. They actually really liked them. Clair wound up as bomb aimer on LL636, EQ-G. Instead of "G" for George" the crew called her "G for Goose" since the Squadron was the "Goose" Squadron and had a Canada Goose on their official crest. The crew of "G for Goose" bragged that they were flying the Squadron mascot. Clair wrote to Jack Miner (famous for his bird sanctuary in Kingsville) and told him of their squadron crest that featured the Canada Goose, how they called their Lancaster "G" for "Goose", and how he had told his squadron-mates about Kingsville and the bird sanctuary. (Follow this link to learn more about Jack Miner).
Jack Miner must have been impressed for he got the town of Kingsville to be the official sponsor for 408 Squadron (Most other squadrons were adopted by cities such as Winnipeg, Oshawa, Windsor, etc.).The people of the city or in this case, town, would then send socks, cigarettes, packages and letters to "their" Squadron.
Jack Miner did even better. He sent them six, live, wild geese as mascots in crates that were safely delivered by RCAF overseas transport. Clair's Lancaster, "G" for "Goose" became the squadron flagship and was called "Miss Kingsville" which was painted on the nose along with the 408 squadron crest and the popular red Maple Leaf on the white disk carried by most RCAF aircraft at the time. Postwar, this Maple Leaf Disc became the official Canadian Roundel and was designed and first carried in May, 1943 by Bob Morrow, D.F.C. from Alberta, of 402 Squadron on his Spitfire Mk Vb.
408 carries the name "Goose Squadron" to this day and the crest is the same as it was in World War II with a side profile of one of Canada's (and Jack Miner's) own beautiful feathered fliers signifying that the squadron represents the town of Kingsville, Ontario, Canada… The "Home of the Wild Goose". They fly Merlin helicopters now and on finding out about Clair Ferguson and the story behind how they were made the Town of Kingsville Squadron during World War II their senior officers made a trip to Kingsville to honour Clair Ferguson and reconnect with the town. They arrived in a Merlin Helicopter. They had always wondered how the Town of Kingsville came about being the sponsor of 408 Squadron. I was very proud to have found all the missing pieces to the mystery through my Profile Publications book. Clair passed away shortly after this event.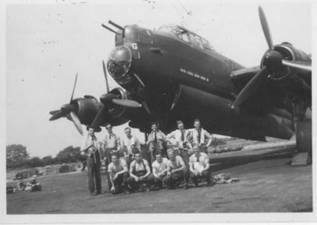 LL636 with her air and ground crew early in her career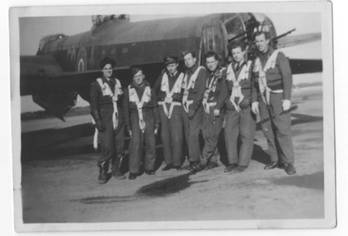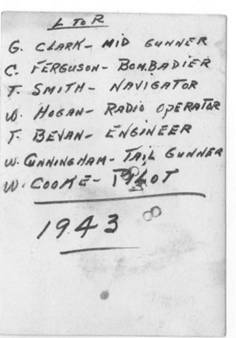 Photo of Miss Kingsville's flight crew with Clair's printing on the back.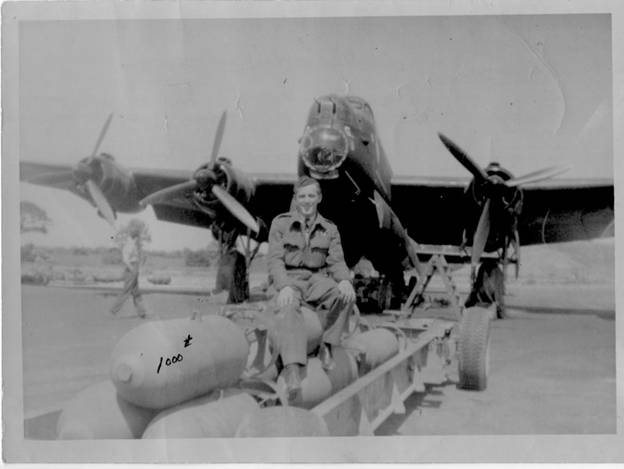 Clair sitting on a 1000 lb bomb and again his printing on the back of the photo.
As a footnote, I should also add that the six wild Canada Geese mascots did not last very long at Linton-on-Ouse, Yorkshire. Clair said that they mysteriously disappeared, one-by-one, and every once in a while there was an enticing smell of roast goose wafting about. He said the boys sure did enjoy their mascots but not in the way that Jack Miner probably intended. They were a real treat and he insisted on being invited to enjoy them too, since he was the one that got them there in the first place.
Lancaster LL 636 "G" for "Goose flew on with the 408 Squadron till she was retired from combat when the squadron traded in their well-used and beloved Lancaster Mk II's for newer Halifax B Mk Ill's in September 1944. "Miss Kingsville" went to No. 1668 Heavy Conversion Unit (H.C.U.) and flew on, training new aircrew how to handle a heavy bomber. She was lost in a crash on January 7th, 1945. Clair gave me his personal pictures of "G" for "Goose" and I will always be grateful for him sharing his personal account and pictures with me.
I have always wanted to build a model of "Miss Kingsville" but converting a Merlin Lancaster to a Hercules engine Mk II required a conversion kit and then there was the problem of decals. I wound up waiting for almost 40 years but Airfix announced a 1:72 scale Lancaster Mk II last summer. I was very anxious to find out what decals would be included. The kit markings do include a 408 Squadron a/c but it is EQ-Z. Not letting that hold me back I ordered two of the Mk II kits sight unseen. Then Xtradecal announced a decal sheet for Mk II Lancasters and to my surprise and great satisfaction one of the Lancasters featured on the sheet is EQ-G for Goose, Miss Kingsville. I will build one for myself and the other to go to the 408 Squadron display at the Charley Campbell Memorial Museum beside the Legion in Kingsville in memory of Clair Ferguson.
Having received the Xtradecal set X72176 for the Lancaster Mk II I noticed that Xtradecal made an error on the instructions for "Miss Kingsville". They have her as serial No. DS708, where she should be LL636. Thankfully they give you the proper decal to apply to your model. They also say that "Miss Kingsville" had bulged bomb bay doors and a ventral turret. Actually she had neither. With the Airfix model and this decal sheet a fine model of Clair Ferguson's 408 squadron mount can be built.
Bob Swaddling
January 2014
---
Copyright © 2013 by Bob Swaddling
Page Created 11 April, 2014
Last Updated 11 April, 2014

Back to Reference Library