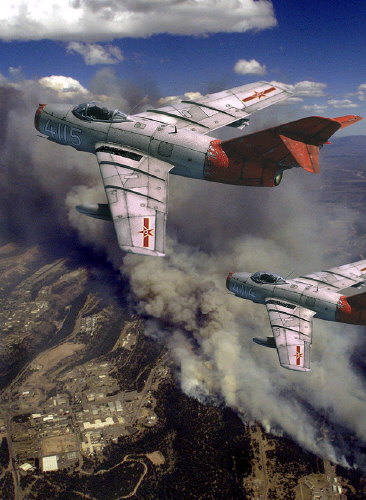 How To Make a MiG Fly
by Floris Lok
There are many ways to present your scale model. One of them is to let it fly. Virtually of course, but it is a very nice way to depict your plane realistically.
In this article I will show step for step how to make a simple photocomposition, in this case a pair of MiG-15's in flight.
You will need a camera. A single lens reflex camera with a 50, 80 or 100mm lens is fine. You will also need a computer (which most of us surfers already will have). It doesn't matter if it is an Apple or an ordinary PC. Next is a scanner to get the pictures on your screen.
Most of us who send in pictures to Hyperscale will have all these things. And oh, before I forget, first you have to make a model!
Step One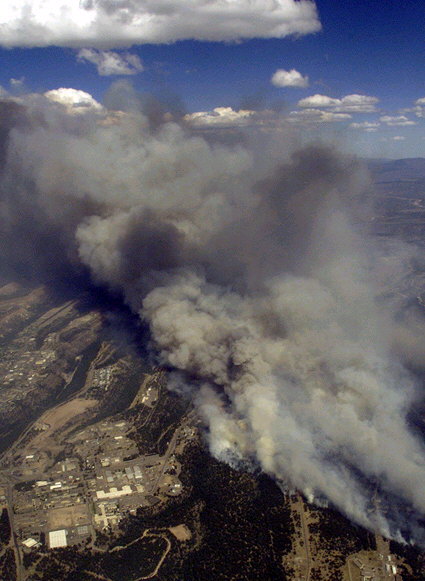 The first step is certainly one of the most important - choosing the right background photograph. These are the thing to consider:

a. It must have high technical quality - sharp and good colours.

b. It must have a certain historical correctness. The ideal is to get a picture from the actual period where the plane is from. This is often impossible, so you can use a picture which could be the place and time you want to show. It will be easiest to start with a simple shot of a blue sky with some clouds. You even use some of your own holiday snaps!

c. The light conditions. Very important for the final result. A very warm coloured sundown is very moody, but realise that the plane under these condition will be not more than a silhouette! For this project I used a news picture from some weeks ago, from a fire somewhere. It wasn't Korea during the early 50's, not at all, but it could have been.
---
Step Two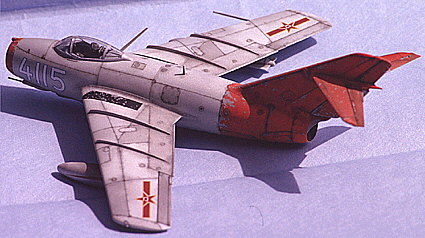 Now that you have the background, you also need a foreground. Here we take use the camera. Mostly I use colour slides, but good colour prints will do also.

More important are the light conditions under which you take the actual picture. Here you must closely study the background pic. The two pictures must have common atmosphere. Sunlight from the right? Than take the plane with the sunlight from the right to! Fill-in flash is fine for getting some detail in the shadow parts, but never use flash alone. The result will be sharp but very cold and will not have the 'warmth'of real daylight.
---
Step Three
Now that you have two images, they must be brought together.

First the plane must be 'standing free'. To achieve this, you 'paint' everything around it white by using all kind of different electronic brushes. The software I use is Adobe Photoshop 5.5, but other and cheaper software are ok to.

Once everything around the model is painted with, that part is easely selected. Then 'invert' this part and the plane is selected. 'Copy' this and 'Paste' it in the background.

The job is nearly done!
---
Final Step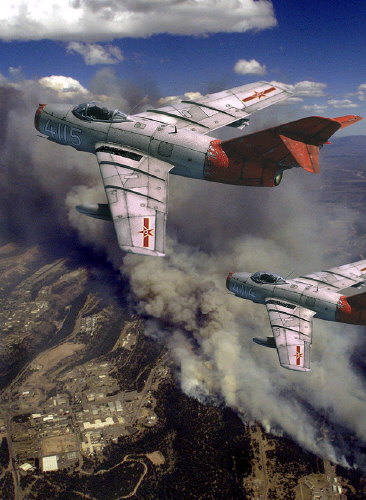 Placing the plane correct to get a balanced composition is very personal. Just try a few variations and see what looks best!

The little MiG in my composition is the same photo as the big one, only scaled down. I changed the number by copying the first '4' and pasted it over the last '5'.

I lightened the left flap a little and added the glow of the afterburner to the other.

Finally I will say to everybody who's into modelling - let those P-51's, Bf 109's and Spitfires fly!!!!
---
Text and Images Copyright © 2000 by Floris Lok
Page Created 21 June, 2000
Last updated 18 May, 2001
Back to HyperScale Main Page
Back to HyperScale Reference Library