Mickey Mouse
and the Sailor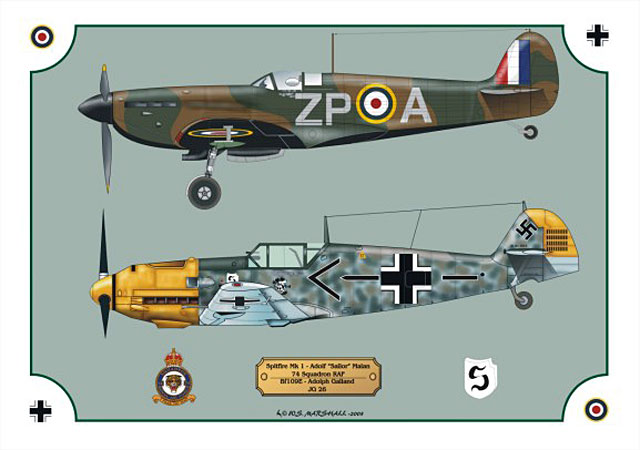 by William Marshall


HyperScale is proudly sponsored by Squadron.com
"Ace" a pilots who has officially been credited with five or more victories. The authorities, particularly in the Royal Air Force have never officially recognised the ace. This may be due to many fine pilots never became aces, either through lack of opportunity, circumstance, or because they were killed or injured before they could build up a score.
Adolf Galland was born on 19 March 1912 at Westerholt, Westphalia. In February 1934, he joined the Luftwaffe, an accomplished pilot and instructor, at the Fighter Pilot School at Munich-Schleissheim. By April 1935 he was a fighter pilot with Jagdgeschwader 2 "Richtofen". In 1937, he volunteered for service with the Condor Legion in Spain.
Galland was put in command of 3 Staffel of J/88, equipped with the Heinkel He-51 biplanes, in which he distinguished himself. When World War 2 broke out Galland was a Staffelkapitän of 4.(S)/LG 2 equipped with the Henschel Hs 123.
He took part in the invasion of Poland flying 50 ground attack missions. Galland was awarded the Iron Cross, Second Class for his efforts. On 12 May, west of Liege, Belgium, he scored his first aerial victory. By the end of the French campaign he had accumulated 14 victories.
On 6 June 1940, Hauptmann Galland was appointed Gruppenkommandeur of III./JG 26. Promoted Major on 18 July, Galland stayed with III./JG 26 throughout the Battle of Britian.
Galland was awarded the Ritterkreuz on 1 August for 17 victories. Galland was then awarded the newly instituted Eichenlauben on 25 September. By the end of September he had 42 victories. On 1 November 1940, Galland was promoted to Oberstleutnant and given command of JG 26. At this stage he had 50 victories to his credit.
Shortly after, he was awarded the swords to his Rnight cross. Galland had, by now, been ordered by Hitler and Göring not to fly combat missions. However, he disregarded these orders and continued to rack up aerial victories.
He led the "Abbeville Boys" in combat against the very best of the RAF including Douglas Bader, Bob Stanford-Tuck, Sailor Malan and Johnnie Johnson. After the death of Oberst Werner Molders on 22 November 1941, at the age of only 29, he was promoted to General der Jagdflieger.
Galland directed the fighter protection for the Channel dash of the battleships Scharnhorst and Gneisenau, and the heavy cruiser Prinz Eugen, from Brest.
He was awarded the diamonds to his Knightcross on 28 January 1942 with his victory tally at 94. As General der Jagdflieger, he commanded a small unit operating Fw 190s. He reverted to combat flying, forming the famous JV-44 wing to become the only General in history to lead a squadron into battle. Galland led JV 44 until 26 April 1945 gaining up to seven victories flying the Me 262 jet fighter.
The wounds he suffered in this encounter were serious enough to end his combat flying career. Galland surrendered himself to American forces at Tegernsee on 5 May 1945.
He was held in military custody for two years. He was released in 1947. In October 1948, Galland took a position with the Argentine Air Force.
Adolf Galland passed away on 9 February 1996 at Remagen-Oberwinter.
Adolf Galland achieved 104 aerial victories in 705 missions, all on the Western front. Included in his score are at least seven victories flying the Me262 and four over four-engined bombers. He was himself shot down four times.
---
Victories:

104

Awards:

Ritterkreuz (Knightcross): (1 August 1940)
Eichenlaub (Oakleaves): (25 September 1940)
Schwerter (Swords): (21 June 1941)
Brillanten (Diamonds): (28 January 1942)

Units:

JG 27, JG 26, JV 44

Messerschmitt Bf109E-4N:

Colours of RLM 74/75/76, sides of the fuselage were mottled quite heavy. Fourty kill markings on the RML 04 yellow rudder. Geschwaderkommodore markings in black/white on the fuselage side. JG 26 "Schlageter" unit marking near the front cowling in Black/White. Galland's personal emblem, the Mickey Mouse is in black/white below the cockpit. Standard RLM 04 yellow nose. Standard Luftwaffe identification markings in the form of the wing/fuselage crosses and swastika in black/white.
Adolf "Sailor" Malan, born in 1910 in South Africa. He earned his nickname due to the fact that he had worked as a deckhand on a Union Castle Steamship Line before entering service with the RAF late in 1935.
After training, he was posted to 74 Squadron with whom he stayed with until March 1941. He also commanded 74 Squadron at Biggin Hill. He was to become one of the most admired commanders throughout his operational career.
After shooting down his tenth victim and the 84th for his squadron, he was awarded the DFC in June 1940. He was also awarded a DFO and bar during his career in the RAF. He was also awarded the French "Legion d' Honneur", the Belgian " Croix de Guerre", Czech Valour Cross and American DFC.
Possibly best known for his duel with Werner Molders, Malan was also involved with Galland and other well known West front aces of JG26.
Sailor Malan ended the war with 32 (29.5) kills, plus 2 unconfirmed. Malan was the drafter of the "Ten Commandments of Aerial Combat" which were to save many a Allied pilots life. He was instrumental in changing the RAF fighter command into an up to date fighting force, throwing out the old, set-pattern attacks and tight formations and developing new and effective ones, teaching the RAF the same lessons the German had already learned in the Spanish Civil War.
The "Ten Commandments" became well known, and was used by nearly all squadrons and eventually became part of RAF official doctrine.
He died in South Africa in 1963 at the age of 53 of Parkinson's disease.
---
Victories:

30.5

Awards:

DFO and bar.

French "Legion d' Honneur"

Belgian " Croix de Guerre"

Czech Valour Cross

American (US) DFC.

Units served in:

74 Squadron, Biggin Hill Wing, 19 Wing and 145 Wing RAF.

Spitfire Mk.I

The colour scheme on this a/c is that used by RAF fighters in the winter of 1940/41 – and was the standard Dark Earth/Dark Green upper surfaces but with Black spinner and no fuselage band; the fuselage roundel is of the standard type adopted for Spitfires until summer 1942. The black under surface to the left wing was only used through these winter months, before reverting back to the all Sky undersides introduced first in August 1940. The codes letters are Medium Sea Grey. No aircraft serial number was painted on the rear fuselage during this short period. The roundel on the black wing has the only one be have a yellow outline, the other side being the standard red/white/blue. Upper wing roundels are the standard red/blue.

The eight machine gun ports have canvas patches over them fixed on with red primer dope.
These profiles are quality vector images printed on 175g paper, combined with a matt paper it results is a stunning high quality poster. It is suitable for framing and to hang in your study or office.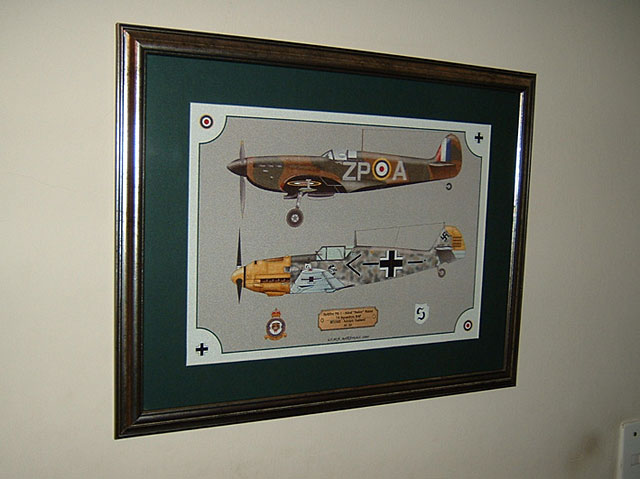 This limited colour poster is available from the author.
---
Text & Images Copyright © 2003 by William Marshall
Page Created 27 July, 2003
Last Updated 19 April, 2004

Back to Reference Library