Mercury Capsule
Close-Up
by Jim Penhale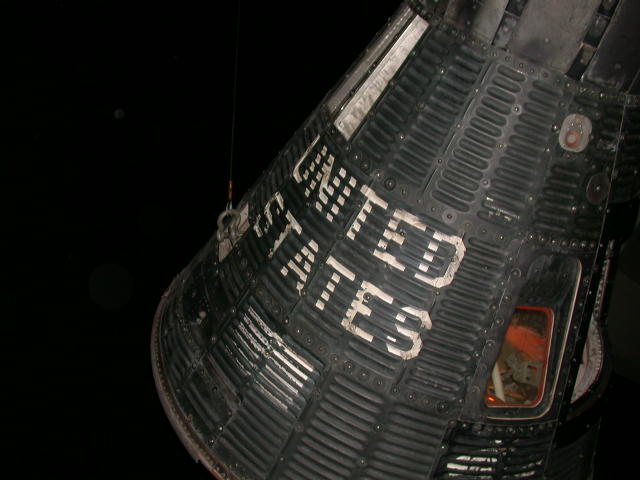 Mercury Capsule

HyperScale is proudly supported by Squadron.com



Houston: a sprawling city in southern Texas, located a short distance from the coast of the Gulf of Mexico. It is an active, vibrant, bustling metropolis home to roughly 4 million people or so. It's also the center of a very busy petrochemical refining and manufacturing region which stretches around the Gulf Coast from Corpus Christi to the Southwest well past Houston, through Beaumont and Port Arthur, and into Louisiana. Anyone who has ever worked in the oil refining or petrochemical industries, or for a company that supports these industries, has probably been to Houston.

However, there's more to Houston than just oil and gas and great Tex-Mex food.. Located in the southern part of Houston, butting up against neighbouring communities such as Nassau Bay and Clear Lake, lies the Johnson Space Center, home of NASA's Manned Spaceflight Operations. It is in Houston that US astronauts live and train, and where Mission Control is located. As a resident of this great city I was fortunate enough to see NASA T-38s coming in over our house many times, bringing astronauts back to Ellington Field from training exercises and proficiency flights.

Located next to the JSC on NASA Road 1 is "Space Center Houston", the visitor center for the JSC. Here you can spend literally hours watching films, touring the JSC itself, and looking at exhibits and displays relating to manned spaceflight such as hardware used on actual missions, moon rocks, astronaut space suits, and many other items. I believe it is one of Houston's top attractions and if you go there prepare to spend lots of time to take it all in. You won't be disappointed. And if you have children with you prepare to spend even longer. There are scientific games and things for the kids to do and see. It's a great place to go.

One of the many displays Space Center Houston has is the Mercury Capsule, Faith 7, that L. Gordon Cooper flew in earth orbit in May of 1963. This was the last of the Mercury flights, and Cooper spent a little over 34 hours in orbit during his flight. The Mercury flights paved the way for the more advanced two-man Gemini series where such activities as space walks (or "EVA", for "extra-vehicular activity) and rendezvous and docking were tried and perfected. These skills were essential if the US was to send men to land on the moon.

When the MRC/ Atomic City 1/12th scale Mercury capsule was recently released, I knew I had to have one. So much so that I bought two of them! It's a beautiful kit, and at 1/12th scale it's big too! It has a nicely sculpted astronaut figure, and I for one am really hoping that they follow it up with a Gemini capsule and an Apollo command module as well.

Knowing that there was an actual Mercury capsule located not a 15 minute drive from where I lived, I contacted Space Center Houston and asked if I could get in there to photograph it to provide modellers around with the world with a "walk around". The folks at Space Center Houston graciously agreed to help me out, and I was granted access one morning before the center opened to the public so I could get in and photograph the capsule. The photographs are contained herein.

A few comments on the photographs:
The capsule is actually suspended from the ceiling in one of the displays, so it's more or less "upside down" from what one might expect. As it's roughly 5 or 6 feet off the floor I was standing there shooting up into the capsule, so some of the photographs may have a slightly different perspective than you might imagine. One useful hint is that in many of the pictures there are sections of the mannequin present that can help you determine the orientation of the items you're looking at.

I'm not sure whether or not the suit on the mannequin is one actually used on a space flight or not. It looks very similar to ones seen on photographs but I can't state for certain any more about it than that.

There is no hatch with this capsule, unfortunately, so there is no detail to show inside the hatch itself.

As the exhibit hall where this capsule is displayed is darkened there is a small yellow light inside the capsule to provide illumination and provide "atmosphere". I'm fairly certain that the flash on the camera overpowered the light, and the yellowish cast it gave off did not affect colours captured by the camera. I downloaded them very shortly after taking them and was satisfied that the colours as I saw them on my monitor were correct.

The heat shield has been cutaway to show the internal construction of the capsule.
My sincere thanks to Paul Spana and the folks at Space Center Houston ( http://www.spacecenter.org )

---

Bonus photos!
DSCN 4101: Historic Mission Control. This is the actual Mission Control Center used from the beginning of the Space program right through Apollo and Skylab and, I believe, for the first couple of Space Shuttle missions. The current Mission Control is in the same building, but in an undisclosed location.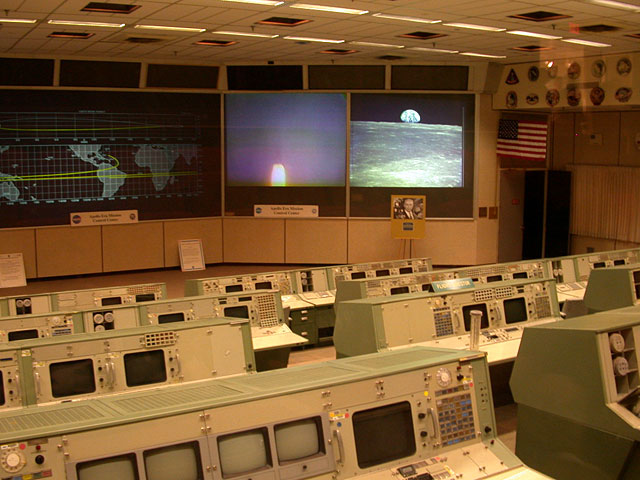 DSCN 4120: This is an lifting body vehicle which is located in "Hangar X" at the JSC. I would estimate it is maybe 30 to 40 feet long (9 m to 12 m).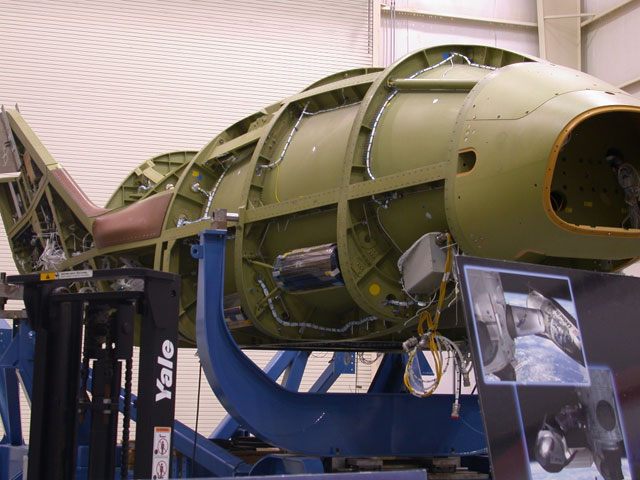 DSCN 4123: These are full sized module mock-ups for the International Space Station. These are used at the JSC for training astronauts in module assembly, as well as for fitting in equipment, ISS EVAs, etc
DSCN 4137: This is the Space Shuttle Full Fuselage Trainer, or FFT. It is used for training astronauts in emergency escape procedures as well as working with equipment in the cargo bay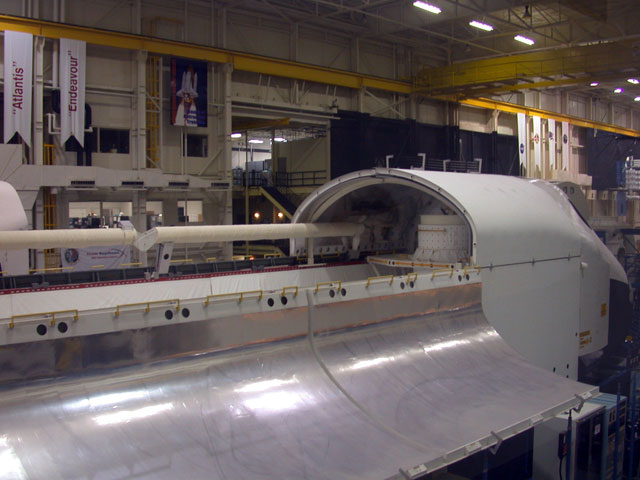 DSCN 4163: These are actual moon rocks on display. They are sealed and can't be touched, but are nevertheless very interesting to look at.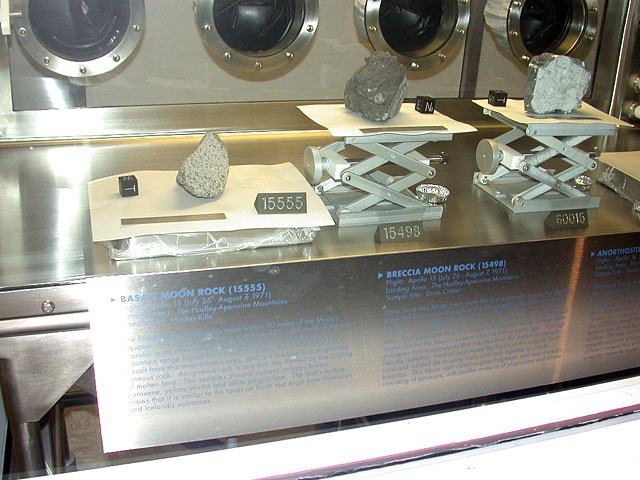 JSC-13: This is the third stage of a Saturn V rocket on display. At the time this photo was taken (summer 2002) the rocket was outdoors and exposed to the elements. However, a building has since been built around it so it can be restored.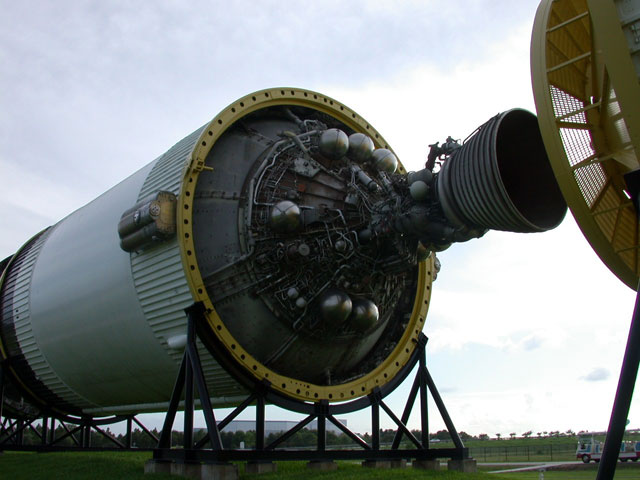 Lastly, if in Houston be sure to slip down the highway a few miles to the Lone Star Flight Museum in Galveston. They have a tremendous collection of aircraft, many of which they take out and fly a couple of times a year! www.lsfm.org



Mercury Capsule Close-Up Images
Click the thumbnails below to view larger images:
---
Images Copyright © 2005 by Jim Penhale
Page Created 16 March 2005
Last updated 15 March 2005
Back to HyperScale Main Page
Back to Features Page