USS Kitty Hawk (CV 63)
Sydney Visit, 6 July 2007 Part One
by Brett Green
HyperScale is proudly supported by Squadron
The USS Kitty Hawk is in Sydney following its participation in a joint military exercise between US and Australian forces off the east coast of Australia.
This will be Kitty Hawk's last visit to Australia before she is retired from active service in 2008.
HyperScale reviewer Rodger Kelly is a long-time volunteer who conducts guided tours on US military ships when they are visiting his home town of Perth. Rodger made the long trek across the continent to Sydney in order to meet Kitty Hawk one last time. Rodger invited myself, Chris Wauchop and Al Bowie to accompany him on board for a few hours last Friday morning.
---

USS Kitty Hawk (CV 63)
Kitty Hawk is the oldest of the twelve aircraft carriers in the U.S. Naval Fleet. The ship was commissioned in April 1961. The statistics associated with the Kitty Hawk are staggering. The ship is over 320 metres long, weighs 86,000 tons, has capacity for more than 75 combat aircraft and boasts a crew, including the Carrier Air Wing, of 5,300.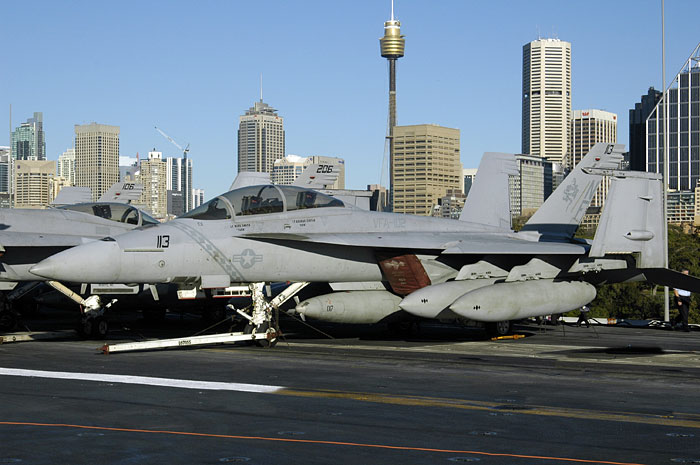 Kitty Hawk's long history has been filled with many periods of crucial service, including six tours to support U.S. operations in Vietnam between 1963 and 1972, operations off Somalia in 1992, and participation in the coalition attacks against specific targets in Iraq during January 1993. Kitty Hawk was also deployed to the North Arabian Sea in October 2001 in support of Operation Enduring Freedom as a floating staging base for US Special Forces.
---
Carrier Air Wing FIVE (CVW-5)
Carrier Air Wing FIVE (CVW-5) is a multi-task element of the U.S. Navy's Seventh Fleet that operates from the northern Pacific Ocean to the Arabian Gulf. CVW-5 moved onto the Kitty Hawk in July 1998. CVW-5 is made up of eight squadrons and one detachment:
VFA 27 Royal Maces, equipped with the new F/A-18E Hornet. The F/A-18E and F Super Hornets represent the US Navy's premiere all purpose, all-weather strike and fighter aircraft since the retirement of the F-14 Tomcat. The Super Hornet can carry up to 18,000 lbs of ordnance. It can undertake air to air and air to ground missions, as well as aerial refuelling.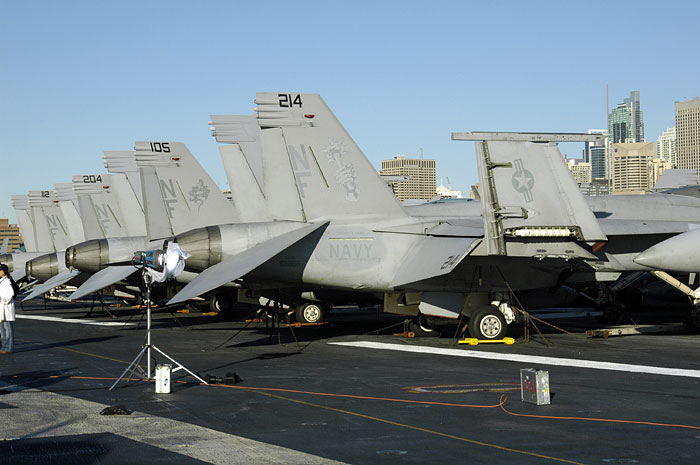 VFA-102 Diamondbacks, operating the new F/A-18F Hornet as a multi-mission, all-weather strike fighter. The F/A-18F can conduct day or night, air to air and air to ground missions, launch precision guided weapons, provide fighter escort, close air support, ground defence suppression, reconnaissance, FAC and refuelling operations.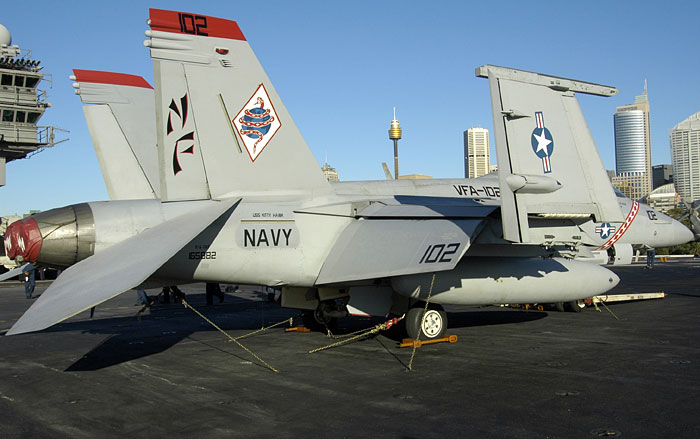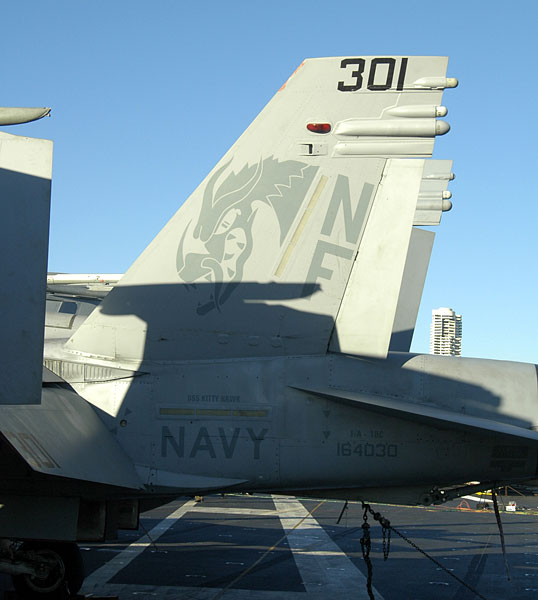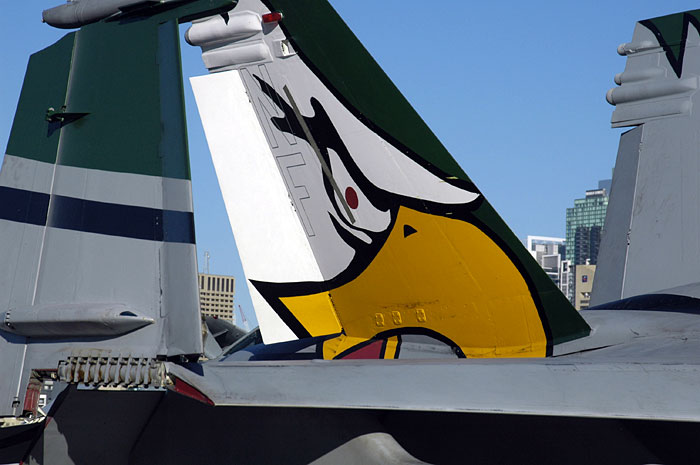 VAQ 136 Gauntlets, EA-6B Prowler

VAW 115 Liberty Bells, E-2C Hawkeye

HS 14 Chargers, SH-60F Seahawk

HSL-51 Det 3 Warlords, SH-60B Seahawk

VRC 30 DET 5 Passwords, C-2A Greyhound
---

Photography
The photographs were taken with my Nikon D70 digital SLR, fitted with the 24-120mm AF-S VR lens.
CV 63 Walkaround, Part One
Click the thumbnails below to view larger images:

Brett Green in the Diamondback's Ready Room

Rodger Kelly, Al Bowie and Chris Wauchop

Rodger demonstrates correct use of Super Hornet Touch-Up Spray

Rodger Kelly with the co-host of Australia's TODAY Show, Karl Stefanovic

Kevin Rudd, Leader of the Opposition in Australia's Federal Parliament, chats with CAPT Todd A. Zecchin
---
Images and Text Copyright © 2007 by Brett Green
Page Created 08 July, 2007
Last updated 07 July, 2007
Back to HyperScale Main Page
Back to Features Page