Kingfisher Addenda
by Dana Bell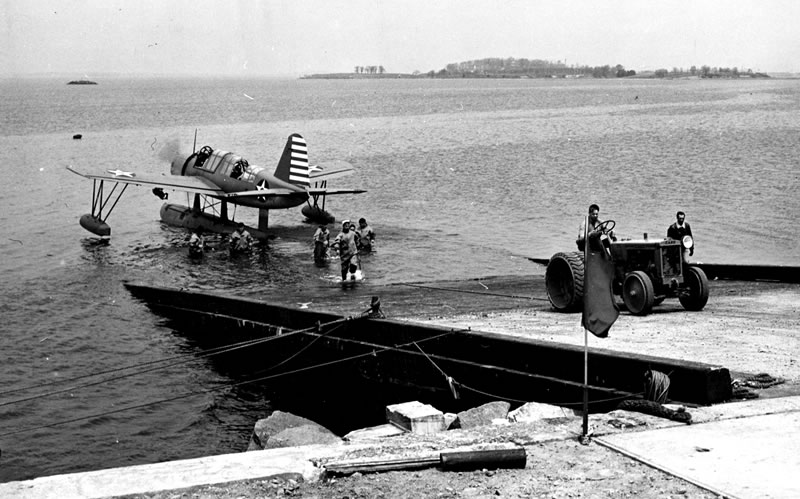 OS2U-3 - VS-1D1, Squantum Mass, May 1942


HyperScale is proudly supported by Squadron
While I enjoy researching, organizing historical materials, and discovering new things, I rarely enjoy writing everything out and producing a book or article. During the process, I try to answer the all questions that got me interested in the subject in the first place – though it's rare that I feel I came up with everything I wanted. That said, I've been happy with the results in last year's books on the Vindicator and the Kingfisher. Most of what I wanted to understand is there (though I'd still have loved to find photos of the armored pilot seats for both aircraft).
Of course, once a book is in print for a while, new material starts showing up – I often learn more about what I don't know by publishing what I think I do know. And so it was with the book on the OS2U Kingfisher (Aircraft Pictorial #3, Classic Warships Publishing, Tucson, 2010*), which had not even hit the shelves when new materials began surfacing. Fortunately, most of the new discoveries were minor – but interesting – addenda, though there is one correction.
So where better to share "the things I didn't know" than here on HyperScale?
(1) Just where was that photo taken?
The photo at the bottom of page 44 shows a red-orange Case tractor easing an OS2U-3 down a ramp. The image is one of a famous series of color and black-and-white images showing inshore patrol operations. Generally represented as a squadron based at Norfolk (and so-noted in some of the Navy's captions at the Archives), the photo story tends to revolve around a Kingfisher bearing a small black "17" on the nose. While assembling the images, I determined that the squadron had to be VS-1D5 (the only Kingfisher unit at Norfolk at that time) flying out of Willoughby Bay.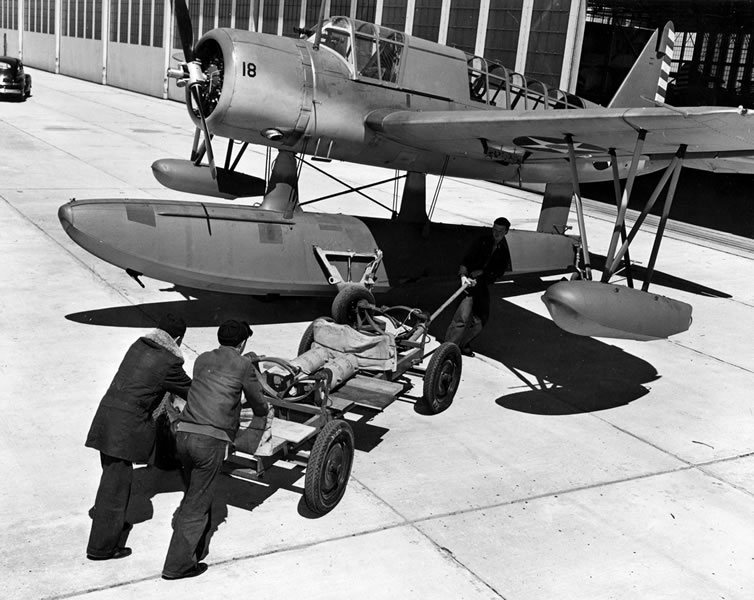 OS2U-3 - VS-1D1, Squantum Mass, May 1942
Of course, after the book went to press, I came across the original photo story with original captions naming all of the people, even pointing out one pilot's home across the bay. What correct captions show is that the unit was VS-1D1 based out of Squantum, Massachusetts. The first three photos presented here are drawn from that same story.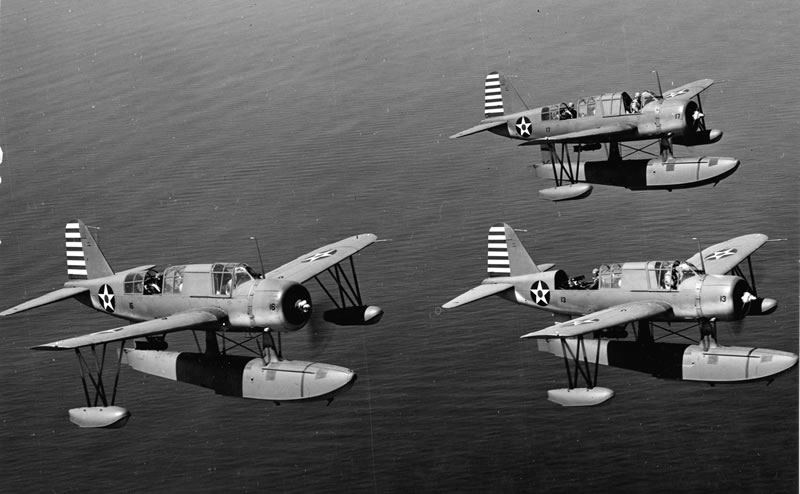 OS2U-3 - VS-1D1, Squantum Mass, May 1942
Regardless of where the photo came from, I'm hoping that Tamiya will one day find an excuse to release one of those Case tractors with an upcoming kit.
---
(2) The Mousetrap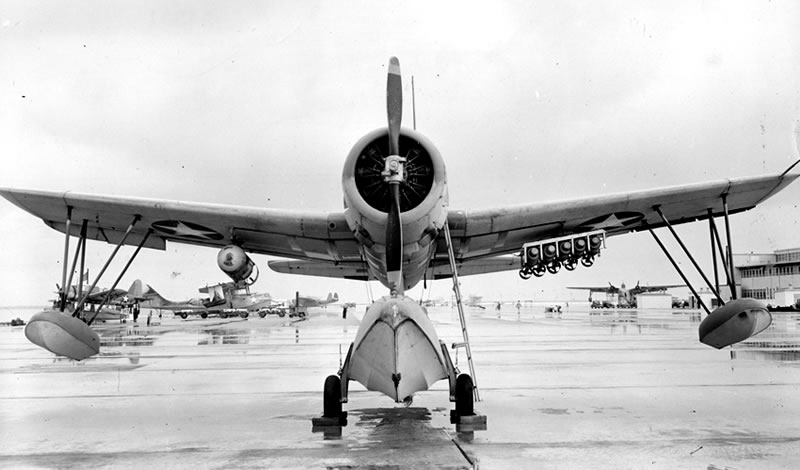 OS2U BANA, with experimental rack for mousetrap bombs - 11 Dec 42
The Mousetrap was a US Navy-designed antisubmarine rocket developed from the Royal Navy's Hedgehog ASW weapon. While the Hedgehog was launched from mortars on the decks of sub-hunting escort ships, the Mousetrap's rocket propulsion allowed for a lighter launcher that placed less strain on its ship's structure.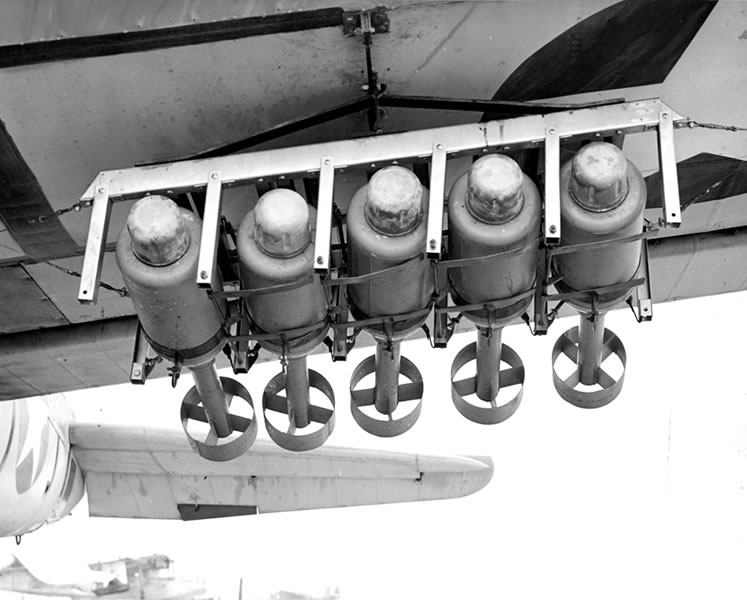 OS2U BANA, with experimental rack for mousetrap bombs - 11 Dec 42
Until recently, there was little to suggest that an airborne version of the Mousetrap had ever been contemplated – that is, of course, until these December 1942 photos turned up at the National Archives. The Kingfisher seen here, an OS2U-3 from VS-1D7 at Banana River, Florida, carries a standard depth charge beneath its right wing, with a rack for five 65-pound Mousetrap weapons beneath the left. The racks include toggle clips for each Mousetrap, bungee cords to help eject them, and lower braces to hold four of the five weapons in place.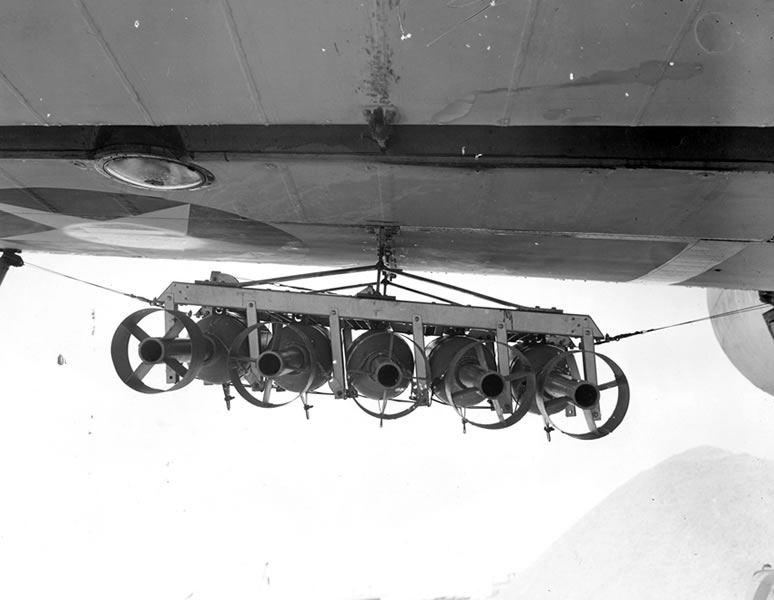 OS2U BANA, with experimental rack for mousetrap bombs - 11 Dec 42
There is no evidence of a rocket ignition system, suggesting that these weapons relied on solely gravity reach their target. (It's also possible that this was an aerodynamics test, with an ignition system to be added at a later date, but the whole rack seems ill-designed for any sort of launch!) The 33-pound (15-kilogram) warhead would detonate on contact, and one hit was usually enough to destroy a U-Boat. However, unlike a depth charge, a Mousetrap that missed caused no damage whatsoever.
OS2U BANA, with experimental rack for mousetrap bombs - 11 Dec 42
It's somewhat frustrating that none of the photos show the markings worn by this Kingfisher. Though I searched the adjoining boxes, these photos are the only evidence of this interesting test of the airborne Mousetrap.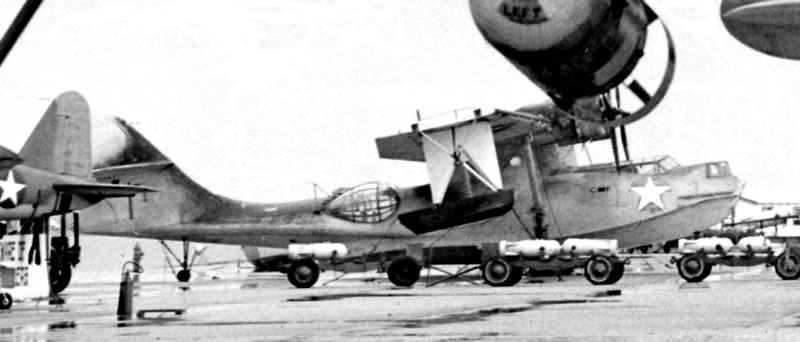 PBY Camouflage - 11 Dec 42
Note also the PBY-5 seen in the background – photographed a month before the Navy adopted its Sea Blue, Intermediate Blue, and White graded camouflage, this Catalina appears to have been one of the camouflage evaluation aircraft.
---
(3) Extended Wing Tips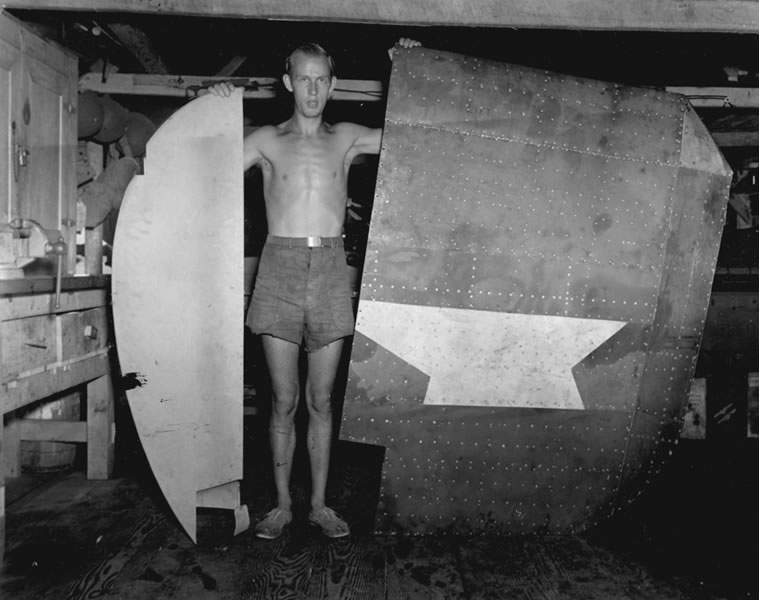 OS2U-3 - new wingtip designed and tested by Lt T W Kerker, c-o VS-68 - Dec 43
The next three images show a curious, previously unpublished field modification to the wingtips of an OS2U-3. Other than the photo captions themselves, I've found no information on the purposes or benefits of the extended wingtips built and installed by VS-68 in December 1943. The first photo shows the modification's designer – squadron commander Lieutenant T. W. Kerker – comparing the original wingtip with his larger replacement.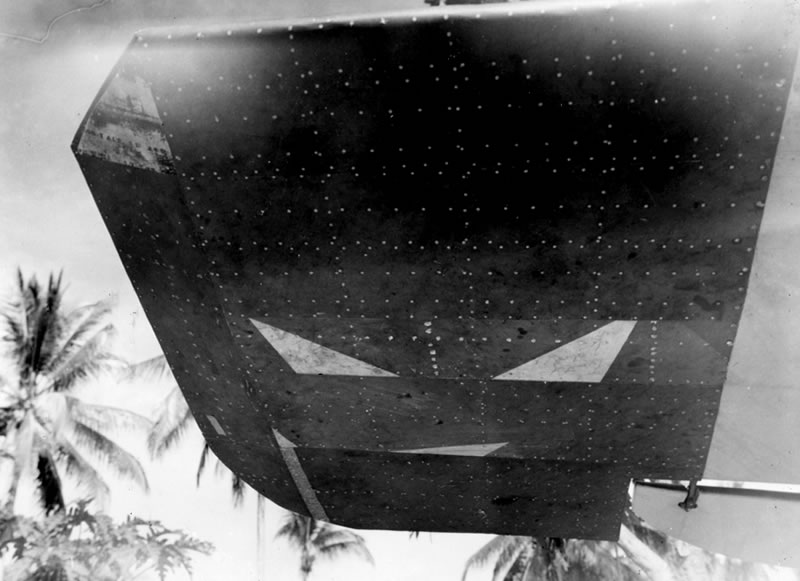 OS2U-3 - new wingtip designed and tested by Lt T W Kerker, c-o VS-68 - Dec 43
The other images show two of the tips installed on one of the unit's aircraft on Ugi Island in the Solomons.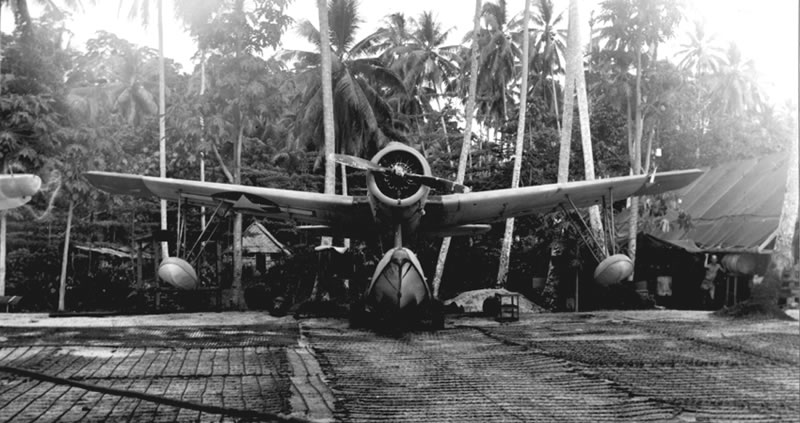 OS2U-3 - new wingtip designed and tested by Lt T W Kerker, c-o VS-68 - Dec 43
Sadly, as with the Mousetrap-modified Kingfisher, there are no photos showing the subject aircraft's fuselage markings. The discovery did send me back to review every Kingfisher photo in my collection, but I found no images of other aircraft carrying this modification.
---
(4) The "Atlantic" Scheme
While the Army's white-bellied camouflages are usually described as anti-submarine schemes, the similar Navy camouflages are frequently called "Atlantic" schemes. To be certain, most US Navy ASW organizations were based in the Atlantic, and the schemes were most often seen there, but, as these images demonstrate, the light camouflages could also be found in the Pacific.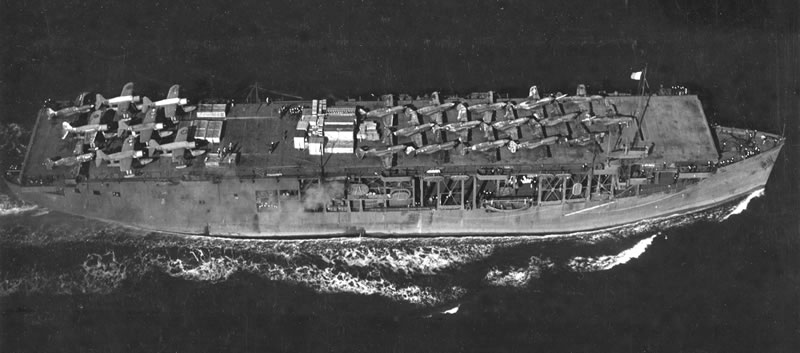 OS2Us on Long Island - Moffett Fld, CA - 24 Nov 43
The first image shows the USS Long Island returning a deck load of war-weary aircraft to the US West Coast on 24 November 1943. The last aircraft in the center column first startled me because I thought I'd found a Kingfisher with the white South and Southwest Pacific tail markings used by Army, RAAF, and RNZAF aircraft. With a bit of enlarging, however, the aircraft clearly sports one of the Navy's ASW camouflages. A canvas cover is strapped over the canopy, and someone attempted to tone down the aircraft wings and tail (possibly to help reduce the carrier's visibility to enemy aircraft).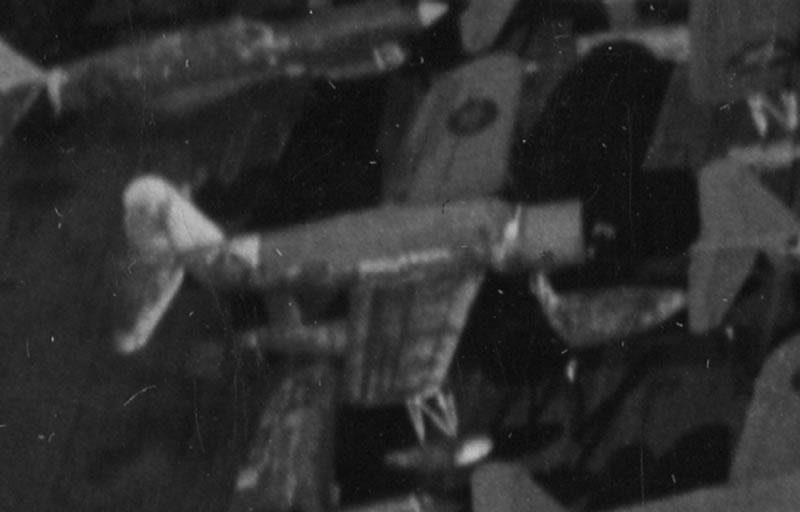 OS2Us on Long Island - Moffett Fld, CA - 24 Nov 43
Any all-white Navy aircraft serving in the Pacific is a rare find; this grainy Kingfisher serves as a reminder that there must still be some great color schemes waiting to be found.
---
(5) ASW Modifications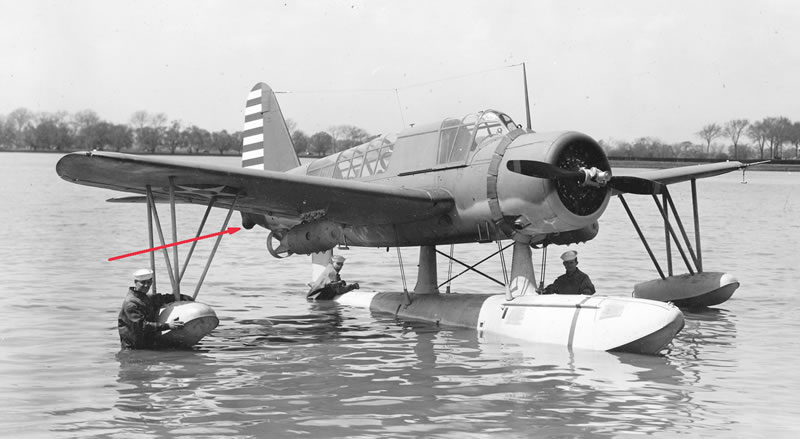 Although hundreds of Kingfishers served with Inshore Patrol Squadrons, I mentioned in the book that none of them seemed to carry antisubmarine warfare search radar – I suspect the drag and weight of such equipment would have left little room for ordnance. But one of the first Kingfisher photos I collected may belie that observation. Apparently photographed at NAS Anacostia, DC, in early 1942, this OS2U carried what might be an early magnetic anomaly detector (MAD) antenna beneath the tail. Again, since there are no photos of other Kingfishers with this installation, I suspect the tests were unsuccessful.
---
(6) Chine in if you know what this is...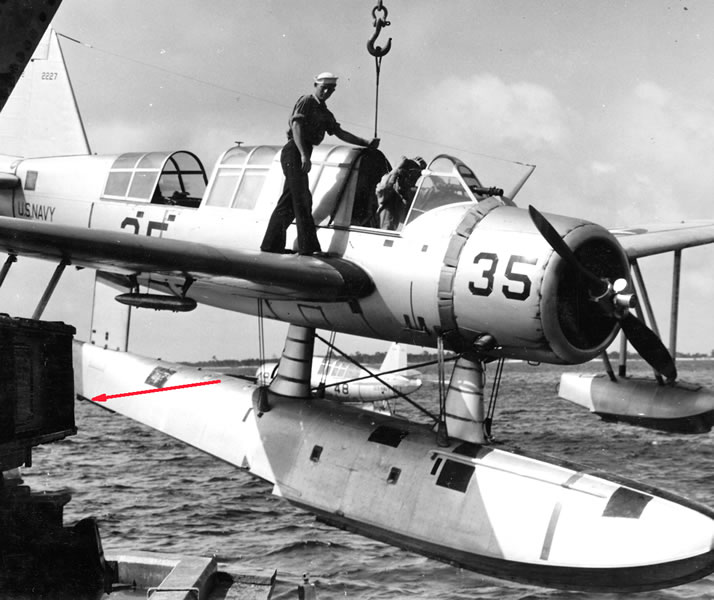 I'm a big fan of Ian K. Baker's Aviation History Colouring Book series, but somehow I managed to miss getting a copy of No.45, a special dedicated to the Kingfisher. Released as a co-publication with the IPMS/USA Seaplane Special Interest Group, this volume was cowritten by Bill Devins (known to many as half or the "Bill and Aris Show" at IPMS/USA National Convention awards dinners).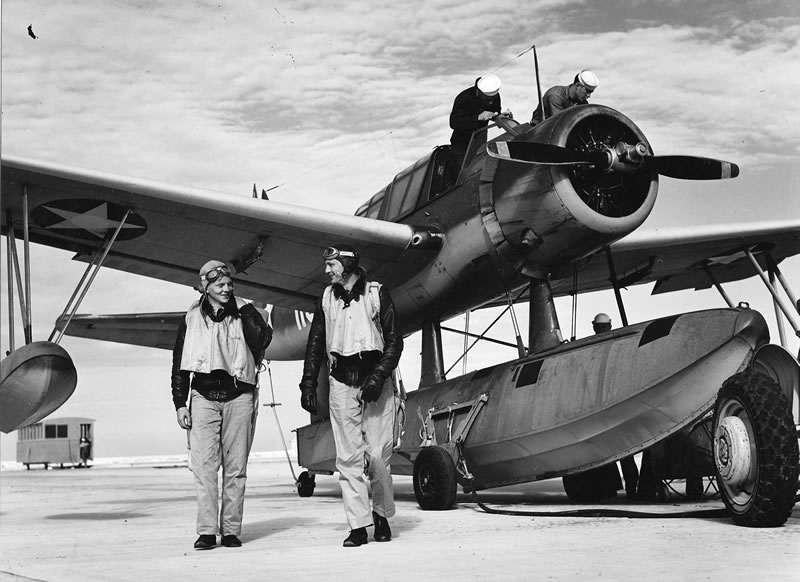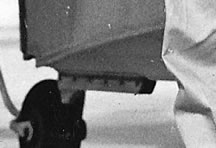 I have managed to get a copy (thank you Ian), and the book is up to the usual high AHCB standards. One detail I had missed appeared on pages 6 and 7, where Ian and Bill pointed out several training Kingfishers carrying unusual reinforcements beneath their EDO floats; at the time, the writers theorized that the fittings could be some sort of ice runners, but the fittings are only found on aircraft based in Florida and Texas (where the only ice was found in a run-and-coke).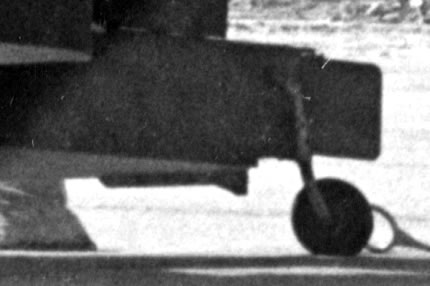 The Navy generated several reports describing efforts to reinforce Kingfisher floats, but none of the drawings included this peculiar mounting. Again, we're left with photos showing something unusual on the Kingfisher, but no documents explaining the background or purpose of the installations.

While I'm tempted to toss out some guesses about what all these Kingfisher anomalies represented, I'd rather print only what can be proven – too often, a good guess is confused with a fact, only to be disproved later. I'd still love to hear from anyone who's found written documentation for what we're seeing here; I'm sure Brett won't mind if we update this article at some point in the future. Until then, the photos will reveal just a few of the many things I still don't know....
Cheers!
---
* Available through Squadron Mail Order: http://www.squadron.com/ItemDetails.asp?item=CW5003 , Amazon: http://www.amazon.com/gp/product/0982358342 , or other book and hobby outlets.
---
Text and Images Copyright © 2011 by Dana Bell
Page Created 28 October, 2011
Last Updated 28 October, 2011

Back to Reference Library