How good was the Ki-84?
by Andrew Johnson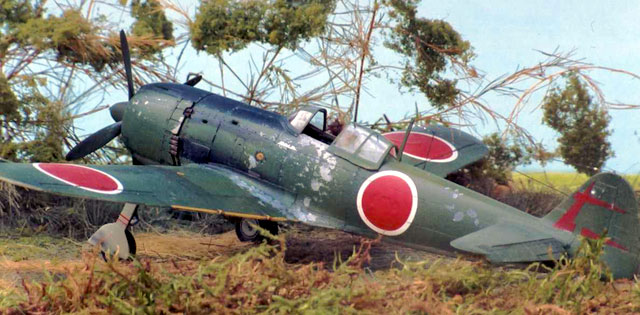 Ki-84 Model by Andrew Johnson


HyperScale is proudly supported by Squadron.com
To assist those wishing to assess the qualities of the Ki-84 against its possible allied opponents I have compiled the following information:
The Aircraft
Ki-84

F4U-1

F6F-3

P-38J

P-51B

P-47D-22

Spitfire VIII

Design

1942

1940

1941

1939

1942

1941

1942

Production

1944

1942

1943

1943

1943

1943

1943

Internal fuel (imp. gallons)

154

200

188

341

224

253

85

Range miles (internal fuel)

1125 @ 176 mph

1015

945 @ 200 mph

1175

810 @ 253 mph

640

660 @220 mph

Engine model

Na Homare Ha-45

P&W R2800

P&W R2800

Allison V-1710-89

Packard V-1650-3

P&W R2800

Merlin 64

Engine size (L)

35.8

46

46

28+28

27

46

27

Cylinders

18

18

18

12

12

18

12

MPG*

7.3

5.1

5.0

3.5

3.6

7.8

Power (hp)

1900

2250

2000

2850

1620

2300

1710

Engine Wt (lb)

1826

2358

2358

1422 x2

1709

2358

1645

Weight

5864

8694

9042

12780

6840

9900

5800

Engine:Airframe

Ratio

1:3.2

1:3.7

1:3.8

1:4.5

1:4.0

1:4.2

1:3.5

Climb rate to 20000 feet (ft/min)

3448

1995

2360

2857

2857

1818

2857

Wing area (square feet)

226

314

334

327

233

300

242

Max Speed (mph)

392

425

376

414

440

433

408

Wing loading (lb/sq ft)

26

28

27

39

29.3

33

24

Power/weight (hp/lb)

0.32

0.26

0.22

0.22

0.24

0.23

0.29
The Ki-84 has a lower unladen weight compared to its Allied opponents with the exception of the Spitfire.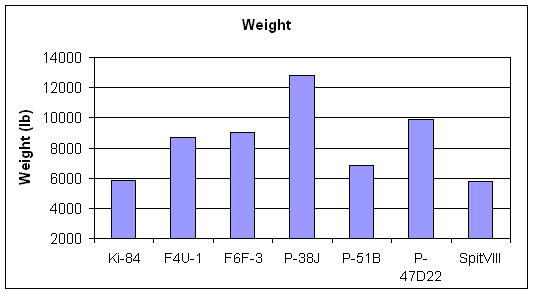 When operating well, the Nakajima 'Homare' engine was reasonably competitive to its Allied opponents. However, its single stage supercharger proved inadequate when close to the 30,000 feet mark. This would put it at a disadvantage against all of its allied opponents since the P-38 and P-47 were turbo-supercharged and F4U, F6F, P-51 and Spitfire VIII had two stage supercharging.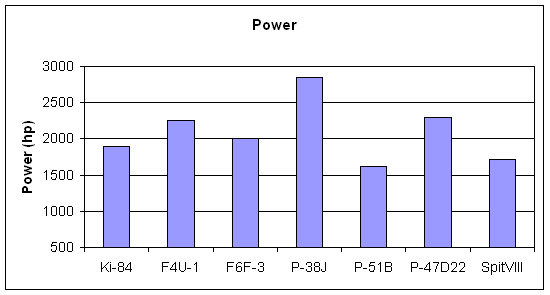 With five separate fuel tanks holding 154 imp. gallons the Ki-84 had excellent range, an important attribute in the Pacific theatre. Japanese fighters often had to fly long crossings over the Pacific ocean to reinforce struggling garrisons. The most similar aircraft to the Ki-84 in terms of all round performance and hitting power in this survey is the Spitfire. However, in the range department the Spitfire is well beaten by the Ki-84, and the RAF as a whole failed to develop a long range single engined fighter.
From the data tables the Ki-84 could outpace the F6F but would lag behind the other Allied fighters. However, 390 mph made the Ki-84 the fastest Japanese fighter of the war. Apparently a captured example run on high octane petrol, not available to the Japanese, was able to outpace both the Mustang and Thunderbolt.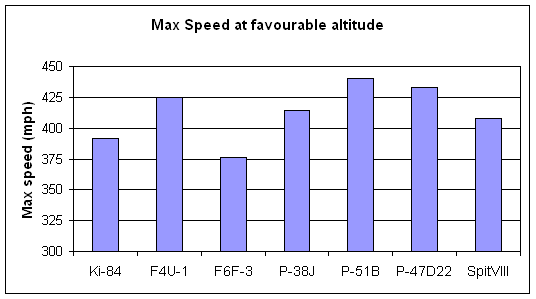 This has been determined from unladen weight, but puts the Ki-84 as the design with the best amount of power for its weight available. This would mean it could it could theoretically out accelerate the allied fighters from a low to medium starting speed.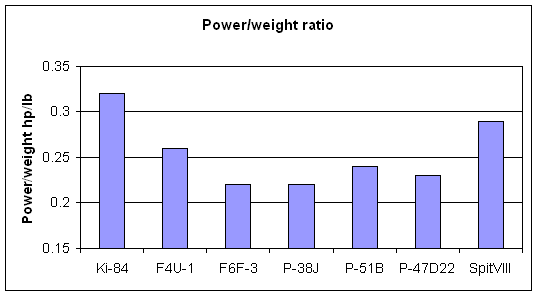 The favourable power to weight ratio has helped to give the Ki-84 the best climbing performance in the survey.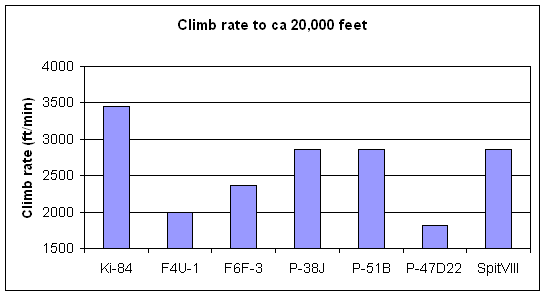 The light weight of the Ki-84 coupled with its fairly generous wing area has given it the best wing loading of all the fighters present bar the Spitfire. Thus, it could enter a turning fight with any American fighter with some confidence. The F6F would have the best turning performance of the American fighters and would be fairly close to the Ki-84 in the turn.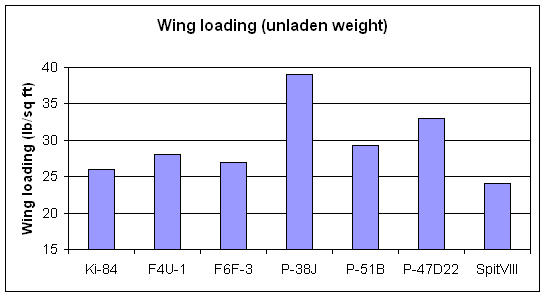 In this analysis the rounds per minute, projectile weight and muzzle velocity of all weapons have been multiplied to give an impact factor with arbitrary units. The Ki-84 with its combination of two 12.7 mm Ho-103 and two 20 mm Ho-3 guns gives a creditable performance.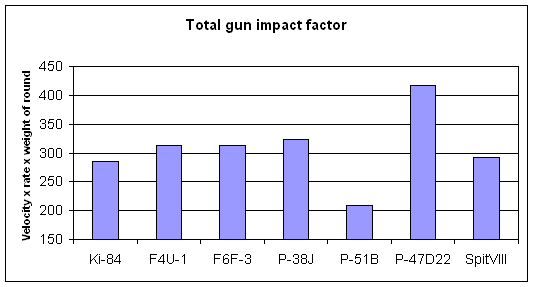 No Japanese fighter aircraft had a better all-round performance than the Ki-84. As far as protection goes, the Ki-84 had seat back and head armour of 12 mm steel, and self-sealing fuel tanks. The self-sealing tanks were not considered as efficient as those fitted to American aircraft at the time.

The Ki-84 was not clearly superior to any of the Allied fighter aircraft opposing it. In perfect running order it was perhaps the equal of any allied fighter at 20,000 feet or below. A good pilot would be able to take advantage of its excellent turning, climbing and acceleration characteristics to at least give an allied opponent a hard fight.

However, good pilots and Ki-84 in excellent running order where in short supply for Japan between 1944 and 1945.


---
Review, Tables and Image Copyright © 2002 by Andrew Johnson
Page Created 30 August, 2002
Last updated 30 August, 2002
Back to HyperScale Main Page
Back to Reviews Page