RAAF BAE Hawk 127LIF
Part Three - Painted Hawk
Plus More First and Second Flight
Text and Photos by Darren Mottram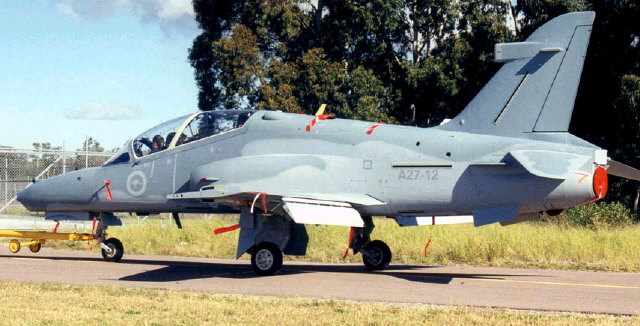 BAE Hawk 127LIF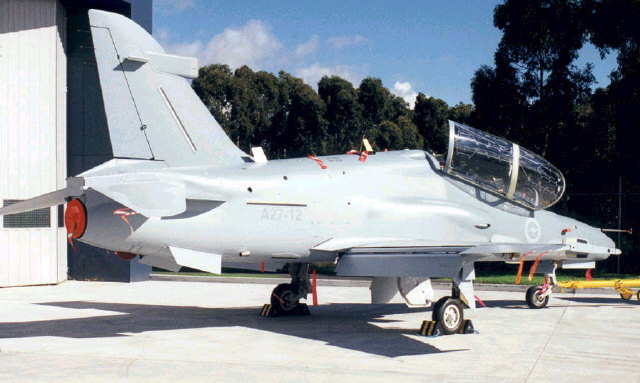 A27-12 (DT012) fresh out of the paint shop on Tuesday 30th May 2000.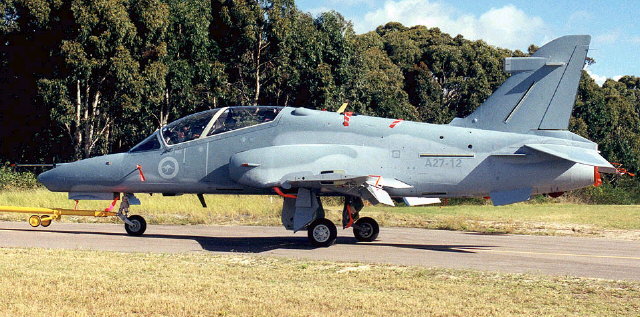 This was the first Australian built aircraft to be painted. Notice the distinct sheen to this supposedly Matt paint job.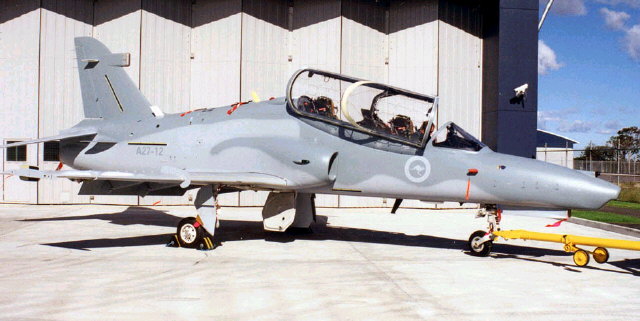 The following images continue the chronicle of the Hawk's first and second flights.
---
16 photographs are captioned and thumbnailed below. To view an image at its full size, click on the thumbnail. To return to this page, click the "back" arrow on your browser.
---
A27-10 (DT-10) seen outside the BAE SYSTEMS Williamtown facility during pre-flight systems testing the evening before the Flight.

---

BAE SYSTEMS test pilots Gordon McClymont and Garth Gardener arriving at the aircraft with a crowd of eager onlookers in the background.

---

The aircrew perform engine start and system tests.

---

The first Australian assembled Hawk LIF 127 taxies out for its first flight at Williamtown NSW.

---

The aircraft taxies back in after its very successful (and spectacular) first flight.


---

A general walk-around look at the aircraft whilst it was awaiting its second flight on Tuesday 16 May 2000.

This set of photos show the general features of a complete Hawk 127 airframe.

My thanks to BAE SYSTEMS for allowing me to share these photos.


---
Text and Images Copyright © 2000 by Darren Mottram
Used with the permission of BAE SYSTEMS
Page Created Friday, 16 June 2000
This page last updated on Tuesday, 17 July 2001
Back to HyperScale Main Page
Back to HyperScale Reference Library