RAAF BAE Hawk 127LIF
Part Two - Hawk in Australia
Text and Photos by Darren Mottram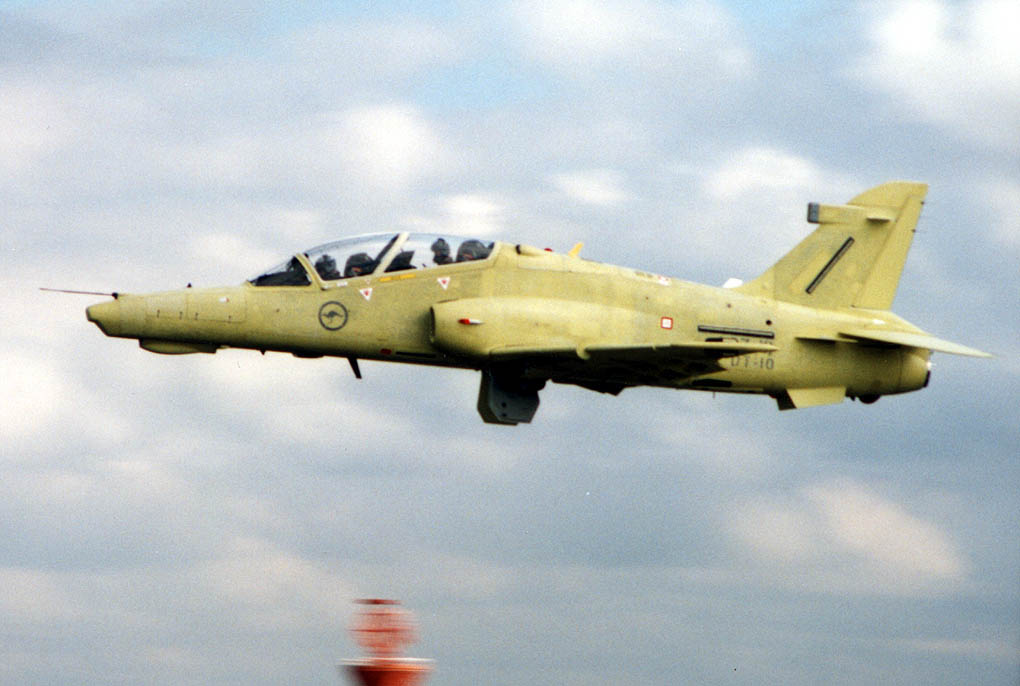 BAE Hawk 127LIF
First flight of Australian assembled Hawk Lead-in Fighter aircraft
BAE SYSTEMS Williamtown, NSW
12th May 2000
On 7 April, 2000, the RAAF held a parade and display at Williamtown for invited guests to celebrate the reformation of 2 Sqn which will fly the RAAF's new AWACS aircraft.
As a part of this event, BAE SYSTEMS provided one of the Hawk 127 LIF aircraft from the final assembly facility, also at Williamtown, to allow those present to get a first look at the new trainer. I was able to accompany the aircraft for the display and, as it was a semi-public event, able to take photographs that I can now share with you all here.
Please note that the aircraft was rather incomplete on this date and, as such, is not definitive of the final look of the Hawk. It does, however, give a relatively detailed first look considering the limitations at this stage in the program.
On 12 May, 2000, the first flight of an Australian-assembled Hawk took place.
RAAF roundels and serial number (A27-10) were temporarily sprayed directly onto the yellow-green primer coat resulting in a very unique looking aircraft!
The title photo and the two last photos depict the flight, and a close-up of the temporary fuselage roundels.
---
17 photographs are captioned and thumbnailed below. To view an image at its full size, click on the thumbnail. To return to this page, click the "back" arrow on your browser.
---

Appropriately, the new Lead-In-Fighter was displayed alongside an example of the Aircraft it is to replace, the MB-326H Macchi. This shot provides a good comparison of the layout and features of the two aircraft.

---

Various views of the nose. The forward formation light can be seen just below, and in front of, the intakes. The colour of all the undercarriage legs, door interiors, speed brake well and intake interiors is light grey (approximately FS16440). The interior of the wheel wells themselves are gloss white.

---

Views of the wings, centre fuselage and main undercarriage. On the wings can be seen the various airflow modification devices such as vortex generators, strakes and stall wedges. Notice how the outer airflow strakes have also been used to carry the wingtip formation lights. The fitting on the wingtip is the fairing used when sidewinder launch rails are not carried. On the trailing edge can be seen the attachment points for the flaps and ailerons.

---

Rear fuselage and empennage. The open airbrake can be seen between the two ventral strakes. Notice that there are two, parallel, formation lights on the rear fuselage. Also visible in these views are the airflow modification devices fitted in front of the tailplanes. Another point of interest in these views is that the various access panels, panel lines and the formation lights on the rear fuselage are *not* parallel to each other.

---

These three photos show some of the other aircraft which were present on the day. An F/A-18 from 3 Sqn. Note the (relatively) new underwing carriage of sparrow missiles. The Neptune operated by the Historic Aircraft Restoration Society from Bankstown in Sydney. One of the RAAF's (still) new C-130Js from 37 Sqn at Richmond, also in Sydney.

---

The first completed Australian-manufactured Hawk on 12 May, 2000

Hawk Take Off - courtesy BAE SYSTEMS
---
Text and Images Copyright © 2000 by Darren Mottram
Except Final Image Copyright © 2000 by BAE SYSTEMS
Page Created Sunday, 14 May 2000
This page last updated on Friday, 18 May 2001