USS Harry S Truman (CVN-75)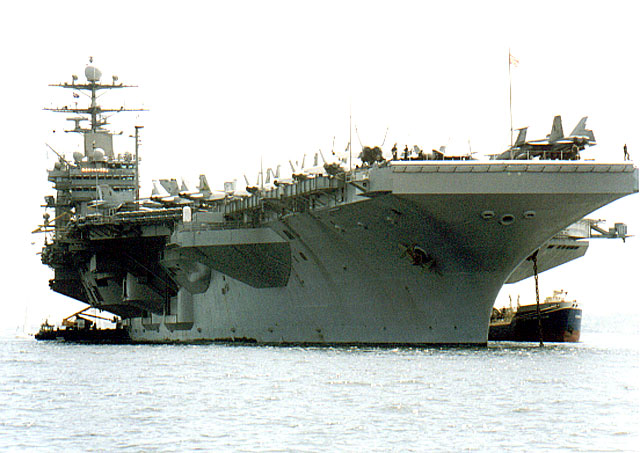 Stokes Bay, Portsmouth, UK, 7 May 2003
by Jeremy Gould
with additional images by
SAC Neil Jones, RAF

HyperScale is proudly supported by Squadron
On the 6th May 2003, the USS Harry S Truman weighed anchor in Stokes Bay, Portsmouth (Portsmouth Harbour itself is unable to accommodate US Supercarriers due to their draught).
After 5 months away from home, stationed in the eastern Mediterranean Sea, her embarked airwing (CVW-3) had flown many combat missions during Operation Iraqi Freedom. After a gruelling few months deployment, the US Navy deemed it necessary for her crew to have just under a weeks R&R in Portsmouth before sailing home to Norfolk, Virginia.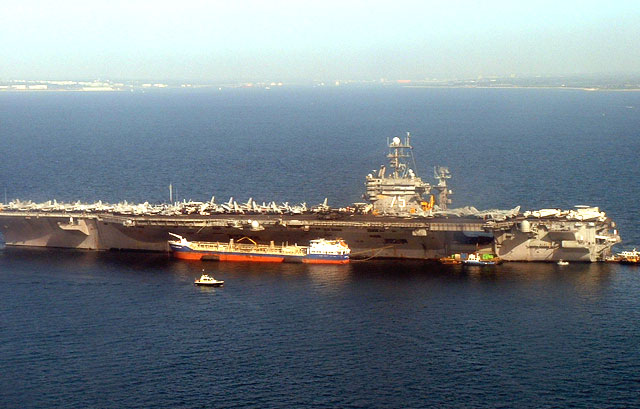 News of her imminent arrival came via unconfirmed reports from aviation related Internet discussion boards. Confirmation was sought and obtained from Seawaves.com before contemplating my journey from my home in South London to the south coast. I knew from the last time I made such a trip (in June 2001 when the USS Enterprise (CVN-65) made a similar visit with CVW-8 on board) that various local boat companies provided sailings to see such a visitor, as she was offshore.
Knowing the problems associated with getting good pictures of aircraft on board a carrier from a small boat, I contacted the Public Affairs Office at US Navy Europe Headquarters in London to see if there was any possibility of getting on board for the purposes of this report. The predictable response was "no", so I sought some sailing times from afore mentioned boat companies. As I did not want to be stuck in a boat during rain and wind, I checked the weather forecast to choose the best day to go and managed to get the next day off work.
I have grouped the photographs by squadron as follows:





VF-32 Swordsmen F-14B
Shore based at NAS Oceana, VA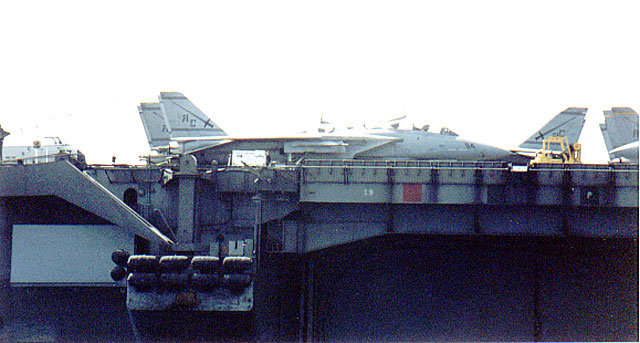 The Tomcats were not best positioned for photographs, being some way from the deck edge. I was hoping that they would have been positioned with their tails hanging out over the deck edge, as is quite frequently seen.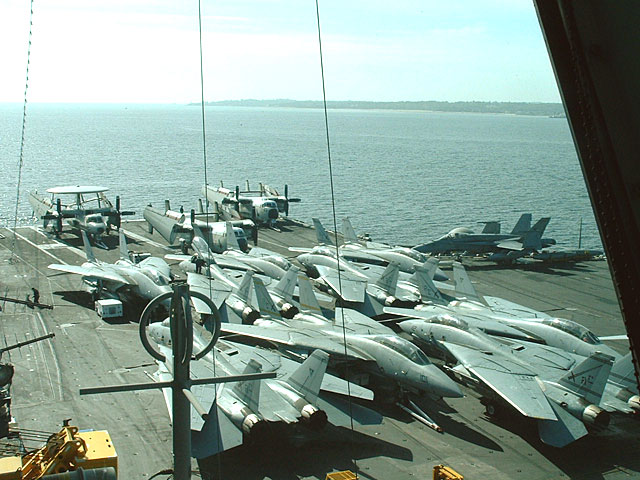 Swordsmen consisted of the following 10 aircraft:

AC/100 –BuNo 162916 (below deck)
AC/101 - BuNo 161860
AC/103 - BuNo 162915
AC/104 - BuNo 163410
AC/105 - BuNo 163216
AC/107 - BuNo 163224
AC/110 - BuNo 162703
AC/111 - BuNo 161428
AC/112 - BuNo 161608
AC/114 - BuNo 161424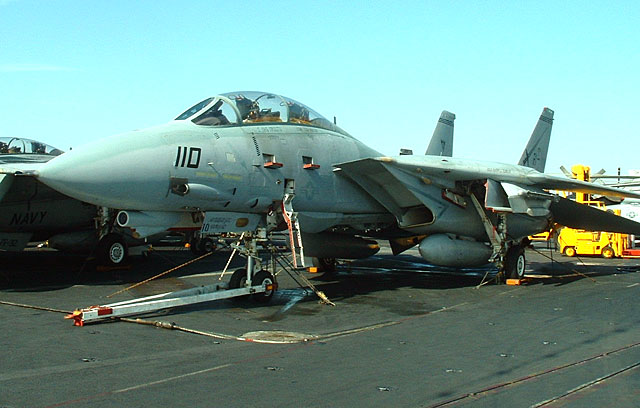 Click the thumbnails below to view the larger images:
---

VMFA-115 Silver Eagles F/A-18A+
Shore Based at MCAS Beaufort, SC.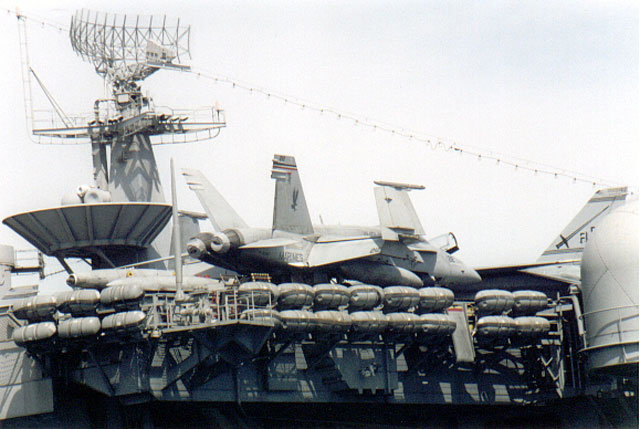 Good views could be obtained of all the Hornets of CVW-3. Unfortunately, the CAG bird of the Silver Eagles was on the hanger deck. Note the mission markings on many of the Hornets and some of the crew, assigned to keep a careful eye on passing boats. There was supposed to be a 200-metre exclusion zone around the ship, but our boat violated that throughout the tour. MOD police launches were keeping an eye on suspect craft.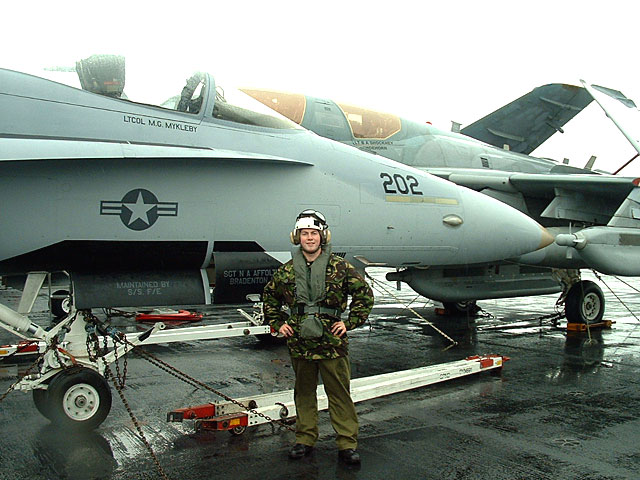 Note the false canopy painted on the underside of this Marines F/A-18A Upgrade Hornet. Also note the perfect condition of the overall paintwork! SAC Neil Jones is pictured in front of the Hornet.
The Silver Eagles consisted of the following 12 aircraft:

AC/200 –BuNo 163133 (below deck)
AC/201 - BuNo 163131 (below deck)
AC/202 - BuNo 163137
AC/203 - BuNo 163174
AC/204 - BuNo 163159
AC/205 - BuNo 163145
AC/206 - BuNo 163147
AC/207 - BuNo 163155
AC/210 - BuNo 163156
AC/211 - BuNo 163158
AC/212 - BuNo 163162
AC/214 - BuNo 163168
Click the thumbnails below to view the larger images:
---
VFA-37 Bulls F/A-18C
Shore based at NAS Oceana, VA.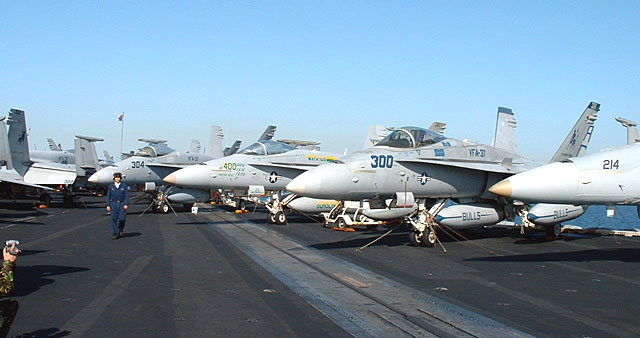 The CAG bird can just be seen above (next to the Gunslingers CAG bird). Note the stark difference in colour schemes between the CAG and CO's aircraft (AC/301). Many of these aircraft were located down the centre of the forward flight deck, between catapults 1 & 2.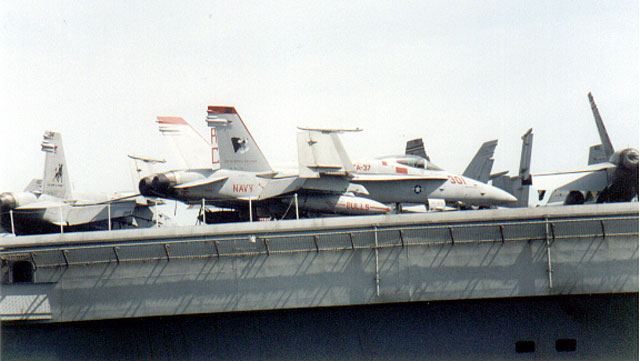 The Bulls consisted of the following 12 aircraft:

AC/300 – BuNo 165181
AC/301 - 165177
AC/302 - 165183
AC/303 - 165199
AC/304 - 165182
AC/305 - 165179 (below deck)
AC/306 – 165184
AC/307 - 165171
AC/310 - 165185 (below deck)
AC/311 - 165175
AC/312 - 165176
AC/314 – 165204
---
VFA-105 Gunslingers F/A-18C
Shore based at NAS Oceana, VA.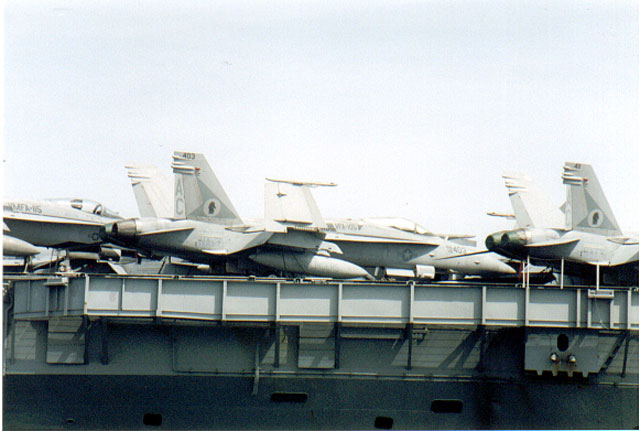 The Gunslingers consisted of the following 12 aircraft:

AC/400 - 164200
AC/401 - 164261
AC/402 - 164236 (below deck)
AC/403 - 164243
AC/404 - 164244
AC/405 - 164238
AC/406 - 164197
AC/407 - 164253
AC/410 - 164246
AC/411 - 164231
AC/412 - 164215
AC/413 - 164235
Click the thumbnails below to view the larger images:
---
VAQ-130 Zappers EA-6B
Shore based at NAS Whidbey Island, WA.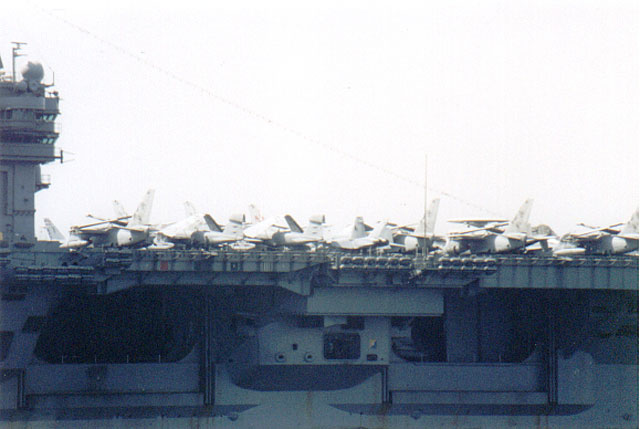 Not very good shots could be afforded of these planes. The CAG's aircraft could be seen quite clearly through an open hangar deck door, but light levels were to low to get a shot. The Zappers consisted of the following aircraft:

AC/500 - 163526 (below deck)
AC/501 - 163524
AC/502 - 161347
AC/503 - 158540
---
VAW-126 Seahawks E-2C
Shore based at NAS Norfolk, VA.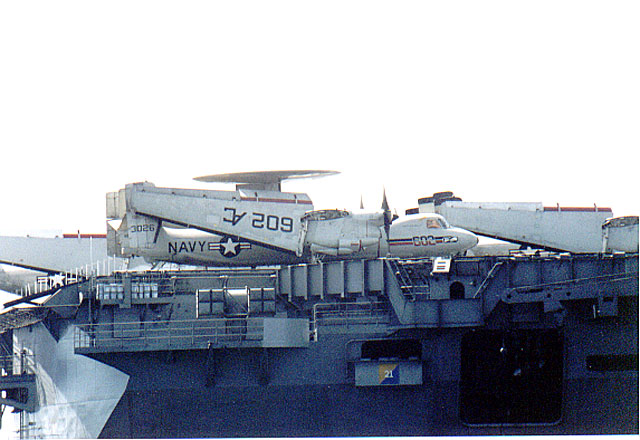 The Seahawks consisted of the following aircraft:

AC/600 - 163027
AC/601 - 163024
AC/602 - 163026
AC/603 - 162618
---
HS-7 Dusty Dogs
Shore based at NAS Jacksonville, FL.
All of these aircraft were chocked and chained mid deck, so shots were unobtainable. Dusty Dogs consisted of:

SH-60F
AC/610 - 164610
AC/611 - 164609
AC/612 - 164612
AC/614 - 164453

HH-60H
AC/615 - 165116
AC/616 - 164845
AC/617 - 165258
---
VS-22 Checkmates S-3B
Shore based at NAS Jacksonville, FL.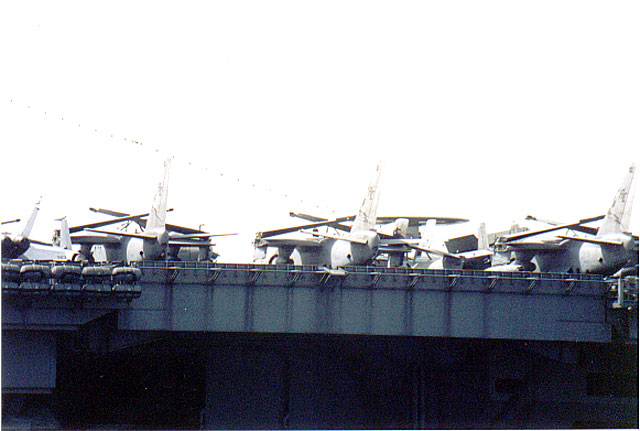 Again, not as close to the deck edge as I would have liked. Checkmates included the following members:

AC/700 - 159764
AC/701 - 160148
AC/702 - 160145
AC/703 - 160153
AC/704 – 160588
AC/705 - 158873
AC/706 - 159760
AC/707 - 160142
---
VRC-40 (Det 1) Rawhides C-2A
Shore based at NAS Norfolk, VA.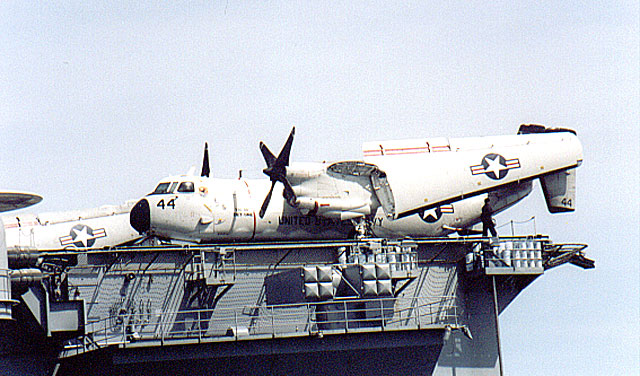 Unusually, both of these aircraft were on board. Det 1 includes:

AC/44 - 162158
AC/57 - 162172
All photos were taken using a Nikon F60, with a 100-300mm Sigma Zoom. Fuji Superia 400 print film was used throughout.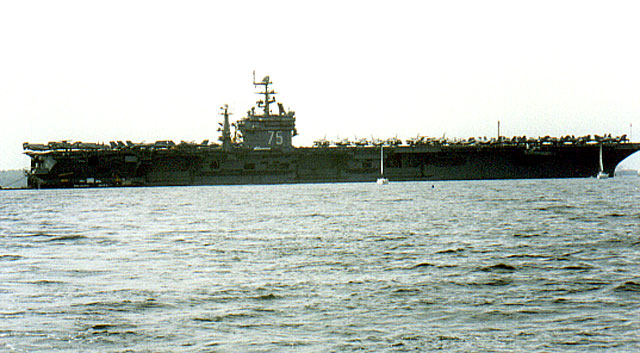 Inspiration came from the many excellent books written by Tony Holmes and the numerous reference articles submitted to HyperScale by Rodger Kelly - both very fortunate men in being able to get on board many of these ships.
---
Footnote by SAC Neil Jones:
I have just read Jeremy Gould's report of his trip to see the aircraft carrier USS Harry S Truman down in Portsmouth. I think I can add a few more pictures. (Editor's Note - Neil's images have been added to the main body of the article above).

I'm a Senior Aircraftsman in the Royal Air Force where my trade is an airframe technician. I'm based at RAF Lyneham where I work on the C-130K Hercules.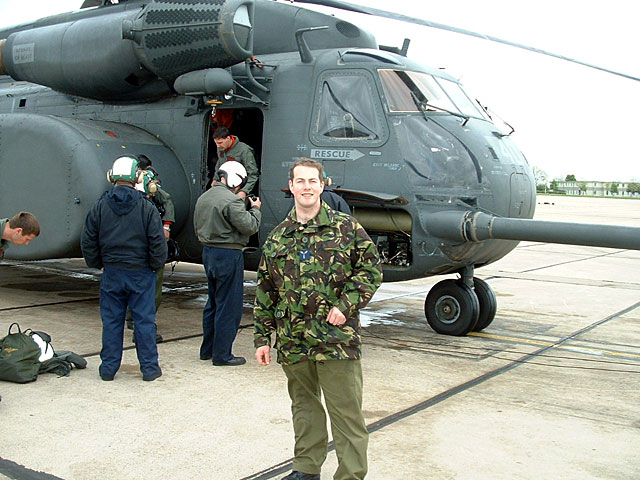 Through the week that the Truman was anchored off shore, we had two MH-53E Sea Stallion helicopters from NAS Sigonella, Sicily replenishing the carrier every day. On the Friday & Sunday I managed to get a ride with the Sea Stallions to the Truman where I took these photos using a Fuji Finepix 2800 digital camera.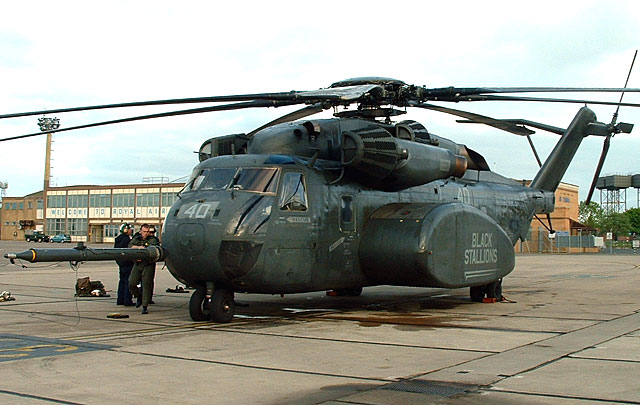 This was the ultimate experience for me & one that I'll never forget.


---
Text & Images Copyright © 2003 by Jeremy Gould
and SAC Neil Jones
Page Created 07 July, 2003
Last Updated 19 April, 2004

Back to Reference Library