Royal Australian Navy
Standard/Harpoon Missile Launcher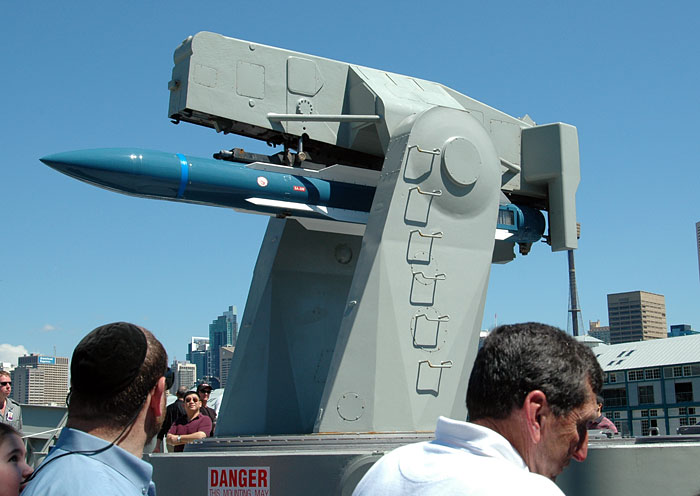 Standard/Harpoon Missile System
text by Charles Landrum
images by Brett Green

HyperScale is proudly supported by Squadron.com

The Royal Australian Navy held an Open Day at Woolloomooloo on a recent spectacular Sydney Spring Sunday.
Four ships were open for inspection with a variety of equipment on display, including this Standard/Harpoon missile system.
The launcher seen here carries the designation MK-13 GMLS (guided missile launching system) in the US Navy and I believe it is the same in the RAN. With a capacity of 40 rounds it can shoot either the Standard Missile - medium range (no booster) or a Harpoon. The missiles are stored vertically in two index rings (16 missiles in the inner ring and 24 missiles in the outer ring) which rotate to the load position with the missile selected. Any number of each can be carried, but typically a test round is carried in one slot. The missiles carry an electronic ID which is determined by a probe mechanism. Firing data is downloaded to the missile via a multi pin connector which momentarily penetrates a synthetic water proof barrier. The magazine is reloaded via the launcher. It has a reputation as a very reliable system.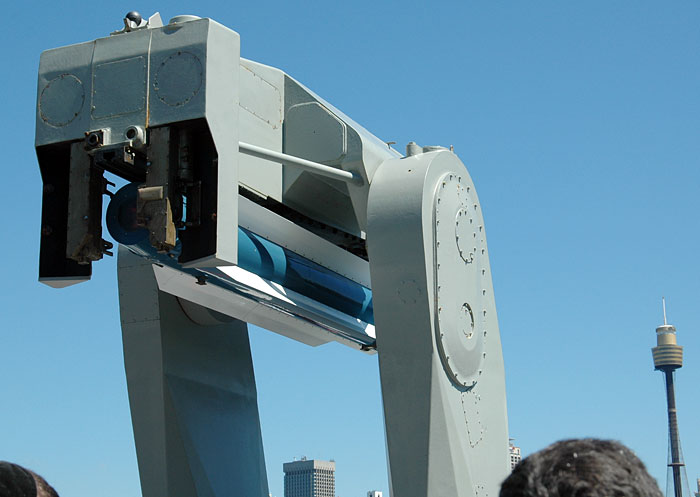 The older SM-1 (MR) missiles have a 25nm range against air targets and can be used in a surface to surface mode against other ships (range limited by horizon). An engagement requires a dedicated director which illuminates the target for the entire flight of the missile. The SM-2 missile has a longer range (doubled) and depending on the system employed does not need constant illumination of the target , just in the terminal phase of flight.
The Harpoon is an anti-shipping weapon and has a range of 85nm plus. It carries an active radar seeker and is fire and forget. The targetting system which provides an initial firing solution and the onboard seeker allow the missile to fly an indirect path to target and has excellent discrimination features. The seeker head turns on in the terminal phase of the engagement (like Exocet) in order to "surprise" the victim. Harpoon II carries a GPS guidance system and therefore has a capability against land targets.
Sadly the US Navy has inactivated the launchers on its frigates as a cost cutting measure. We under-value the effectiveness of the launcher and its associated fire control system in favor of the AEGIS weapons system and the Vertical Launch System despite the good reputation of this older system. As the author A.D. Baker III told me, the "G" in the designation "FFG" in the US Navy no longer means "guided missile" but "gelded".

Click the thumbnails below to view larger images:
---
Model, Images and Article Copyright © 2004 by Brett Green
Page Created 10 October 2004
Last updated 13 October 2004
Back to HyperScale Main Page
Back to Features Page