Focke-Wulf Fw 190D-9
Wide Open
by Brett Green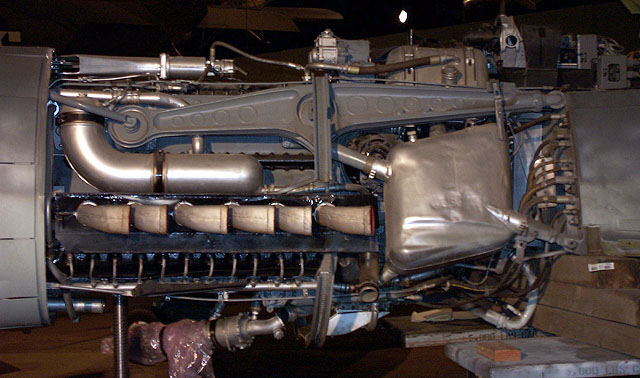 Focke-Wulf Fw 190D-9
W.Nr. 601088, Stab. IV./JG3
A Close-Up View of
the Jumo 213 A Engine
in Fw 190D-9 W.Nr. 601088
Focke-Wulf Fw 190D-9 W.Nr. 601088 was attached to Stab.IV./JG3 at Plenzrau in Northern Germany. At the end of hostilities, this aircraft was surrendered to the RAF at Flensberg. When W.Nr. 601088 was shipped to the United States as a war prize, it was accidentally matched with the wings from a Fw 190D-13 ("Yellow 10", W.Nr. 836017). Although the wings of the D-9 and the D-13 were ostensibly similar, the shell ejector chute arrangement and other significant details were quite different.
The Dora arrived at Wright Field around August 1946 and was later transferred to the National Air and Space Museum's facility at Silver Hill in Washington. This aircraft has been on loan to the US Air Force Museum in Dayton Ohio since 1975.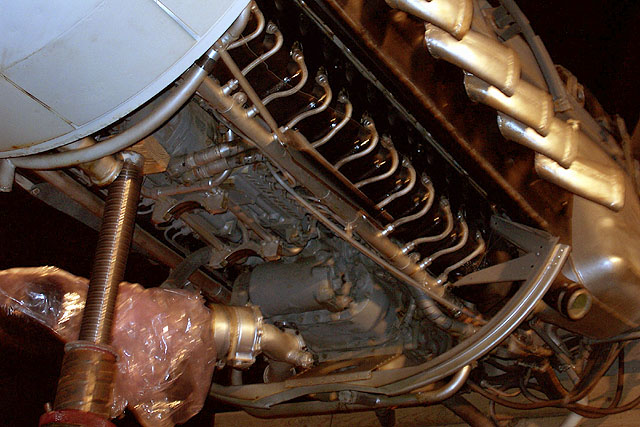 During June, the US Air Force Museum participated in a project that was destined to return the appropriate wings to their respective aircraft. The plan was to remove the wings from the D-9 in Ohio and the D-13 at the Champlin Museum, and swap them.
Due to a brilliant stroke of good timing, I just happened to be in Ohio during one of the short number of days before the correct wing was rejoined with its fuselage. Even luckier, the fuselage and wing were on public display at the time. This was a truly unique opportunity to record otherwise inaccessible details of the Dora 9.
The following photographs were taken on 9 July 2001 at the US Air Force Museum.
Focke-Wulf Fw 190D-9 Wide Open
Click the thumbnails below to view the images full-sized.
Use your browser's Back Arrow to return to this page:
---
Text & Images Copyright © 2001 by Brett Green
Page Created 06 August, 2001
Last Updated 19 April, 2004

Back to Reference Library