The Tigers of VFC 13
In The Air and In Detail
by CAPT Dana "Smudge" Potts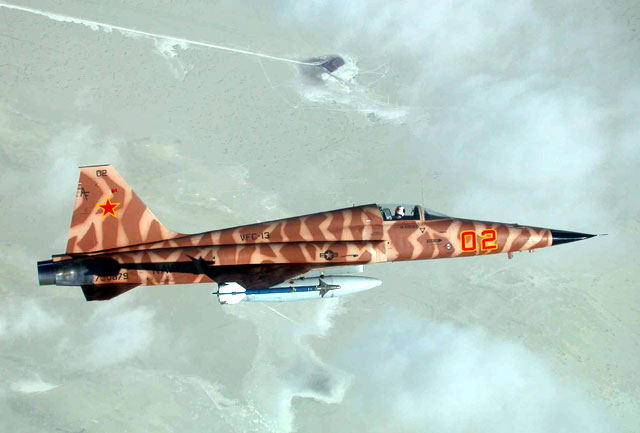 F-5 Over Fallon


HyperScale is proudly supported by Squadron
Introduction
While training with our air wing at Fallon, we not only lead and fly with the squadrons, but also evaluate their collective performance by watching through the eyes of our instructors/adversaries. This includes not only viewing simulated surface to air missile engagements from a command center, but flying with adversary aircraft as well. I had the opportunity to fly with VFC 13 during one of our events and photographed our lead as we waited on CAP station.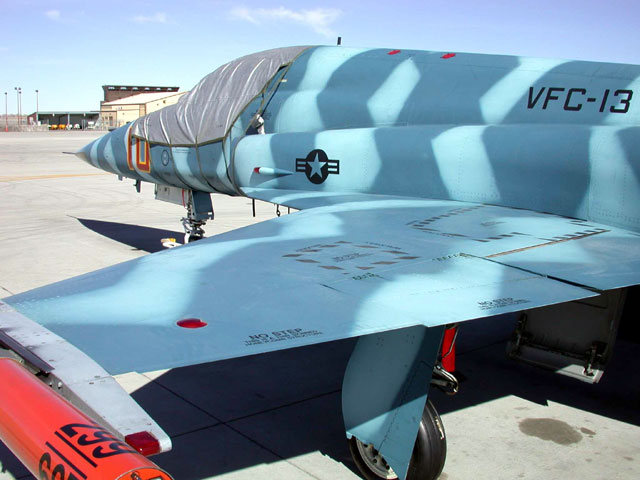 The Saints provide professional adversary support using around 30 F-5E and F Tiger II's as threat aircraft simulators. It most closely resembles the MiG 21 in size and performance but can emulate other threat platforms as well.
In conjunction with Topgun F-14's and FA 18's, these gents can generate some of the most difficult scenarios we may face in the real world.
---
Strapping In - The Cockpit in Detail
The hardest part of my F-5 hop was getting into the jet.
Unlike fleet aircraft, the F-5 has a separate parachute that is custom fitted and carried to the aircraft. You place the parachute into the seat and attach it to the seat pan. Then you get into the seat, wiggle into and strap on the chute then connect yourself to the seat.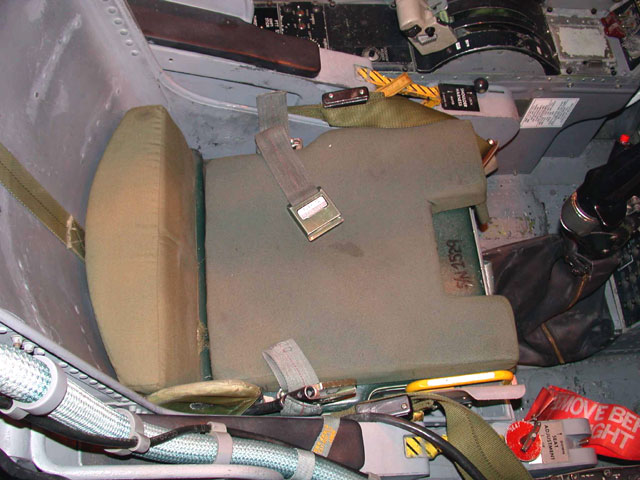 This somewhat fussy and time consuming arrangement is more than made up for by the simplicity of the start procedures. Start the engines, trim and flap checks and you're off in about 3 minutes. I'd also forgotten how much fun it was to taxi with the canopy open, a nostalgic flashback to my F-4 days.
Click the thumbnails below to view larger images:

Instrument Panel

Cockpit right side console

The stick and throttle

Headrest and upper rear canopy actuator detail

Behind the seat
---
VF 13 Tiger Colors
In my 24 years of service I can honestly say VFC 13 F-5's are among the most striking and beautifully camouflaged aircraft I have seen.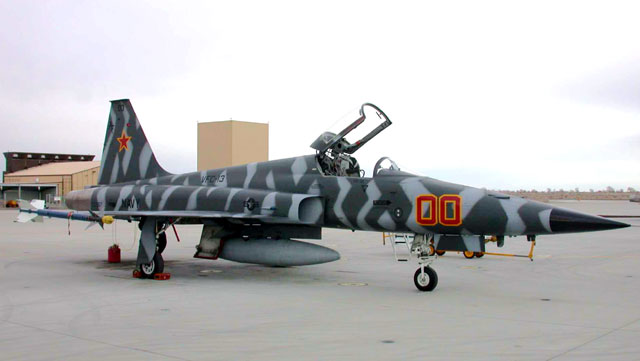 The schemes are applied in St Augustine Florida during rework, where all of the old paint is stripped to bare metal - in some cases saving nearly 800 lbs in total aircraft weight. They are very well maintained under contract with Sikorski aviation.
Click the thumbnails below to view larger images:
VF 13 F-5 Variants and Details
I was astonished by the subtle variety of detail from aircraft to aircraft. Many were straight F-5E's. Some had the Improved Handling Quality modification. This is the shark nose and enlarged leading edge extensions (LEX) that enhance low speed handling.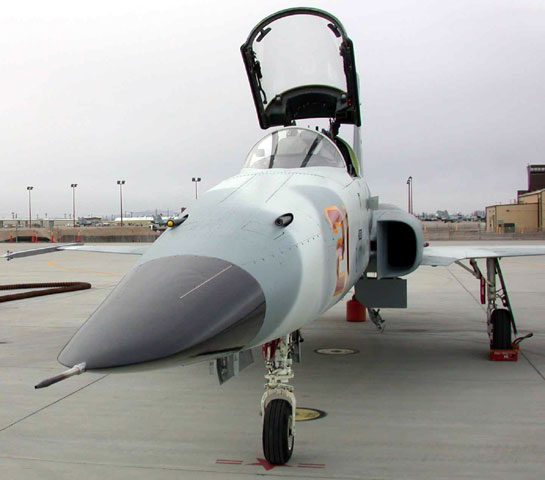 Shark Nose as fitted during the Improved Handling Quality modification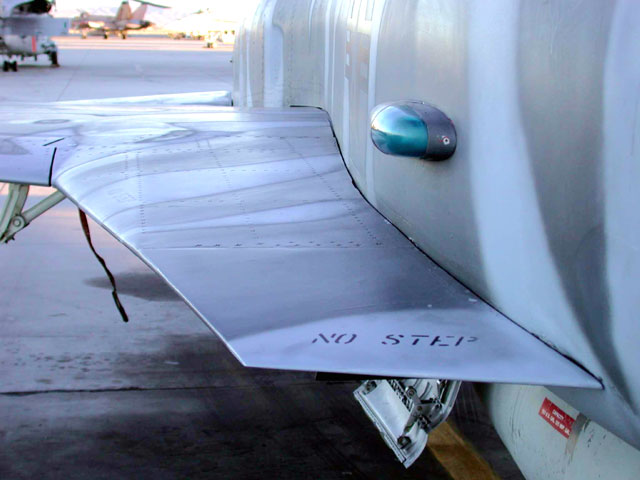 Starboard-side enlarged leading-edge extension (LEX). Also note the navigation light
Most had silver painted wheel wells, but some had white and others had combinations of white nose wheel well and silver mains. Some also had the civilian ILS antenna on the vertical tail, others didn't.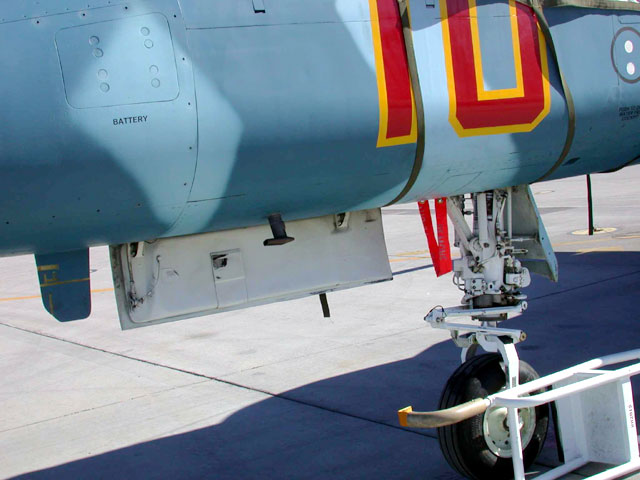 Drop tanks also provided unexpected variety. My two-seater had a silver forward half tank with a gray camouflage mid and aft section. Others had a mix of grays.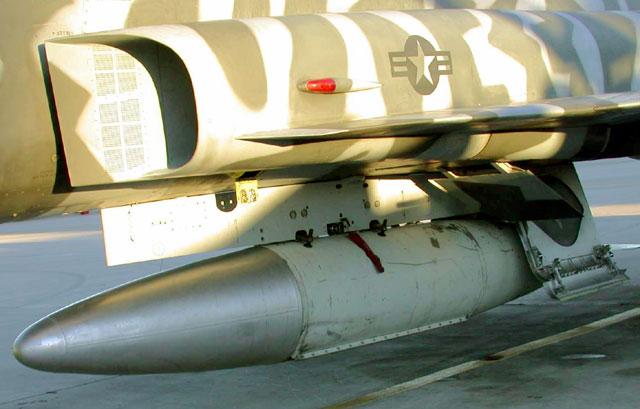 The Future

The future remains bright not only for the F-5 but VFC 13.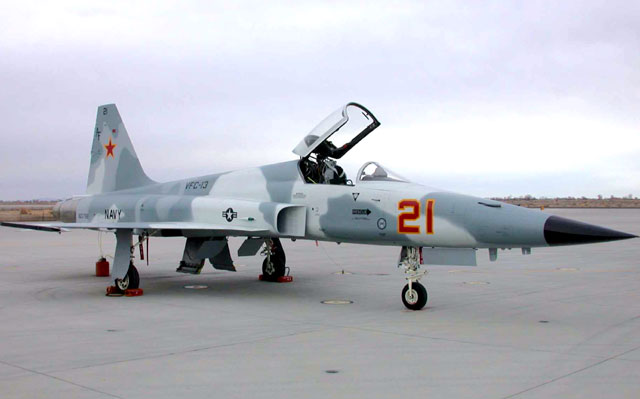 I have been told that we are purchasing a large number of Swiss F-5s with comparatively low flight hours on the airframes.
Click the thumbnails below to view larger images:

F-5 Over Fallon #1

F-5 Over Fallon #2

F-5 Over Fallon #3

Vertical tail of "10"

Vertical tail of "01" with ILS

Fuselage air-bleed vent

CATM 9 Missile

Detail of camouflage on port side stab

Main gear well finished in white

The standard nose. Compare to the shark nose in the text above
---
Images Copyright © 2002 by CAPT Dana "Smudge" Potts
Page Created 26 February, 2002
Last Updated 19 April, 2004

Back to Reference Library