F-35A & F-35B
Lockheed Martin Aero Models
by Jim Barr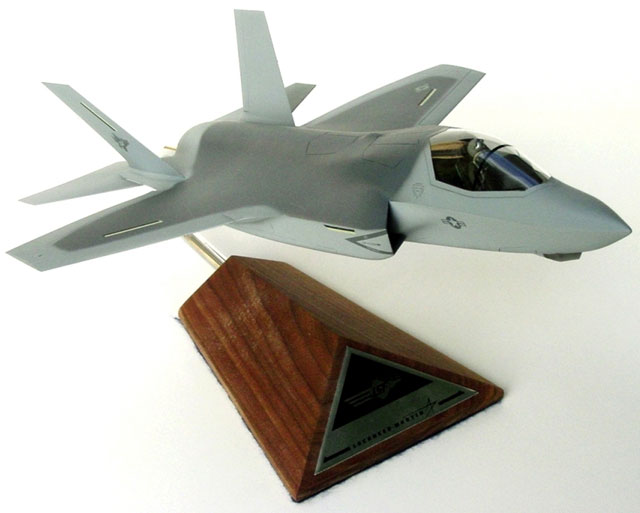 F-35B
Lockheed Martin Aero Model


HyperScale is proudly supported by Squadron
By now, most of HyperScale's visitors will know that the Panda 1/48 F-35 kits are basically the Italeri 1/72 X-35 brought up to 1/48 scale, and are nowhere close to being real F-35s. At best they are "in the ballpark" as an X-35. However, it is a very large ballpark and the seats are in the nose bleed section.

So, either wait for a better kit, (no telling when this will happen), or take the Bondo Phil route.
If you are considering a major correction/conversion project a la Bondo, then these photos may help you.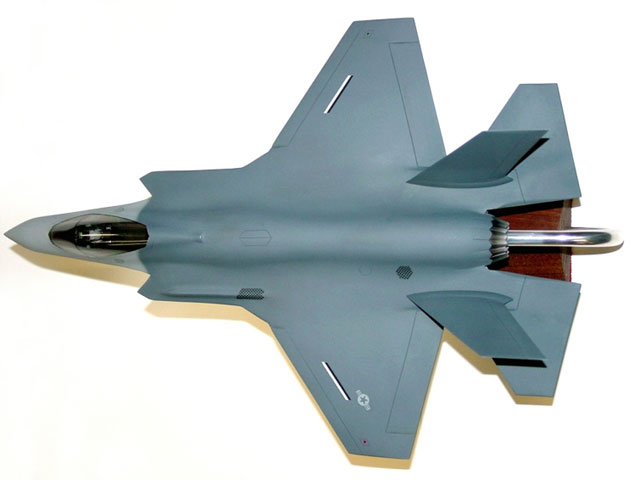 F-35A
Lockheed Martin Aero Model
They are the 1/40 scale models of the X-35A and X-35B produced by the Lockheed Martin Aero model department at their plant in Ft Worth, TX. While they may not be "dead on", as the gentleman who did the masters said, "they are very, very, close" to the configurations as they stand now.
Will things change? Of course, but as of this moment, these models are the most accurate snapshot of the project for release.
---
The Models
The models are produced for the Business Development Department, and are not for sale. They come in two versions, a "clear" canopy like the ones in the photos, that are sometimes given to VIP's, and a "solid" canopy version that is less expensive to produce. Each type is hand made from a resin casting and as you might expect, is labor intensive and expensive.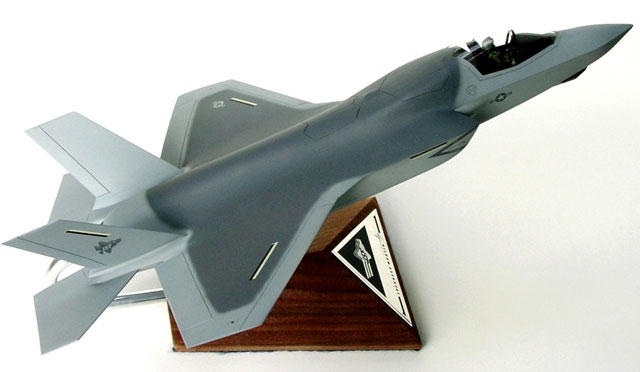 The decals are hand made in the shop, either by silk screening or on an Alps printer. Later on the parts will be made from styrene molds.


F-35A Lockheed Martin Model Details
Click the thumbnails below to view the images full-sized.
Use your browser's Back Arrow to return to this page:
F-35B Lockheed Martin Model Details
Click the thumbnails below to view the images full-sized.
Use your browser's Back Arrow to return to this page:
---
Text & Images Copyright © 2002 by Jim Barr
Page Created 12 October, 2002
Last Updated 19 April, 2004

Back to Reference Library