North American F-107A
Airframe Details Close-Up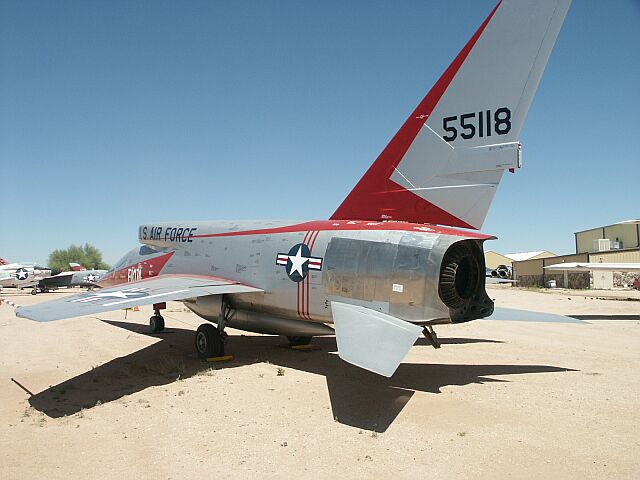 by Stephen Sutton


HyperScale is proudly supported by Squadron
The North American F-107A was originally designed as a tactical fighter-bomber version of the F-100, with a recessed weapon bay under the fuselage. However, extensive design changes resulted in its redesignation from F-100B to F-107A before the first prototype flew. On June 11, 1954, the USAF authorized a contract for 33 F-100B fighter-bombers.
On July 8, 1954, the Air Force notified NAA that the designation for the project had been officially changed to F-107A, the USAF concluding that since this aircraft was so vastly different from the original F-100A it deserved a completely new fighter designation. On August 4, 1954, the contract was cut back to only nine service test aircraft under the designation YF-107A. USAF serials were to be 55-5118/5126.
Special features included an all-moving vertical fin; a control system, which permitted the plane to roll at supersonic speeds; and a system (Variable Area Inlet Duct), which automatically controlled the amount of air fed to the jet engine.
On Sept. 10, 1956, the No. 1 F-107A made its initial flight, attaining Mach 1.03 (The speed of sound, Mach 1, is about 760 mph at sea level). The aircraft first achieved Mach 2 (twice the speed of sound) in tests on Nov. 3, 1956.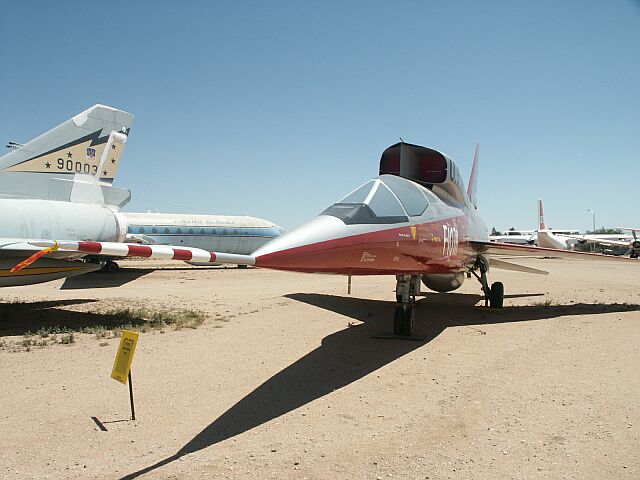 Three F-107As were built as prototypes and were test flown extensively, but the aircraft did not go into production, the Republic F-105 having been selected as the standard fighter-bomber for the Tactical Air Command. In late 1957, Nos. 1 and 3 were leased to the National Advisory Committee for Aeronautics (NACA) for high-speed flight research.

F-107A number 55-5118 was turned over to the Pima Air and Space Museum in Tucson, Arizona, where it is now on display. F107A number 55-5119 is in the Air Force Museum at Wright-Patterson AFB in Ohio.
You can find more on the F-100B - F107A via the links below:
Hyperscale Collect-Air Article:
F-107A Airframe Details Close-Up
Click the thumbnails below to view the images full-sized.
Use your browser's Back Arrow to return to this page:
---
Text & Images Copyright © 2003 by Stephen Sutton
Page Created 12 August, 2003
Last Updated 19 April, 2004

Back to Reference Library