F-105 Close Up
By Frank Mitchell and Mark Young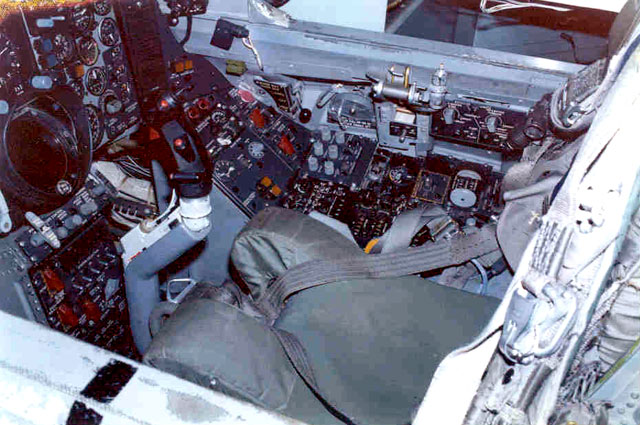 F-105 Cockpit


HyperScale is proudly supported by Squadron
Once upon a time (1975), I was living in Washington, D.C. and got an urge to scratch-build a 32nd F-105D.

One of the members of IPMS-DC at the time was Mark Young, who, as some of you may know, is a great modeler and who also ran the Nationals in Dayton, Ohio. Since the DC Air National Guard flew the F-105 at the time, and since he was in the Air Force stationed at Andrews AFB, he offered to "take a few pictures" for me to use in detailing.

What he produced was far from "a few pictures". In today's terms, it could be called the ultimate modeler's walkaround of the 105.

When I heard that Trumpeter was going to release a 1/32 kit of the 105, I decided to dig out the going-on-30-year-old pictures. While they have changed a bit, most of the original prints still show pretty accurate colors. Unfortunately however, the negatives have shifted to the point that they won't print with any fidelity. I therefore scanned the prints to a CD, and that got me thinking about giving them to the world.

I hope that Mark will not mind that I have decided to share them with those of you who might be interested.

For a little background, in order to get the superb shots of the cockpit, Mark went to the simulator where he could control the exposure and angles. Likewise, he went into the seat shop to get the shots of the seat from all angles, and wherever else he needed to go to get these incredible shots.

One Note of Caution: Once these are posted by Brett, there will be no excuses. All that stuff better be there, or there will be prints of these shots politely placed under the modeler's nose by anyone with access to a computer.

As a post-script, I did build the model and took it to the Nationals in Dallas in 1976. After several advance discussions, Continental Airlines was most cooperative in helping me get it there by throwing it into the general baggage so that all the landing gear and under-wing stuff was happily bouncing around the box when it arrived in Dallas. It did, however, win the scratch class, so the judges took pity on me.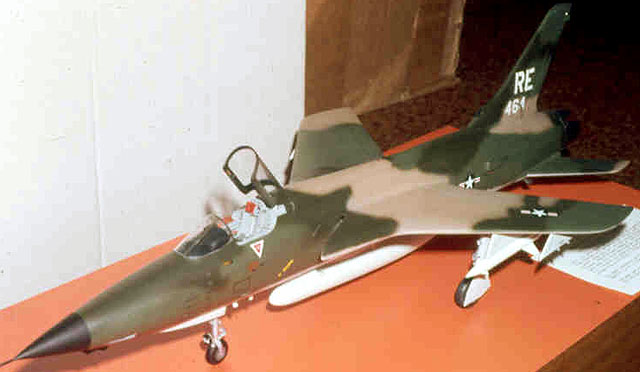 The model has been on exhibit at the National Air and Space Museum since about 1978. If you can get low enough to see, you will note that there are still large globs of epoxy holding the gear in place. Great for the detail. I could not resist throwing in a couple of pictures of the model (even tough one somehow got reversed); there are a few more on Al Superczynski's website (http://modeleral.freeyellow.com/Al's%20Place/fr105.html) along with a bit of a description of how it was built. Things have changed a lot .

In anticipation of questions, yes, I view the release of the Trumpeter kit with mixed emotions, but will probably end up buying one.

I hope you enjoy the pictures.

Click the thumbnails below to view larger images:
---
Images Copyright © 2002 by Frank Mitchell and Mark Young
Page Created 20 May, 2002
Last Updated 19 April, 2004

Back to Reference Library