Laage Air Force Base 2006
Eurofighter Typhoon
by Ingo Degenhardt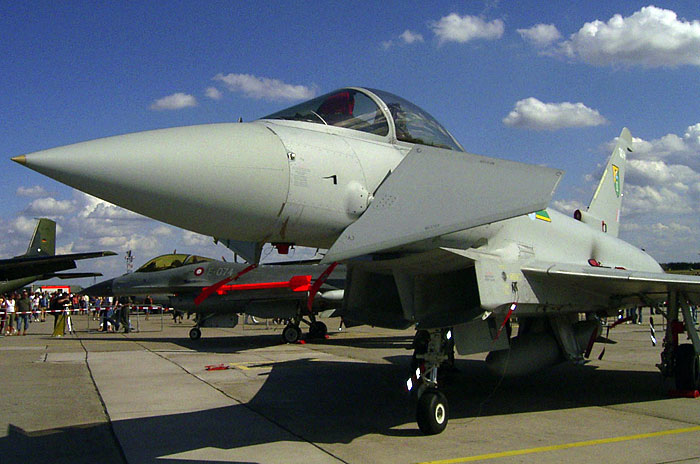 Eurofighter Typhoon
HyperScale is proudly supported by Squadron

Here are a few detail shots of the new Eurofighter taken at Laage Air base on August 19, 2006.

The aircraft are a RAF single seater from No.3 Squadron, RAF Coningsby and a two-seater from JG 73, Laage, Germany.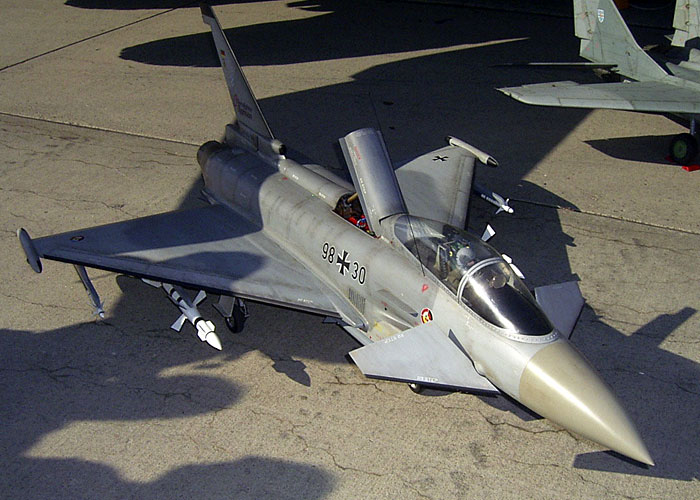 Notes:
The British Typhoon hat the DASS fairing fitted below the rudder – I do not know if all aircraft do have this feature (at least it is an option in the Revell kit).
What is quite apparent on these new and generally clean aircraft is the soot that seems to built up rather quickly on the APU exhaust on the left fuselage side.
The landing gear shots are:

left main LG looking aft
front LG right hand side

The missile on the outer right wing pylon of the German EF is a dummy "IRIS-T" , the new short and medium range (range up to 25 km) IR-AAM for the Tornado and Eurofighter.

Just for fun I included the picture of an RC-model Eurofighter equipped with Russian missiles that would better suit the RC-MiG 29 seen on the right. Both were photographed in the Shadow of a real Luftwaffe MiG-29.

The very friendly RAF-pilot attended his aircraft and told me that the canard position is standard for a parked aircraft (to be out of the way for the boarding ladder).

This is done manually by the pilot prior to engine shutdown.

The intake flaps are also open (or 'down') on the ground and as usually will close/go up at higher speeds.

I questioned him also about the camouflage color of British EF's because up to now there is still some uncertainty about this and although he could not state any specific color, he said the gray is a little lighter than that of the Tornado F3 he flew for the last 10 years and that it is very effective for the EF for he already had difficulties to pick up his own wingman visually because of the camo. I am no native English speaker but I think he was serious on this.

According to my own research I so far tend to say the color is Camouflage Gray, aka Barley Gray.

I hope the pictures will be of some use if you are going to build an Eurofighter model.


Eurofighter Typhoon Detail Images
Click the thumbnails below to view larger images:
---
Text & Images Copyright © 2006 by Ingo Degenhardt
Page Created 08 September, 2006
Last Updated 08 September, 2006

Back to Reference Library