Herr Ernst Schröder
German WWII fighter ace and modeller
by Bernie Hengst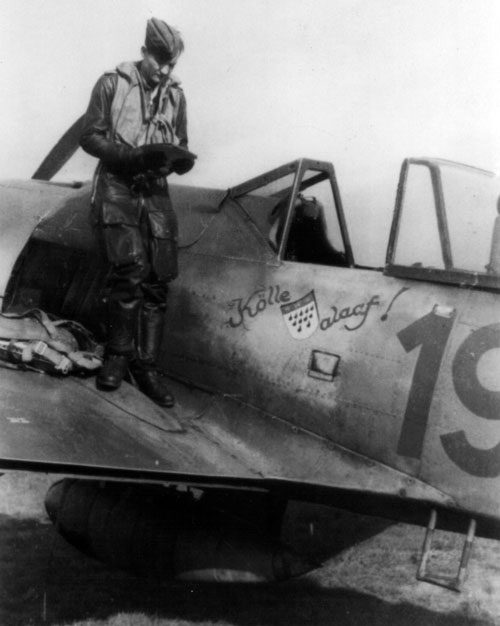 HyperScale is proudly supported by Squadron
This is the story of Herr Ernst Schröder, German WWII fighter ace, and modeller, who celebrated his 86th birthday recently.. He still builds models and is working presently on the Revell Do-217 E in 1:48 scale.
About eighteen years ago I built two Italeri Fw 190A-8 and I finished them as Red 19 of 5.JG.300 in the early markings with the red II.Gruppe bar and the later finish with the red Fuselage band. I had just finished reading in a German modelling magazine about how to mark the models correctly and hand-painted the name 'Edelgard' on the starboard side and assembled the Werk Number 172733 from small numbers for both sides of the fin. I sent pictures of these models to my friend Heinz-Michael Raby in Germany. He found out that the pilot of this plane, Ernst Schröder, was still alive and living not far from him in Bonn. He contacted Mr. Ernst Schröder, they met and my pictures of the models were shown and discussed and a friendship was formed.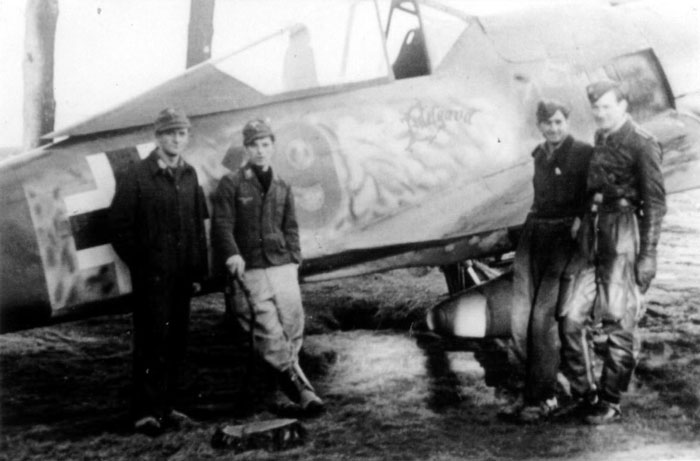 My friend and Mr. Schröder met regularly, later I corresponded though letters or the phone with him and finally I met this softly spoken gentleman in April 2005 at his home in Bonn, Germany.
Mr. Ernst Schröder was born in May 1922 in Köln (Cologne) and developed at an early age, a liking for the aircraft that he could watch not far from his home at the airport Köln-Butzweilerhof. He started to carve models of the aircraft out of wood. He still has some of these models today!.
In 1941 he volunteered to the Luftwaffe and was trained as a mechanic on the He-111. His wish to become a pilot started to become a reality when he was transferred to Kaufbeuren to the pilot school A23 on May 13. 1943. Here he flew Bu-181, Bu-131 Kl-35 and Go-145. After receiving his pilot licence he was transferred in January 1944 to JG.101 in Pau/Lourdes in the south of France for fighter pilot training. He trained on Ar 96, Fw 56, Ar 68, D.520, Me 108, Me 109G-10, Me 109E, Me 109G-2 and Me 109G-6. One of his commanding officers there was Major Walter Novotny.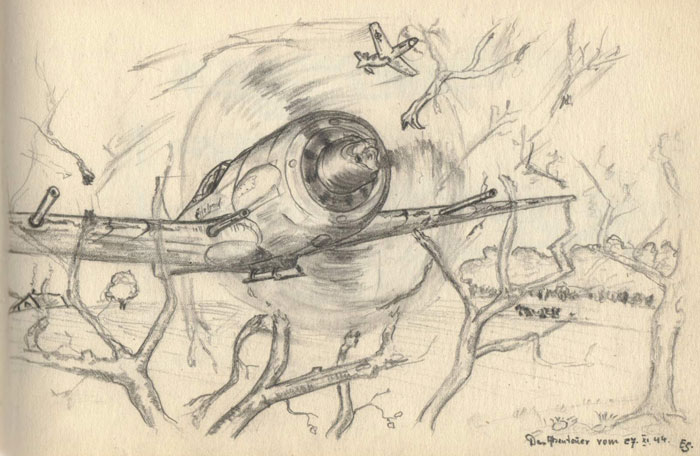 In June 1944 he was transferred to the Jagdergänzungsgruppe West were he was introduced to the Fw 190. By this time he had made 449 flights.
On August 6th, 1944 he was posted to 5.JG.300. Lt. Bretschneider lead the Staffel. In the next five weeks he made another twelve flights, totalling 8 hours and 50 minutes, in Fw 190's, making test flights, and transferring aircraft to and from maintenance depots. His first combat flight was on August 6. 1944. He flew 19 of his 41 combat flights with Fw 190A-8/R8 Red 19. His last flight in this aircraft was on October 10th, 1944 when he belly-landed Red 19 after a fight with a P-51 Mustang.
At war's end he escaped becoming a prisoner of war by writing himself dismissal papers in an abandoned Luftwaffe office truck!
Shortly after his return to his home in Cologne he become an architect. He married his wife, Eva Maria, in 1949, consequently, he and his wife raised 8 sons. In part-time studies he also became a building engineer.
He worked for 33 years in the building department of the town of Bonn, specializing in restoring churches and other important historical buildings.
After retirement he worked Pro-Bono from 1986 to 1996 for the German Castle Restoration Group. Here he was responsible for the restoration of the famous and picturesque Marksburg by Braubach on the river Rhine.
But all through his busy life he found time here and there to build models. First again out of wood in 1:48 scale and later also in plastic, both injection moulded and vacuformed kits. He has built in all the popular scales.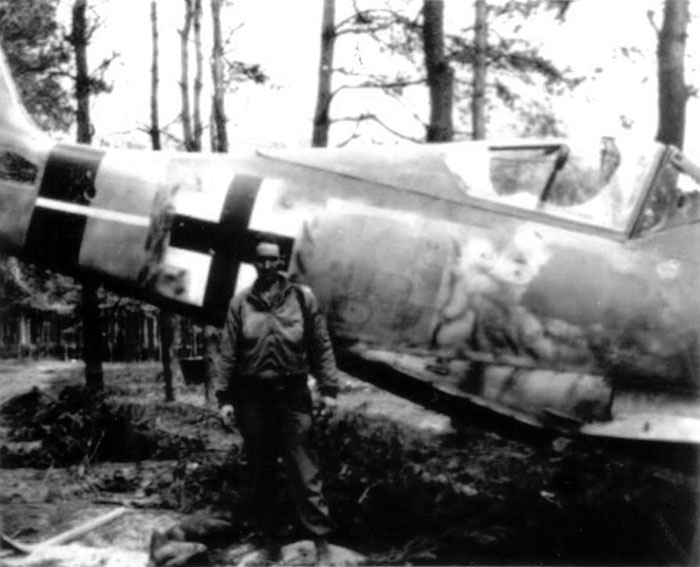 He is also interested in the history of Prussian steam locomotives and has a large Ho collection of these.
Not surprisingly he has a profound knowledge of all the aircraft he flew and gladly gives advice to those that ask for information. His interest of modelling also helped him to remember and be aware of details, colours and markings. Some of his last models finished are 1:48 scale Udet's famous Curtiss Hawk, Ju-52 in Olympic markings, in 1:32 scale Hasegawa's Me 109 G-6 in the markings he had flown in Pau with JG.101 and in 1:72 scale He-51B-2 from ICM.
We wish Mr. Ernst Schröder the all the best on his 86th Birthday and hope he has many more happy and healthy years together with his family and friends, with time to build many more models.
---
Victory List of Ernst Schröder
B-17 shot out of a box, not listed as a victory.
6. 8. 1944, South East of Berlin.

11. 9. 1944, 11.35hrs, Fritzlar, P-51 Mustang, recognized as the 58th victory for II.JG.300. Officially recognised 12. 1. 1945.

11. 9. 1944, P-51 Mustang, effective hits.

27. 9. 1944, 11.12hrs, Wehretal / Weissborn, B-24 Liberator, recognized as the 66th victory for II.JG.300. Officially recognised on 12. 1. 1945.

27. 9. 1944, 11.13hrs, Wehretal / Weissborn, B-24 Liberator, recognized as the 67th victory of II.JG.300. Officially recognised on 12. 1 1945.

24. 12. 1944, 14.54, Bad Hersfeld – Hessen Lichtenau – Rotenburg, 6000m, P-51 Mustang, crash not observed.

9. 4. 1945, West of Prague, P-51 Mustang, effective hits.

12. 4. 1945, Uffenheim, Sentinel, shot-down, exploded in the air, two air witnesses.
---
Text & Images Copyright © 2009 by Bernie Hengst
Page Created 26 January, 2009
Last Updated 27 January, 2009

Back to Reference Library