Building a
Display Coffee Table
By Christiaan O'Dea

I am a carpenter who should probably stick to modelling, but if I can make this then anyone can.
It is a simple coffee table. If you stain it, you might be allowed to bring it in the house, maybe even in the lounge room!
It is easy to build in only an hour or so.
I don't provide dimensions, because the beauty of the design is you can make it big enough or small enough to suit your requirements.
Materials and Construction
Firstly you need wood. Pine is good, as it stains easily and is cheap. You can also use MDF.
Two planks of 25mm (1") plank about 300mm (12") wide should be sufficient.
Cut the first board into four pieces, all squares or two of one size and two of another for a rectangle box. Glue and screw together. The box will have two sides covering the ends of the other two sides.
Now take the second board and measure out the same dimensions, except adding 25mm to two of the sides - the same sides that cover the ends of the other sides of the first box.
Glue and screw the second box together. Now you have a box that will slide over the first box.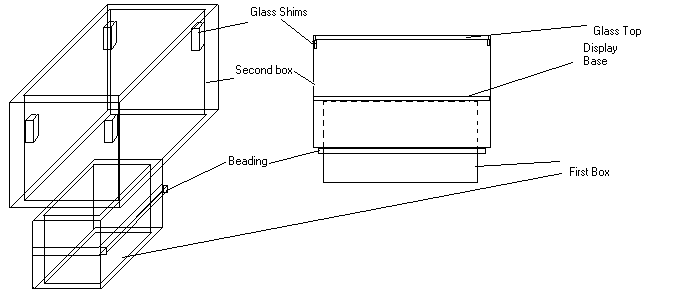 Next, depending on how high you want the table to sit, run a beading of 1" square 12mm wood around the first box to act as support for the second box. With the same size wood, cut four small 2' long shims for the inside corners of the second box about 10-15mm (3/4 - 1 ¼") from the top, to support the glass.
Now place the second box over the first and cut a board to fit the first box dimensions exactly to become your display base. Now you can stain and clean up your table, get a small sheet of glass or plastic cut to size, and away you go.
Anything can be displayed, including dioramas or a small collection, and the size of the table is only limited by space and model size.
It really is that easy. I made one and I didn't even hurt anyone, so give it a go. Mine is about a metre square, holds about 10 x 1/48 scale models, and only cost around $50 Aus.
---
Text and Images Copyright © 1999 by Christiaan O'Dea
Page created on 16 December, 1999
This page last updated on 18 May, 2001