F-14A Tomcat of VF 154
by Brett Green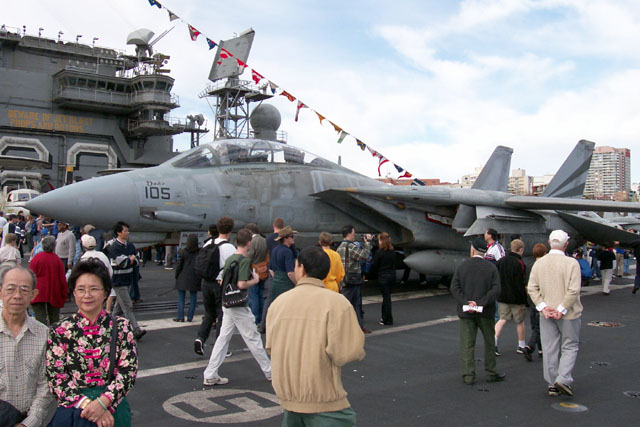 Grumman F-14A Tomcat
"Duke" 105, VF 154 Black Knights
The Aircraft of Carrier Air Wing Five
From a Modeller's Viewpoint
Part One
The USS Kitty Hawk is in Sydney following its participation in Operation Tandem Thrust, a joint military exercise between US and Australian forces around the waters of Shoalwater Bay on Australia's north-eastern Pacific coast. The biennial exercise involves more than 27,000 soldiers, sailors, airmen and marines from Australia, the United States and Canada.
I was fortunate to be amongst the thousands of Sydneysiders who visited this Supercarrier while it was docked at Garden Island.
USS Kitty Hawk (CV 63)
Kitty Hawk is the oldest of the twelve aircraft carriers in the U.S. Naval Fleet. The ship was commissioned in April 1961. The statistics associated with the Kitty Hawk are staggering. The ship is over 320 metres long, weighs 86,000 tons, has capacity for over 75 combat aircraft and boasts a crew, including the Carrier Air Wing, of 5,500.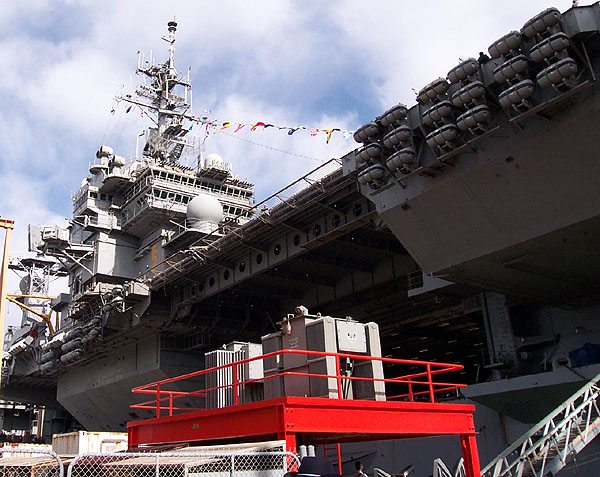 Kitty Hawk's long history has been filled with many periods of essential service, including six tours to support U.S. operations in Vietnam between 1963 and 1972, operations off Somalia in 1992 and participation in the coalition attacks against specific targets in Iraq during January 1993.
Carrier Air Group FIVE (CVW-5)
Carrier Air Wing FIVE (CVW-5) is a multi-task element of the U.S. Navy's Seventh Fleet that operates from the northern Pacific Ocean to the Arabian Gulf. CVW-5 moved onto the Kitty Hawk in July 1998. CVW-5 is made up of eight squadrons and one detachment:
VFA 195 Dambusters, operating F/A-18C Hornet

VAQ 136 Gauntlets, EA-6B Prowler

VS 21 Red Tails, S-3B Viking

VF 154 Black Knights, F-14A Tomcat

VAW 115 Liberty Bells, E-2C Hawkeye

VFA 192 Golden Dragons, F/A-18C Hornet

HS 14 Chargers, SH-60F Seahawk

VFA 27 Royal Maces, F/A-18C Hornet

VRC 30 DET 5 Passwords, C-2A Greyhound
VF 154 Black Knights
VF 154 currently operate the Grumman F-14A Tomcat. Nearly thirty years after its introduction, the Tomcat remains one of the most formidable air superiority fighter aircraft in service today.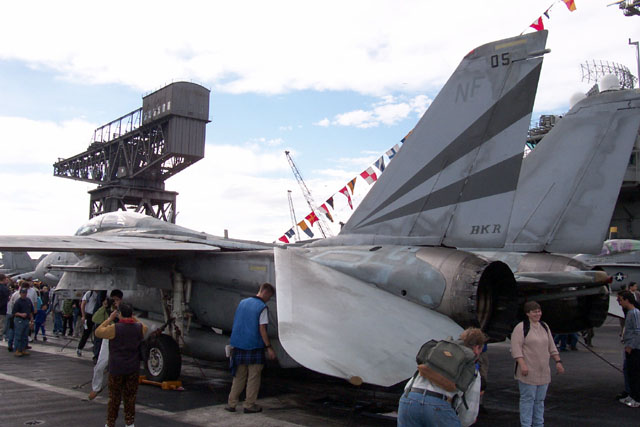 VF 154 Black Knights transitioned to the F-14A Tomcat in January 1984. Its first cruise with the powerful new type was aboard USS Constellation as part of CVW-14 in 1985. Subsequent service service included a cruise near the Gulf of Oman where the unit conducted intercepts of Iranian P-3F Orions, and as part of the first carrier squadrons to arrive for Operation Desert Storm on board USS Independence in August 1990.
VF 154 F-14A Tomcat in Detail
The detail photos of the F-14A Tomcat (below) were taken during my visit to USS Kitty Hawk on Sunday 27 May 2001.
Tomcat 105 was typical of the weatherbeaten finish displayed by the remainder of VF 154's F-14s. The original solid coloured finish resembles a complex mottle due to overpainting, repairs and general weathering.
All photos were taken using my Kodak DC4800 digital camera set on "Program" at 2.2 megapixel resolution, and with fill-in flash where required.
---
Click the thumbnails below to view the images full sized.
Use the "Back" arrow on your browser to return to this page:
Images
| | |
| --- | --- |
| | This is a general view of the nose of F-14A "105", showing the two camouflage colours to good effect. The top surface blue-grey colour is F.S. 35237, and the lower fuselage colour is probably F.S. 36320 Dark Ghost Gray |
| | Port side view forward fuselage. Note the various vents and the generally weathered appearance of the fuselage, especially under the pilot's position. The name "Duke" is stenciled above the aircraft number "105". |
| | Port side view of the Vulcan cannon port (mid-right of the photograph) and the Infra Red Search and Track Sensor and Television Camera Set (TCS). |
| | Detail view of the TCS Television Camera under the nose of the Tomcat. The light below the Camera Port is the position light. The device below is the ALQ-100 Antenna. |
| | Forward view of the port for the Vulcan cannon. |
| | Port-side view of the pitot head. Note the very sharp demarcation between the upper and lower camouflage colours. |
| | A thick, lumpy border surrounds the forward fuselage formation lights. |
| | Starboard side view of the canopy and fuselage, showing crew names. Also note the nickname of the aircraft, "Duke", above the aircraft number (105) at the extreme right of this picture. |
| | National markings, unit markings and BuNo are all applied in a low-contrast Blue-Gray colour over the basic Dark Ghost Gray. The paint of the national markings is applied very thickly. |
| | Starboard side wing glove pylon, showing detail of the side-mount for the AIM-9L Sidewinder. The lower section of this pylon also mounts an AIM-54A Phoenix air-to-air missile. |
| | Starboard side jet intake, undercarriage bay and external fuel tank detail. |
| | Outer view of the port side jet intake. Note the red formation light. |
| | Port-side view of forward undercarriage. Note the sturdy tie-down chains. |
| | Forward undercarriage bay detail. Note landing light. The coloured lights below the landing light is the Carrier Approach Indexer. When the light is amber, the pilot's approach and speed is correct. Green means the approach is too slow, red indicates too fast. |
| | Forward undercarriage bay, looking up and back. |
| | Port side main undercarriage wheel and leg. Note heavy weathering on lower fuselage. |
| | Port main undercarriage leg viewed from the front-side. Tie-down and hydraulic detail is of interest. |
| | The stout top of the port undercarriage leg viewed from the rear. Note how slightly the undercarriage door is opened. |
| | Port main undercarriage bay, at the rear looking up and forward. |
| | Port side main undercarriage bay, from the middle looking up and to the rear |
| | Top of the port-side main undercarriage bay. |
| | Starboard main undercarriage leg and external fuel tank. |
| | General view of the rear starboard side of the aircraft, showing a range of markings including the BuNo and the squadron markings. The BuNo suggests that this was in the last batch of F-14As built. |
| | The all-moving tailplane is deflected here. The large tailplanes are pivoted to a strong structural membrane. The skin of the tailplanes are boron epoxy composite, with honeycombed trailing edges. |
| | Port fin, outside view. The fins and rudders are made from a light alloy honeycomb sandwich, reinforced by two ventral fins under the engine pods. |
| | Starboard fin. The original camouflage colours is almost impossible to determine under this patchy finish. |
| | The port-side afterburner nozzle. This is currently dilated. The many tones of the metal is of interest. |
| | The arrestor hook of the Tomcat is located between the afterburner cans. The red tube above the arrestor hook is the fuel dump pipe, and the device to the left is the electronic warfare antenna. |
---
Text & Images Copyright © 2001 by Brett Green
Page Created 27 May, 2001
Last Updated 19 April, 2004

Back to Reference Library