Consolidated PB4Y-1 BuNo 32032
"Calvert 'n Coke"
VB-103
Dunkeswell, England
Autumn 1943
Text and Illustrations by Jennings Heilig



HyperScale is proudly supported by Squadron
On 15 March 1943, U.S. Navy Bombing Squadron 103 (VB-103) was formed at NAAS Camp Kearny, California (later NAS Miramar), flying the Consolidated PB4Y-1 Liberator. After a rushed period of training, the squadron moved to NAS Norfolk, Virginia, and within a few days onward to NAS Quonset Point, Rhode Island. At Quonset Point it became the first squadron to receive the Navy's then highly secret ASW gear consisting of the APS-15 surface search radar, LORAN, sonobuoys, and the Mk.24 aerial mine, itself a cover designation for what was actually an aerial torpedo, also known by the code names "Fido" and "Zombie".
By late May of 1943 the squadron had moved NAF Argentia, Newfoundland, where after only one day of local orientation, it flew its first operational mission covering a North Atlantic convoy heading for England. The squadron's stay in Canada was to be brief however, as Fleet Air Wing Seven (FAW-7), of which VB-103 was a part, was reassigned to England in August.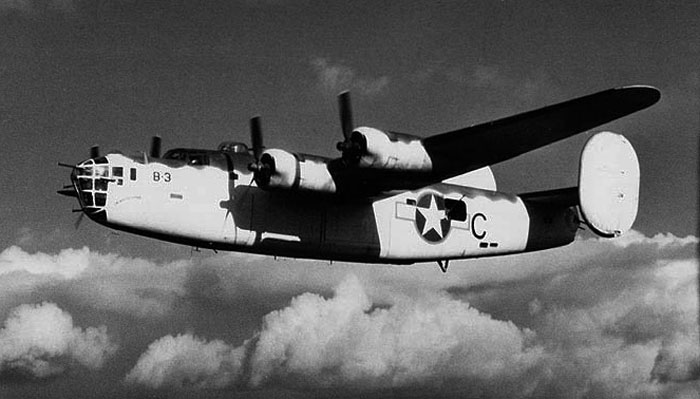 After lengthy negotiations between the Army and the Navy, the Army finally agreed to relinquish the aerial ASW mission to the Navy effective 24 August 1943. The Army's 479th Antisubmarine Group was based at Station 173, Dunkeswell, Devon, which had been designated as FAW-7's new home in England. To allow time for the Army to pack up and head home, FAW-7 initially took up residence at St. Eval, Cornwall for a period of local familiarization and training. After the departure of the 479th Group from Dunkeswell, VB-103 moved on to what would become its final wartime home at the end of August 1943.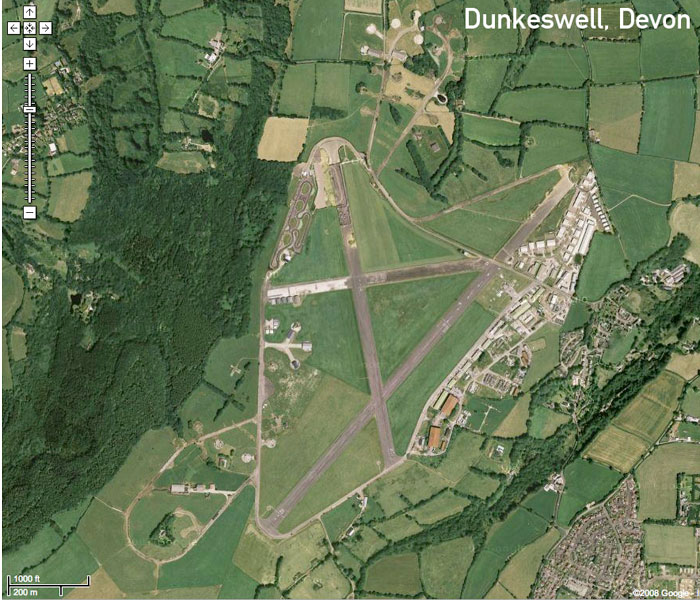 The primary mission area for VB-103 and its sister squadrons in FAW-7, VB-105 and VB-110, was the Bay of Biscay. German U-Boat bases were located at Brest, Lorient, St. Nazaire, La Rochelle, and Bordeaux on the French coast, and from there the U-Boats fanned out north, west, and south in search of their prey. To counter Allied ASW assets in the area, the Luftwaffe's V/KG40, equipped with the powerful Ju88C-6 heavy fighter, ranged across the Bay of Biscay from Bordeaux-Mérignac, and accounted for many Liberator disappearances. Several Ju88s were claimed by FAW-7 gunners in the bloody air battles between them and the Liberators.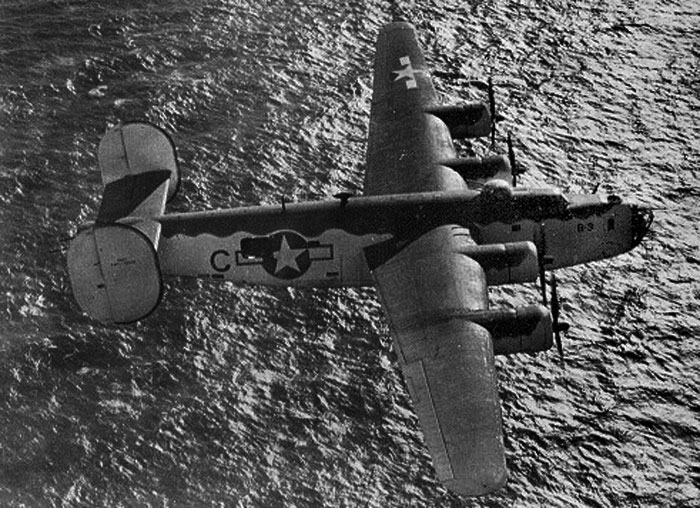 The air war over the Bay of Biscay, while not a well known part of WWII history, was none the less intense. The squadrons of FAW-7 and their RAF counterparts (many also equipped with Liberators) fought valiantly to stem the threat the U-Boats represented to Allied convoys in the Atlantic. Many Liberator crews gave their all, and while their toll on the U-Boat menace was not large, it did force a change of tactics and the development of many new technologies to counter the growing aerial threat. The Mk.24 "Zombie" was statistically quite an effective weapon, and paved the way for many post-war developments in aerial torpedoes.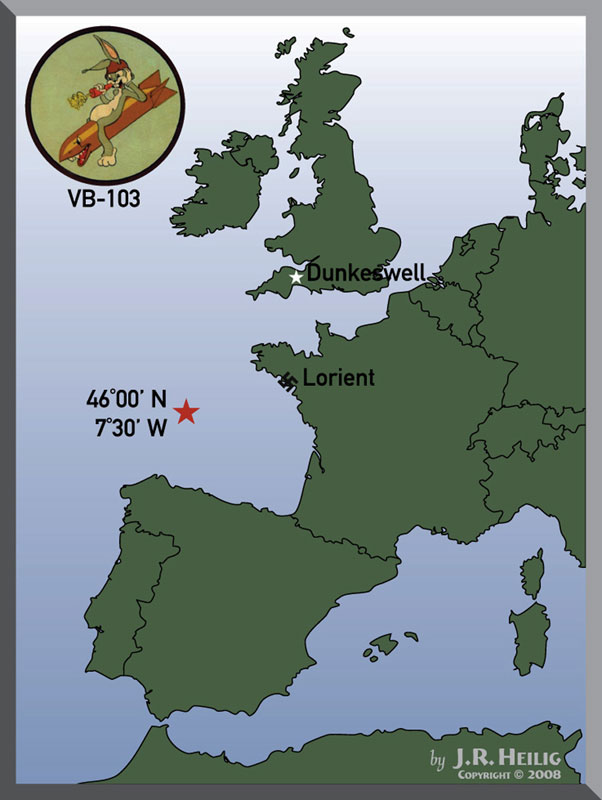 Typical of the Liberators that operated from Dunkeswell in 1943 was an early PB4Y-1 named "Calvert 'n Coke", BuNo 32032. It was built as a B-24D-55-CO, AAF Serial Number 42-40423, by Consolidated in San Diego. It seems likely that the aircraft was modified to Navy standards at NAAF Camp Kearny, including a repaint into the standard Navy Atlantic ASW color scheme of ANA 621 Dark Gull Gray over ANA 601 Insignia White (if any reader knows of an instance of a B-24D leaving the factory in this color scheme, please contact the author). BuNo 32032's camouflage was somewhat unusual in having a wavy color demarcation, sprayed with a relatively tight feather between the colors. Props were overall black, including the hubs, with standard yellow tips.

Aside from its Navy colors, the airplane appears to have been very much a stock B-24D-55-CO. Modifications visible externally (some of which were accomplished at NAS Quonset Point, Rhode Island) included the APS-15 radome in place of the ball turret, a LORAN aerial under the bomb bay keel area, and two inverted "T" radar altimeter antennas under the nose. Defensive armament included the standard B-24 top and tail turret layout, with .50 cal. machine guns in the upper and lower center panes of the forward greenhouse, plus another in the scanning window on the left side of the nose compartment. Standard top hinged waist windows were fitted, each waist position having a single .50 cal. machine gun on a pintle mount. No tunnel gun appears to have been fitted on any of the PB4Y-1s. Wire HF antennas ran from each vertical fin tip to a point above the wing center section on top of the fuselage, and a single mast antenna and an ADF "football" were located aft of this point. De-icing boots were fitted to all flying surface leading edges.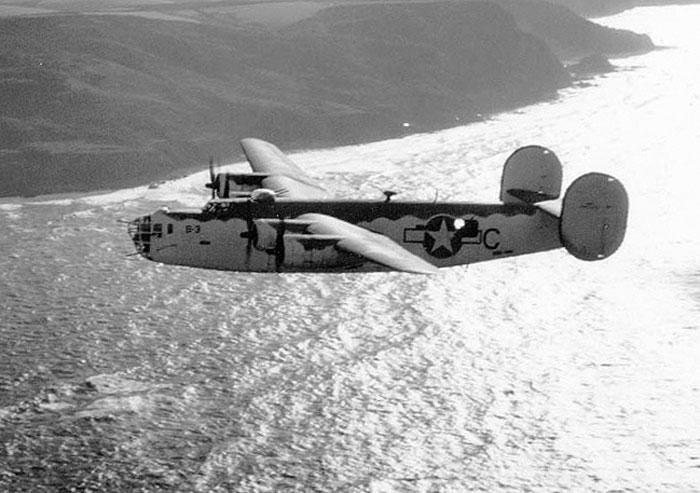 The markings carried by the aircraft conformed to FAW-7's practice of the time. This included a letter-number combination in 12" high black 45? cornered characters near the nose, and a letter matching the alphabetical position of the nose number aft of the waist gun positions (in this case "C", matching the "3" of the nose number). The waist letter was typically painted in a more freestyle form than the nose modex, with the "C" being a rounded style 36" high. National insignias were carried in the standard four positions, although BuNo 32032's were much larger than was the standard for Army B-24Ds at the time. Fuselage insignias were 60" nominal diameter, and wing insignias were 55". Unusually, the lower wing insignia overlapped the leading edge of the aileron. The insignias carried by 32032 had the standard mid-1943 red surround. The outside surface of each vertical fin carried 3" high black block characters with "NAVY" on the top line and "PB4Y-1 32032" on the second line, centered. Standard red fire extinguisher panels were located on the left nose and on the right just behind the aft bomb bay doors.
"Calvert 'n Coke" was part of VB-103's initial compliment of aircraft picked up in San Diego, and it would seem likely that the name was derived from Lord Calvert Canadian Whisky, which the crew had undoubtedly sampled while in Newfoundland. While many VB-103 aircraft, especially in 1944 and 1945 carried fairly elaborate nose art, 32032 only had simple heavy black hand applied lettering on both sides of the nose, but no other artwork. Mission markings were also carried by some aircraft (not this one however), with each squadron having its own unique motif.
"Calvert 'n Coke" became something of a celebrity at some point during the summer or early autumn of 1943. A Navy photographer seems to have taken a particular interest in her, and there are several well known photos of her flying over the English countryside and the coastal waters of southwest England. The photos were likely all originally in color, although they are often reproduced in black & white, and frequently with incorrect captions. Note that many color photos of this aircraft appear to show blue surrounds on the national insginias, but this is attributable to extremely poor color reproduction. Several photos clearly show the red surround, and there is good reason to believe that all existing air-to-air photos of it were taken on the same day.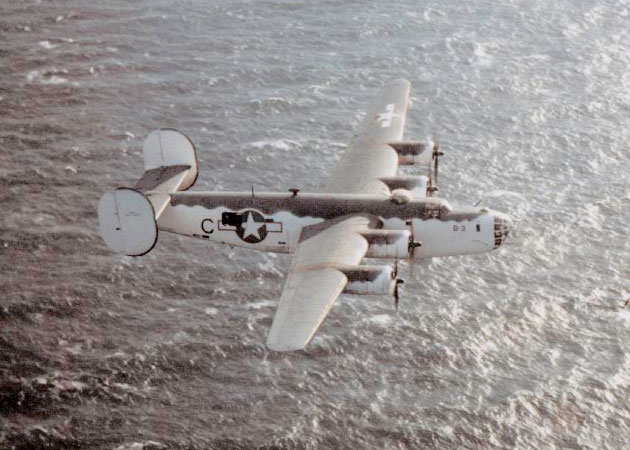 On 12 November 1943, "Calvert 'n Coke" was assigned a typical 10+ hour operational sortie over the Bay of Biscay. During the mission she encountered U-508, commanded by Kapitänleutnant Georg Staats, apparently running on the surface out of Lorient. Little is known about the combat that ensued, but the encounter took place on the evening of the 12th, north of Cape Ortegal, Spain, at approximately 46.00N, 07.30W. The only radio call from the PB4Y-1 was "Am over enemy submarine in position…", followed by silence. What is known is that both the PB4Y-1 and U-508 were lost with all hands, a total of 67 men on both sides. U-508 was on her 6th patrol, having sunk 14 Allied ships for a total of 74,087 Gross Registered Tons. Killed in action aboard "Calvert 'n Coke" that day were the following U.S. Navy personnel:
Lt (jg) Ralph Brownell (aircraft commander)
Ens. Daniel Schneider
CAP Kendall Poole
AMM1c William English
AMM2c George Simpson, Jr.
ARM1c Bobbie Holladay
AMM3c Walter Meroney
AOM2c Charles McClung
AOM2c Leland Eitel
S1c Walter Rogers, Jr.
Anti-submarine operations over the Atlantic did not achieve the notoriety of strategic bombing operations over Europe. They may not have achieved the level of success that might have been hoped (FAW-7 accounted for only five U-Boats sunk), but as noted above, their operations and those of RAF Coastal Command forced Germany to expend valuable time and precious resources developing countermeasures against the threat from the air. The presence of Liberators and other ASW aircraft from the arctic to the coast of West Africa put a severe dent in the ability of the U-Boats to go about their deadly business unmolested as had been the case previously.
This piece is intended as a tribute to those brave men on both sides who fought so valiantly, and especially to the young crew of "Calvert 'n Coke" who gave their all in defense of their country.
Dunkeswell remains an active airfield today, hosting a variety of light aircraft as well as other users on closed areas of the field. Most of the original hardstands can still be seen, and some wartime buildings still stand. It is also home to the Dunkeswell Memorial Museum (see link in references).
U.S. Navy PB4Y-1 (B-24) Liberator Squadrons in Great Britain During WWII, by Alan C. Carey, Schiffer, 2003.
Bloody Biscay, by Chris Gross, Crecy Publishing, 1997.
http://www.uboat.net/boats/u508.htm
http://www.history.navy.mil/avh-vol2/chap4-4.pdf
http://hnsa.org/doc/jolie/index.htm
http://www.dunkeswellmemorialmuseum.org.uk/
http://www.deltaaviation.co.uk/Airfields/AirfieldHistory/Dunkeswell_History.htm
http://www.wartimememories.co.uk/airfields/dunkeswell.html
---
Text & Artwork Copyright © 2008 by Jennings Heilig

All photos are official USN except as noted


Page Created 13 May, 2008
Last Updated 13 May, 2008


Back to Reference Library