Postcard From Bosnia
Floyd S. Werner Jr.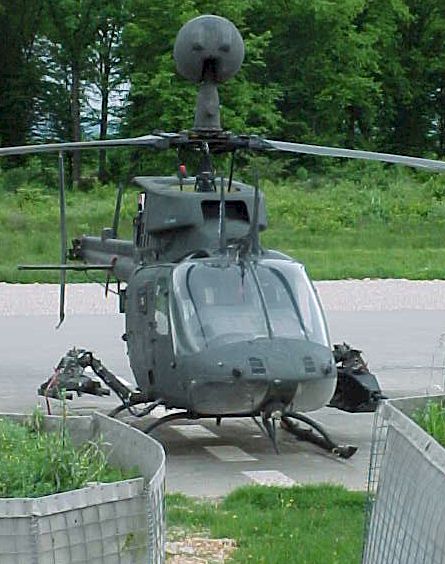 Warrior behind a revetment at Camp Comanche
Greetings from the Boz,

Things here are going okay - that is to say I haven't been shot at yet and I have been able to model (got to have priorities).
The weather has been terrible. It rains at least once a day. Sometimes it is just a sprinkle other times it is torrential.
I'm not flying missions, but I'm doing all the test flights. This is new to me, as I am use to being there in the mix. Oh well, get promoted and have to leave the flying to the younger crowd.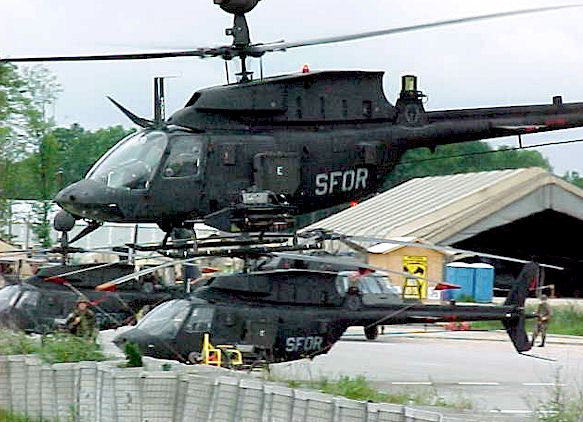 Kiowa Warrior taking off over a revetment
I did get a little bit of satisfaction the other day. I was monitoring the radio on the troop internal frequency and the pilots started talking about a tank they saw. My ears perked up when one pilot said "I think I have a Sherman over here". His wingman said, "I think it is a T-34." Younger doesn't always mean smarter. They began describing the tank over the radio. "It looks like a Sherman but its sides are like a T-34". I immediately picked up the radio and busted in on the conversation. I said, "You are looking at a M-34 Tank Destroyer from WWII. It has a Sherman type hull with an easy 8 suspension system and an open top turret with 90mm main gun." They are known for having them. Dead silence. Then one of the pilots said somebody just tried to tell us what we are looking at and I wish he would come back on. Of course I did. I said "This is Bandit 8, you're looking at an M-34" and proceeded to tell them what they were really looking at. Then silence. "Roger Bandit 8 that is what we are looking at." How does he do that? Models, that's how! Check out about four issues ago of FineScale Modeler. Some things just can't be taught (I'm talking about target ID not the pilots!)
An unknown pilot in the Comanche Helicopter Training Area (HTA) with a blown up Sherman in the background.
Conditions here are really nice compared to last time. We have showers and a great dining facility (mess hall, DFAC). I eat better here than at home. We are living in buildings with between 3-6 per room. Depends on rank, I live with two other warrants. Work hours are between 12-14 hours a day. I try to give the guys Sundays off if I can. That means my model building is limited to about 1-2 hours each night. I'm currently working on an X-wing (the small older release, article to follow its completion). It has telescopic tubing for the cannons. Very nice touch. Article to follow.
The OH-58Ds are holding up exceptionally well. I would like to take credit for it but it is the enlisted that keep these things flying so well. Everyone in the Army is following our progress very closely, as this could mean the difference in the Kiowa Warrior program.
I still haven't received anything from the States as far as models go, but I've had lots of emails that have said there are things on the way. I've talked with the Morale, Welfare, and Recreation (MWR) people and they were enthusiastic about my "Modeling 101" class. Once I get the supplies I will hold a class on Sundays for those interested. For those not I will still let them have a kit if they want it to build.

That is about all for now. I would like to thank everyone for the emails, support and the newsletters. It isn't so bad being gone when you have family and friends such as you to come home to.
---
Images Copyright © 1999 by Floyd S. Werner Jr.
Page Created 25 May, 1999
Last Updated 13 May, 2001
Back to HyperScale Main Page
Back to Reference Library