Messerschmitt Bf 109G-12

Reference Photo Courtesy of Charlie Swank
Model by Floyd Werner
description by Brett Green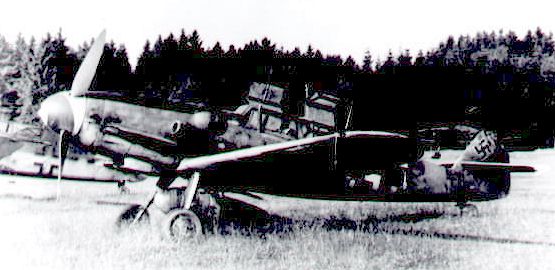 Messerschmitt Bf 109G-12 of an unknown Training Unit
Photo: Copyright © Charlie Swank 1998

The Messerschmitt Bf109G-12 was the two-seater trainer variant of the Gustav. A production run of 500 was planned, but in the event only about 100 machines are known to have been produced. In common with many other Bf 109 variants, the G-12 was not built from new, but converted from the components of earlier airframes. Sources of the G-12 were broad - Bf 109G-2s, G-3s, G-4s and G-6s were destined to be transformed to the two-seater version.
The conversion comprised the reduction of the fuel tank size from 400 litres to 240 litres, and the addition of a second cockpit under a newly designed, fully glazed canopy. Weapons were normally removed from this trainer variant.
Charlie's photograph above shows the aircraft with the 300 litre tank attached. This was normal practice due to the reduced range imposed by the smaller main fuel tank.
Note the particularly light coloured spinner and the yellow Eastern Front fuselage band. The apparently dark upper engine cowl is simply a shadow cast by the propeller blade. This aircraft is probably finished in 74/75 greys with a heavy mottle of these colours on the fuselage sides.
A Focke-Wulf 190S-8 rests in the background, indicating that these aircraft were attached to a training/conversion unit. These two-seaters were only occasionally used as liaison aircraft and for other non-training duties.
M o d e l D e s c r i p t i o n

Floyd converted one of Fujimi's 1/48 scale Bf 109 kits to the trainer variant using Falcon's vacform fuselage. This was Floyd's first vacform effort - and a mighty nice one too. Anyone wishing to experiment with vacform would be well advised to start with one of Falcon's "Triple Conversion Sets". There are a number of interesting subjects including a Focke-Wulf 190S-8, Spitfire XII, Spitfire XVI and Spitfire PR. XI.
A Cooper Details cockpit was used for the forward cockpit while the rear cockpit was scratchbuilt. Model Technologies seatbelts were used. These are Floyd's first choice for harnesses. Unfortunately they are unavailable today! The crystal clear Falcon vacform canopy was cut open to display the detail.
An un-numbered War Eagle decal sheet supplied the markings. This is an incredible sheet, offering markings for no less than six G-12s, two Fw 190S-8s, one Fw 190S-5 and seven two-seater Me 262s! Darned good value.
Reference for this modelling project was courtesy of an article in IPMS USA "Quarterly" Vol. 21, No. 4 by Richard Lutz. Floyd's paint job is a faithful replica of Richard's original drawing.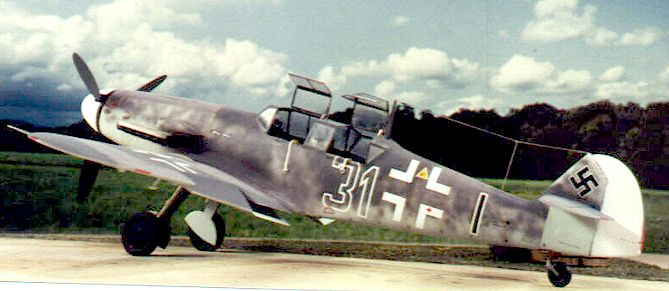 R e c o m m e n d e d R e f e r e n c e

"Messerschmitt Bf 109F,G and K Series - An Illustrated Study" by Jochen Prien and Peter Rodeike, Schiffer Publishing Limited, Atglen PA, 1993.

ISBN 0-88740-424-3
---
Colour Photograph and Model Copyright ©1998 by Floyd Werner
Black and White Photograph Copyright © 1998 by Charlie Swank
Text Copyright 1998 by Brett Green
Page Created 09 September, 1998
Last updated 09 May, 2002
Back to HyperScale Main Page
Back to Reference Library