B-25 Mitchell "Yankee Warrior"
History & Walkaround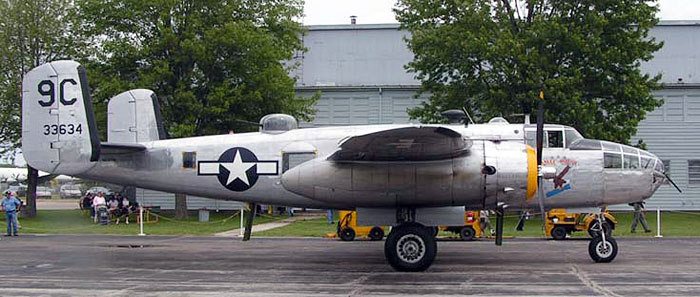 by Steven "Modeldad" Eisenman


HyperScale is proudly supported by Squadron
The B-25 currently operating as "Yankee Warrior" was manufactured by North American Aviation, Kansas City, KS, and delivered on December 17, 1943, to the USAAF.
On paper it was assigned to Lend-Lease program for the RAF as 'KL148', in January, 1944. Instead it departed Hunter Field, GA, on January 19, 1944 on the southern route through Brazil to Africa.
It flew seven combat missions from Corsica over Sicily and through the Brenner Pass with the USAAF 12th AF, 57th BW, 340th BG, 489th BS during April and May of 1944. It carried the tail code '634 9C' and was named the "ELLEN E. & SON". (Click here to see the story of the 489th BS).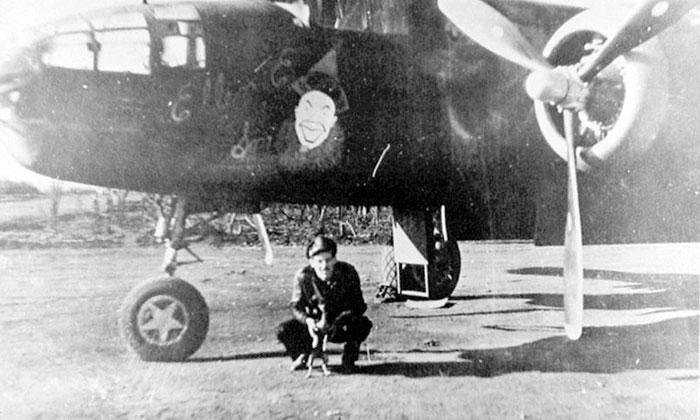 Then back to the US via San Antonio, TX, and Great Falls, MT, before leaving for Sea Island at Vancouver;
Taken on strength by RCAF on October 18, 1944 as Mitchell II. First used as trainer for Liberator crews. Later stored until January 1947.
Jan 1947 assigned to No. 418 Squadron "City of Edmonton" Auxiliary. During this period of service a photograph has surfaced showing a large 'SV 148' on the side, and a much smaller 'KL148' on the vertical fin.
Stored from sometime in 1950 until June 1953. June 1953 it was sent to Flying Instructors School at RCAF Trenton, Ontario.
In 1954 it was stored again until 1956. In March 1955 the glass nose appears to have been replaced with a solid nose dues to a collapse of the nose wheel.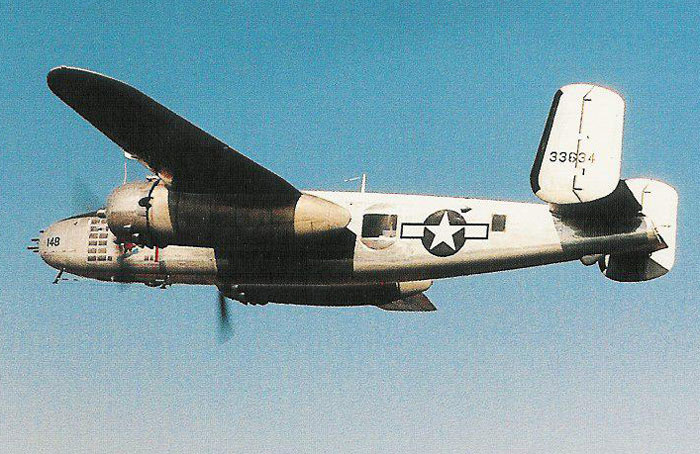 January 4, 1961 it was transferred from RCAF Trenton 129AAF to Dunnville Ontario.
June 10 1962 the aircraft was sold to Hicks and Lawrence Ltd., St. Thomas, Ontario.
August 2, 1962 registered 'CF-NWV' for the ferry flight.
June 1, 1968 sold to Richard B. McPherson of Aerodix Association, New Albany, OH.
July 29, 1969 sold, to Glenn Lamont, and registered 'NX3774';
October 23, 1969 ferried from St. Thomas, Ontario, to Detroit City Airport, MI, by Glenn Lamont.
August, 1976 fully restored and with new FAA certificate, showing 1776.45 flight hours as "GALLANT WARRIOR".
1987 sold to Yankee Air Force, renamed "YANKEE WARRIOR", metal finish, with '9C' '33634' on tail and '148' on the sides of the nose.
Click the thumbnails below to view the images full-sized.
Use your browser's Back Arrow to return to this page:
---
Text & Images Copyright © 2004 by Steven "Modeldad" Eisenman
Page Created 12 October, 2004
Last Updated 13 October, 2004

Back to Reference Library