Pearce RAAF Base
Air Defence Show 2005
by Stephen Platt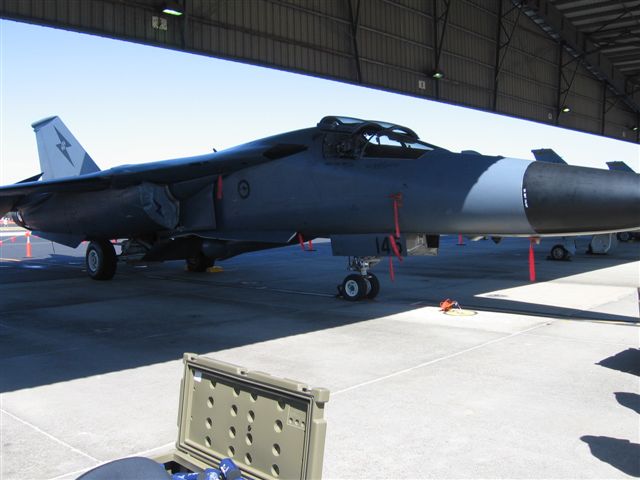 F-111G
Pearce RAAF Base, Western Australia

HyperScale is proudly supported by Squadron
In Western Australia on the weekend of Saturday 19th and Sunday 20th of November RAAF base Pearce hosted the Air Defence Show 2005.
It has been sometime since Pearce AB held a significant air show and one would have to say it was done well.

Some 50,000 spectators over the 2 days experienced some very impressive handling and static displays that we rarely get to see over here in the West.

It was magnificent weather with temperatures in the low 30's (celsius) and was well supported by local aviation and interest groups, industry representatives and of course the RAAF.

Their also was representation by the Republic of Singapore Air Force with 2 F-16's and a KC-135R Stratotanker as it has a training facility at Pearce for its pilots.


The USAF flew a B-1B Lancer from Guam and Cathay Pacific together with QANTAS provided impressive handling displays with their A330 and 737-800 respectively.

I took a few photo's as I am a keen modeler and military aviation enthusiast and I hope some of these photo's can be used as reference material.
The aircraft covered in these images are as follows:
6 Sqn F-111C (A8-145) - i
6 Sqn F-111C A8-145 - iii
6 Sqn F-111C A8-145 - iv
11 Sqn AP-3C A9-662 - i
37 Sqn C-130J-30 A97-464 - ii
77 Sqn A21-9
79 Sqn Hawk A27-32
79 Sqn Hawk A27-07
737-800
A21-26 in the flightline - i
A330 quite an impressive handling display
FA-18A A21-26 - Perth, Nov 2005
A21-26 going ballistic
Hornet flightline
Republic of Singapore AF Boeing KC-135R Stratotanker (750)
Republic of Singapore AF General Dynamics F-16 Fighting Falcons (613 & 632)
USAF Rockwell B-1B Lancer of 37th BS, 28th BW (86-0113) - came down from Guam but based at Ellsworth AFB, South Dakota.
3 Sqn A21-13 - i
3 Sqn A21-14
3 Sqn A21-14 - i
3 Sqn A21-14 - ii
3 Sqn A21-14 - iii
3 Sqn A21-52
3 Sqn A21-52 - i

Click the thumbnails below to view the images full-sized.
Use your browser's Back Arrow to return to this page:
---
Text & Images Copyright © 2006 by Stephen Platt
Page Created 19 September, 2006
Last Updated 18 September, 2006

Back to Reference Library